"The Merchant of Venice": Sam Wanamaker Playhouse
Tom Bolton on the South Bank
10 March 2022
The Merchant of Venice is seen as a problematic play but, increasingly, it seems that the problems are with us, as much as they are with Shakespeare. We only have to look back a couple of decades to see Shylock portrayed as an "other", a character who, if not quite the author of his own problems, certainly makes life difficult for himself. In her first production for the Globe, director Abigail Graham makes these interpretations seem like something from the dark ages. She reclaims the play, triumphantly, with a production that reveals a powerful exposé of racism that has been there all along, but that as a society we did not see.
Michael Marcus and Sophie Melville. Photo credit: Tristram Kenton.
Against a silvered backdrop, an indoor Venice is revealed, filling the jewel box Sam Wanamaker Playhouse and its disconcertingly dark corners. Graham cuts the comic scenes involving the Gobbos, but Launcelot (played by Aaron Vodovoz) survives – wheedling his way into the employment of Bassanio at a testosterone-fuelled party of young, white traders in masks, plus the older Antonio. The lads force him to drink a shot every time he says the word "Jew", leaving us in no doubt about the nature of the society they represent. The cast give unnervingly credible performances as a privileged cabal who protect their own interests by viciously demeaning those who do not belong. Michael Gough's excellent Antonio is perhaps an outsider, working hard to stay on the inside. His relationship with Bassanio, played by Michael Marcus as a self-centred, calculating chancer, is physically close and makes him vulnerable. His reaction is to outdo everyone in his anti-Semitism, and it is shocking to see an older man deploying his experience to be the most cynical and vicious of all.
The contrast with Adrian Schiller's superb Shylock is heart-breaking. This money lender is a low-key businessman in an old-fashioned suit, windcheater, and yarmulke. He is softly spoken, as though long experience has taught him it does not pay to stand out. When Antonio asks him for a loan, while repeatedly expressing his scorn and threatening to spit on him, Shylock adds the numbers up in a pocket book with a trembling hand. He clearly wants to be left alone, a luxury not afforded to a Jew in Venice. The hatred on display is a powerful illustration of how racism works in practice, ringing through the centuries like an alarm bell.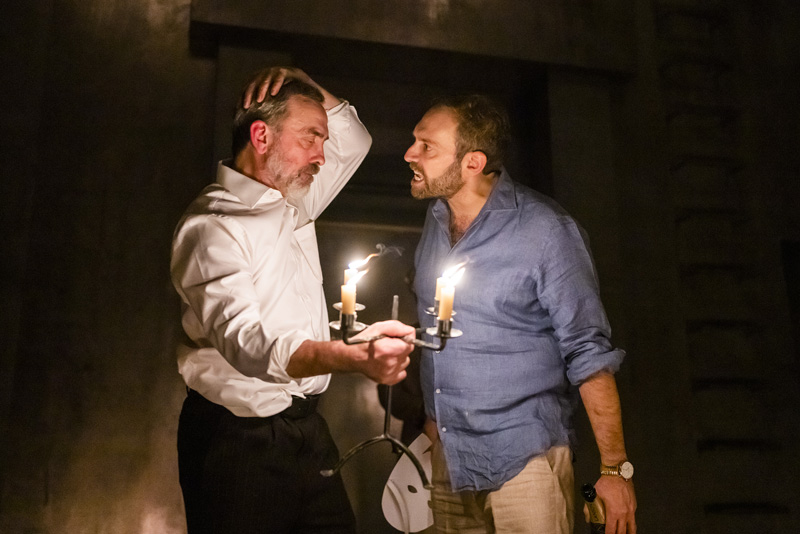 Adrian Schiller and Ben Caplan. Photo credit: Tristram Kenton.
Shylock's subsequent actions are entirely defined by his position in society, and his treatment by people who are open in their contempt for him and his right to be treated like a fellow human. Schiller provides many stand-out moments. His tears when told that his daughter Jessica has not only eloped with his goods, but has pawned a ring given to him by Leah, who we assume to be his dead wife, are truly moving. He arrives in court for his pound of Antonio's flesh, carrying a folding table and chair and a Tupperware box, like a pensioner out for a picnic. He is very much on his own, but determined to take a rare chance to stand up to a society that victimizes and bullies him. His hand shakes so violently as he holds the knife to Antonio's chest that it is clear he cannot go through with it.
The toughest parts to play and direct in The Merchant of Venice are Portia and Jessica. Sophie Melville plays the former as a sparkling, brittle performer, toughened to snapping point by her social position. Her father's cruel bequest, of a husband to be chosen by lottery, leaves her powerless. The suitor scenes are staged as a gameshow, with Portia wheeled out to be displayed as the prize, in a nod to Rupert Goold's 2011 Las Vegas-set RSC production. Open racism is part of the equation at Belmont too, seen in Portia's horrified reaction to the Prince of Morocco. Yet, when she finds herself in a position of influence in court, she seizes her chance to join the boys club, turning on Shylock with relish, to the delight of Antonio, Bassanio, and their cronies, a victim turned abuser. She receives her come-uppance when, at the conclusion of the scene, the men slam the door in her face, her usefulness at an end.
Jessica is, if anything, an even more difficult part. There is little to like about Shylock's daughter, who betrays him completely. She disappears within the play, apparently content to live with Lorenzo on the share of her father's wealth extracted through the corrupt Venice courts. Graham, taking a cue from Jessica's single, desolate line "I am never merry when I hear sweet music" tops and tails the production with her singing – "Today's gonna be a good day" at the start, a Hebrew lament at the end – which imply she too has been used and deceived. Eleanor Wyld's performance is compelling and charismatic, greatly helping to position her as a rounded character.
Other cast members to make an impression are Raymond Anum as a champagne-swigging Gratiano, Daniel Bowerbank as an opportunistic Lorenzo and Morocco, and Tripti Tripuraneni's ambiguous Nerissa. The ensemble performs as a unit, connected by Abigail Graham's fearless vision of the play. The final image of Shylock, walking away to an uncertain future clutching his briefcase, makes a natural connection to images from many eras of persecuted people, fleeing with what they can carry. Graham's The Merchant of Venice sets a new standard for future productions, and showcases the talents of the underrated Adrian Schiller in a definitive performance. It is the highlight of the Shakespeare's Globe winter season.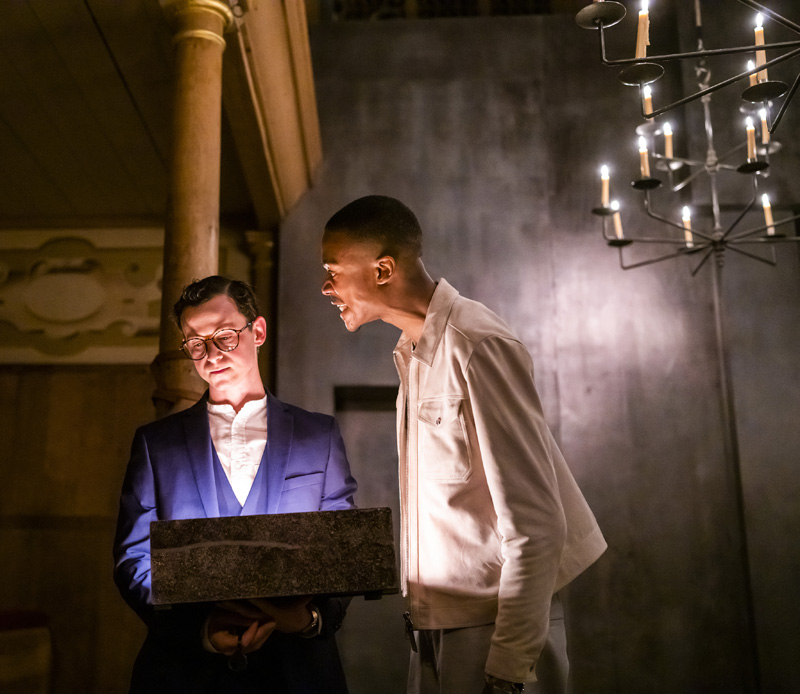 Michael Marcus and Daniel Bowerbank. Photo credit: Tristram Kenton.