"Not Now", Finborough Theatre, London
Tom Bolton in west London
11 November 2022
Not Now is the third new David Ireland play staged at the Finborough Theatre since 2017, in what is becoming a partnership of significance. First seen as part of the lunchtime A Play, a Pie and a Pint at the Glasgow pub theatre Òran Mór earlier this year, the two-hander comes to London in a new production directed by Max Elton – who was also responsible for last year's Ireland/Finborough venture Yes So I Said Yes. Both plays are set in contemporary Belfast and deal with the search for masculine identity in a post-conflict Northern Ireland. But they could not be more different.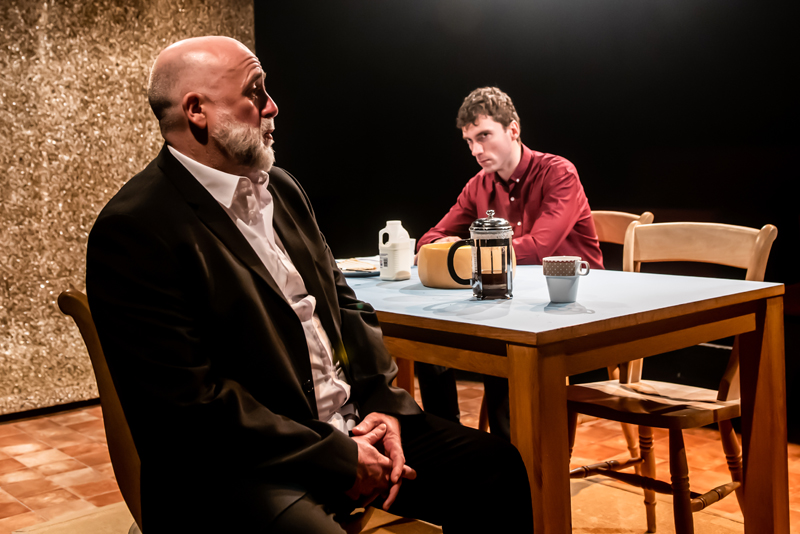 Stephen-Kennedy and Matthew Blaney. Photo credit: Lidia Crisafulli.
Ireland is known for his hilariously dark comedy, seen to general acclaim in Cyprus Avenue and Ulster American. His work bears some similarity to Martin McDonagh's plays of the 1990s, in which horrified laughter is the only possible response to the absurdity of sectarian conflict. Ireland's provocations reached a peak with the epically offensive Yes So I Said Yes, which contained some of the darkest material seen on a UK stage in recent years. Not Now is the calm after the storm: a deceptively simple play that conceals multiple levels of meaning. Ireland has, perhaps, written a perfect play about Northern Ireland post-conflict, post-peace, post-Brexit, and post-truth.
The play opens with the young Matthew (Matthew Blaney) practising the opening soliloquy from Richard III and making a meal of it, dragging one leg around the kitchen table like a comic Olivier. Ray (Stephen Kennedy) catches him at it, and an awkward conversation begins across the divide. Ray is Matthew's uncle, and his unnamed brother, Matthew's father, has just died. Matthew has an audition at RADA that morning and is about to fly to London and, potentially, an entirely new future. Ray is a painter and decorator, a recovering alcoholic, with no apparent future. Their discussion is equal parts hilarious and troubling. Ray's inability to remember names leads to some very entertaining exchanges about the actors "Ciaran Farrelly" (Colin Farrell) and "big Liam thingy" (Liam Neeson). Ray also has problems with the conceptual difference between the characters of Richard III and Hamlet. If Hamlet kills just as many people, why is Richard the baddie? Is it because he didn't mean to? There is much more to these conversations than we first realize. Family secrets start to emerge and no one, dead or alive, is what they seem. They are all pretending, even Matthew who plans to audition in an English accent rather than his natural Belfast one, but has problems with the first word in his speech, "now".
Both Blaney and Kennedy give excellent performances, neither putting a foot wrong. Blaney is direct yet confused, at the exact moment in his life when identity is shaped one way or another. Kennedy is equal parts funny and sad. Stocky and older, but not as old as he seems, he is worn away by hiding and by his secret which, we discover, is more "shameful" than anyone could imagine. Elton swirls the action deftly around the central table that occupies the Finborough's tiny stage, framed by designer Ceci Calf's lovely 1970s estate buttresses.
In a taut 50 minutes, nothing happens without a very good reason. The Hamlet/Richard III discussion, for instance, becomes directly relevant to the secret the two men have to face. Every word revolves, implicitly or explicitly, around what it means to be Northern Irish and Protestant, what to do about the past, and how to create an identity that is neither charming Irishman nor Loyalist throwback, but real. It is all here: colonialism, violence, masculinity, shame, sexuality, history, culture, honesty, truth. Not Now is a small but exquisite work, and in some ways the logical extension of Ireland's more flamboyant writing. He and the Finborough which, under its Artistic Director Neil McPherson, won London Pub Theatre Awards' pub theatre of the year only a couple of weeks ago, continue to deliver must-see new writing.