"Happy Days", Riverside Studios
Neil Dowden at Happy Days
18 June 2021
Happy days are here again with Trevor Nunn's sixtieth anniversary production of Samuel Beckett's existential tragicomedy starring Lisa Dwan at Riverside Studios. The west London arts centre (where the playwright rehearsed Endgame in 1980 and Waiting for Godot in 1984) opened its new theatre at the beginning of 2020 after an impressive five-year multi-million pound redevelopment. But, like all other theatres, it was forced to close during two Covid-19 lockdowns. Happy Days, originally scheduled for the end of last year, finally reopened the theatre in early summer showing a determined endurance rather fitting for a play whose heroine is the epitome of resilience in an absurdly "new normal" and socially distanced world.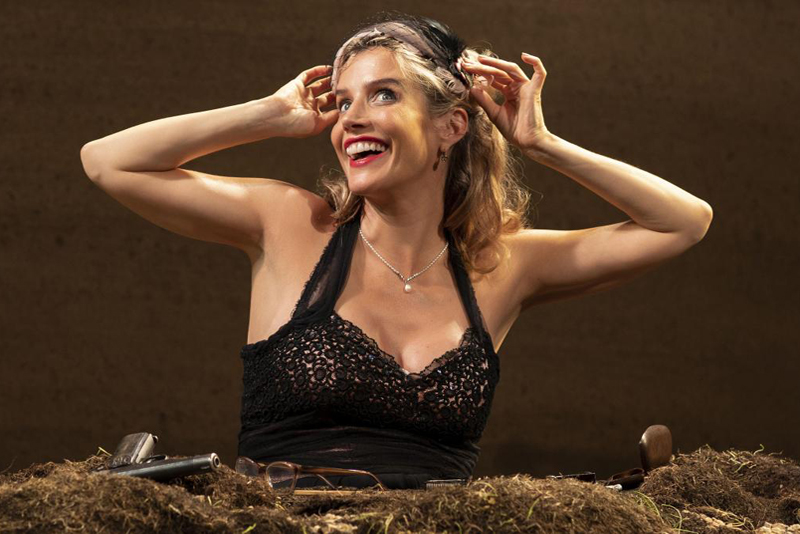 Lisa Dwan in Happy Days. Photo credit: Helen Maybanks.
"Happy days" sounds horribly ironic for someone in Winnie's predicament, initially buried up to her waist in a mound of earth and later up to her neck, with her only human support a taciturn husband (Willie) who is largely out of sight. But Winnie's recurring phrase "Oh this is a happy day" is completely devoid of irony because she steadfastly accentuates the positive. As with so often in Beckett – notably of course Vladimir and Estragon engaging in music-hall-style banter while waiting for the mysterious Godot who never appears – killing time is essential in order to fill the gaping void of nothingness that threatens to overwhelm his characters' sense of self. So, between "the bell for waking and the bell for sleep", Winnie comforts herself with virtually non-stop inconsequential chatter and reminiscence that is an extended monologue, breaking off only occasionally to elicit a response from Willie that he can hear her; as long as she feels she is not talking just to herself she can cope with minimal interaction.
Winnie's other support is her handbag. Using its contents, she is able to continue her mundanely ritualistic patter, taking a pride in her appearance with the aid of a comb, lipstick, nail file, toothbrush, and pocket mirror. The evocative tune of a music box allows some nostalgic relief from present oppression. And a revolver offers the chance of a final escape from suffering. While throughout Act One, Winnie manages to keep up her admirably cheerful (if delusional) optimism, by the second act – more deeply interred and restricted in her movements, with her handbag now out of reach and Willie even more distant – the struggle becomes desperate as the strident bell continually jerks her back from the release of sleep to anxious consciousness. Even then, though, Winnie remains true to her stoical self.
Lisa Dwan in Happy Days. Photo credit: Helen Maybanks.
In the last major revival of Happy Days in London (directed by Natalie Abrahami at the Young Vic in 2014), Juliet Stevenson touchingly suggested a suburban housewife keeping panic at bay with domestic routines, while in 2007 Fiona Shaw wore a mask of manic humour in Deborah Warner's apocalyptic production at the National Theatre. In Nunn and Dwan's version here, this is very much a play of two halves, with hope giving way to resignation but not despair. Having staged a highly successful version of Beckett's radio play All That Fall at Jermyn Street Theatre in 2012, Nunn worked with Dwan on the Beckett Triple Bill at the same venue early last year, where she performed the disembodied voice in Eh Joe. Mentored by Billie Whitelaw (a muse for Beckett), Dwan has become known as a Beckett specialist, not only performing the one-woman Beckett Trilogy (Not I, Footfalls, and Rockabye) and No's Knife around the world but also writing and lecturing on the master. This revival of Happy Days reveals a sensitive, detailed exploration of Beckett's text by both director and performer in an impressive collaboration.
Irish herself, Dwan really captures the subtle cadences and tones of Dublin-born Beckett's dialogue – in fact, its musicality – as well as being on point with comic timing. In the first half, she is well turned out with coiffured hair, red lipstick, and a dainty black dress, twirling a parasol (which later catches fire) as she oozes feminine charm. But after the interval, she is almost unrecognizable, with a deathly pale pallor and spiky hair, muscles tightened in a ghostly smile resembling a rictus, while her voice has become deeper and slower. Sometimes Dwan's performance verges on mannered – especially in Act One – but then Winnie herself is playing a role as an act of survival.
Simon Wolfe plays the small but essential part of Willie offsetting Winnie, contrastingly lumbering and inarticulate. But there is a moving moment at the end when he appears smartly dressed in the suit in which he proposed to her as their relationship seems to come full circle with him ambivalently reaching for the revolver.
Robert Jones' Cinemascope-style design presents an earthy "low mound" amidst a backdrop of a beigy sky that seems to go on for ever, complemented by Johnny Edwards' eerily echoing sound and Tim Mitchell's unremittingly garish lighting gradually fading into an ominous darkness at the end. A play for our angst-ridden times, indeed.