"The Secret Life of Bees" at Almeida Theatre
Mark Shenton in north London
28 April 2023 
Composer Duncan Sheik wrote the music for Spring Awakening, one of the most explosive rock musicals of the century so far, which won him Tony Awards for best original score and best orchestrations in 2008 after it transferred from off-Broadway's Atlantic Theater to Broadway (and was gorgeously revived at the Almeida last year).
Tarinn Callender and Rachel John (foreground).
Photo credit: Marc Brenner.
In 2019, the Atlantic also offered the world premiere of The Secret Life of Bees, a quirkily offbeat musical adaptation of a novel by Sue Monk Kidd, again with songs that feature music by Sheik; and now the Almeida are offering its UK premiere, having also previously staged a musical version of American Psycho in 2013 with songs by Sheik that subsequently transferred briefly to Broadway in 2016.
Artists need creative homes to thrive and it is heartening to see both the Atlantic and Almeida continuing to support and produce Sheik's theatre work, even if none of his subsequent scores have matched the galvanizing intensity of Spring Awakening.
The Almeida have certainly given this show the full, loving treatment, and it is Sheik's gorgeous melodies (set to lyrics by Susan Birkenhead) that massage the ears as well as the drama of this sad, tender but ultimately empowering story of two young women who attempt to escape family abuse and entrenched racism in 1964 South Carolina.
The show follows Eleanor Worthington-Cox's Lily, the crushed, abused daughter of her controlling father T-Ray (Mark Meadows), and the family maid Rosaleen (Abiona Omonua), as they embark on a journey to Tiburon, where they uncover the mystery of what happened to Lily's late mother.
Prolific playwright Lynn Nottage – whose wonderful plays include the Pulitzer Prize-winning Ruined, which also received its UK premiere at the Almeida, as well as Sweat (another Pulitzer winner), which was produced at the Donmar Warehouse – enfolds the songs in a book that delicately traces the contours of this drama. But it is American director Whitney White's sensuous production, beautifully designed by Soutra Gilmour and stunningly lit by Neil Austin, that provides the atmosphere.
Moreover, it fields a cast of astonishing voices that as well as the two leads also includes Rachel John, Ava Brennan, and Danielle Fiamanya as the three Boatwright sisters who give them sanctuary at the honey bee farm they run. There are also stand-out turns from the impressive Tarinn Callender, suitor to one of the sisters, and Noah Thomas, who romances Lily.
The production is choreographed with swaying, swirling beauty by Shelley Maxwell, while the band – situated on the sides of the circle – give Sheik and John Clancy's gorgeous orchestrations full weight under the musical direction of Toby Higgins.
In a world where jukebox musicals now reign supreme, this show is just wonderful, and has easily the best new score of any musical in town that is exhilaratingly sung and played.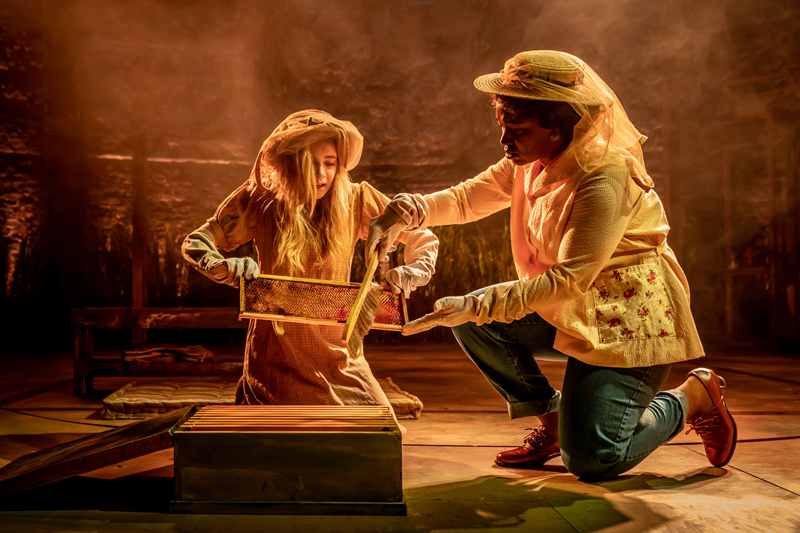 Eleanor Worthing-Cox and Rachel John.
Photo credit: Marc Brenner.
.
~