"Retrograde" at Kiln Theatre
Mark Shenton in north London
28 April 2023
Ryan Calais Cameron is currently represented in the West End by the hit transfer of For Black Boys Who Have Considered Suicide When the Hue Gets Too Heavy from the New Diorama and Royal Court. That ensemble piece beautifully articulates the experiences of contemporary young black men in Britain today in a play that unfolds like a series of sketches.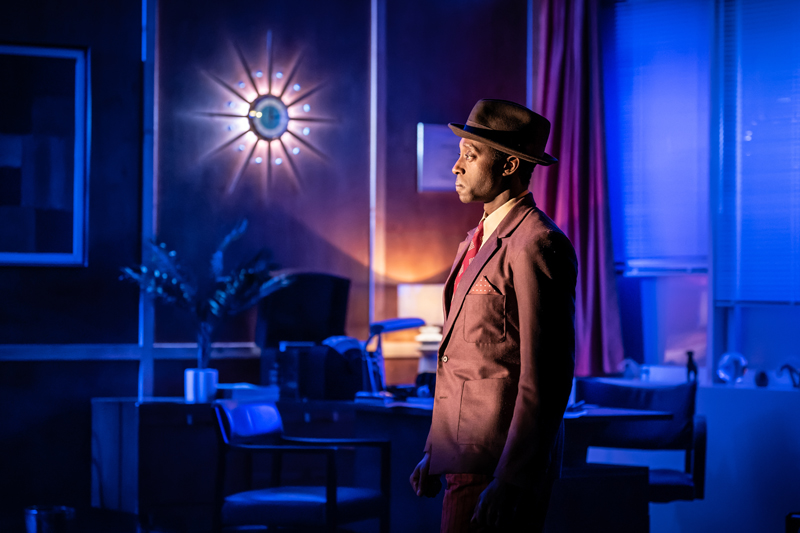 Ivanno Jeremiah as Sidney.
Photo credit: Marc Brenner.
Now Cameron demonstrates his true theatrical versatility with a more conventionally structured three-handed drama (apparently inspired by real events), as rising young black film actor Sidney Poitier goes to the New York office of a Hollywood studio lawyer to sign a contract that could change his life and career forever. As well as the racial politics of the 1950s, the drama is impacted by the McCarthyist communist witch-hunt of the time.
Poitier died last year; this play opens in London just a day after the death of Harry Belafonte, the entertainer and civil rights activist also referenced here extensively (as is Paul Robeson). They were all expected to play by the rules of white men who controlled the industry then (and mostly do still today); this play demonstrates Poitier defiantly refusing to do so, to the utter bewilderment of the racist studio executive, who shockingly declares, "You can't make a gentleman out of a suntanned man!", when Poitier refuses to submit to the studio's demands.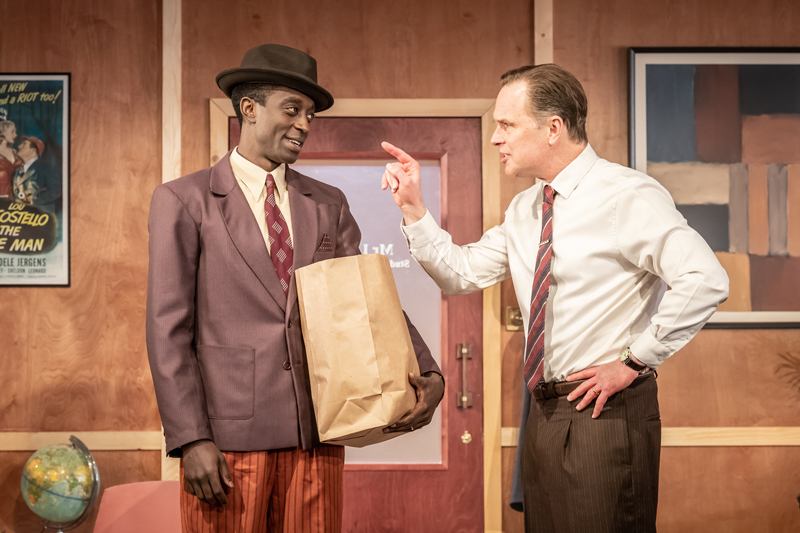 Ivanno Jeremiah and Daniel Lapaine.
Photo credit: Marc Brenner.
Poitier replies in turn, "The problem with you is that you're a troubled little frightened man, you close your eyes and you hate, hate, hate, hate. And, like everybody in a world of hate, you're afraid I'm gonna take something away from you, but I got news for you, you ain't got nothing I want. You dig?"
It's an explosive climax to a play that is a slow but accumulating burn, as a young white liberal writer tries to keep a project he has written on track and bring Poitier on board. Even if some of Cameron's script strays into clichéd pronouncements, director Amit Sharma and his three fine actors maintain the alternating stakes and tensions between the men.
Ivanno Jeremiah, most recently seen in the West End in the revival of Nick Payne's Constellations, is a galvanizing force as the young Sidney, refusing to compromise, while Daniel Lapaine offers a portrait of sinister bonhomie as lawyer Mr Parks, determined to get his own way, as Ian Bonar's writer Bobby seeks to broker a relationship to benefit him between them.
The Kiln Theatre have given the piece an impressive production on Frankie Bradshaw's elegant studio office set that both grips and simultaneously appals in its portrait of the paranoia of the studio executive and the compromises that a black actor faced, but managed to fight and overcome.
.
~