"The Forest": Hampstead Theatre
Neil Dowden in north London
15 February 2022
Over the last decade French playwright Florian Zeller has had a series of critical and popular successes in cities across the world including London. But The Forest at Hampstead Theatre is the first time one of his plays has premiered outside France not in his native language. In a remarkable collaboration, this is the seventh Zeller play that Christopher Hampton has translated into English (as well as co-writing with the author the screenplay for The Father, for which they won an Oscar). The Forest may not have quite the emotional force or psychological depth of Zeller's best work – The Father, The Mother, and The Son – but it is still an absorbingly ambivalent play about mental and moral breakdown, betrayal and self-deception.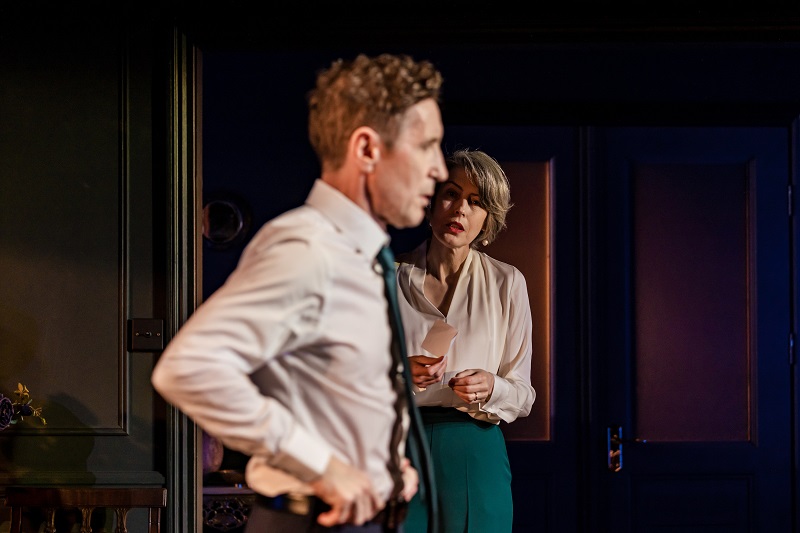 Paul McGann and Gina McKee. Photo credit: The Other Richard.
The mystery starts with a bit of a red herring. Distinguished hospital surgeon Pierre and his wife Laurence are told by their daughter Sara that she is breaking up with her partner because she has found out he has been unfaithful – but surprisingly Pierre claims, "Everything'll work itself out". In a parallel scene we see another man in bed with his girlfriend, who later threatens to reveal their affair to his wife unless he tells her himself. Meanwhile, in his influential report, Pierre backs the views of a controversial doctor he's previously opposed who's in the pocket of a pharmaceutical company. Personal and professional duplicity are entwined, with things definitely not working out alright.
The essential set-up is not at all unfamiliar: a middle-class, middle-aged man undergoing a crisis as he tries to juggle conflicting demands of family, career, and sexual desire. But the way it is presented in a non-linear narrative where nothing is what it seems is novel and intriguing. Pierre is leading a double life, hiding a secret which he feels he can't reveal, so he will forever have to wear a mask even with those closest to him. He becomes increasingly absent in social situations distracted by anxiety and guilt: his wife says he has been "somewhere else", while at one point people speak to him as if he was present but there is only his empty seat.


Gina McKee as Laurence. Photo credit: The Other Richard.
The Forest contains recognizable Zeller tropes of actors swapping roles and alternative scenarios, with some scenes repeated with significant variations so that we have to work out from the jigsaw puzzle exactly what is going on. It is difficult to distinguish between what is flashback, memory, fantasy, or dream. Zeller's use of shifting realities to reflect a mind under strain may seem a bit more tricksy than before, while the female characters are rather passive. But the play also feels a bit different from Zeller's previous work as this time it is more in the style of a phantasmagorical thriller with a murder at its centre.
The title refers to a fairy tale told by one of the characters in which a prince out hunting with a protective entourage is drawn away by a white stag which he follows but it disappears and he becomes isolated in a dark forest – symbolizing a man losing himself in pursuit of his desires. Although characters sometimes address each other by their first names, the use of generic names like 'Man 1', 'Man 2', and 'The Man in Black' in the script also suggests that here Zeller is interested in a more mythic form of storytelling – though at times behaviour in the play seems more stereotypical than archetypal.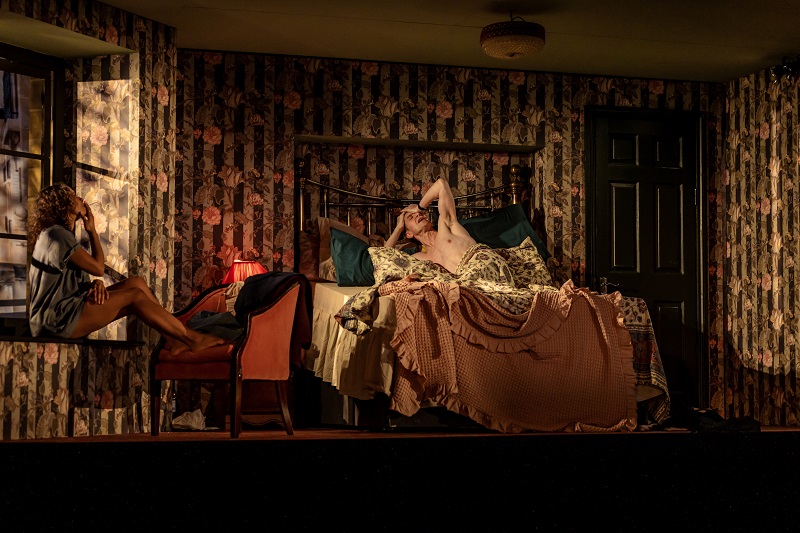 Angel Coulby and Paul McGann. Photo credit: The Other Richard.
The production by Jonathan Kent (who directed Zeller's The Height of the Storm in the West End in 2018) is taut and compelling. Anna Fleischle's ingenious, multi-layered set has action taking place in three separate boxes which illuminate when in use – the elegant living room of Pierre's home where we see him with his family and entertaining friends, a bedsit with his mistress, and an office at the hospital where he works – reflecting his attempts to compartmentalize his life, which later overlap as his life spins out of control.
Toby Stephens captures well Pierre's moral weakness and entitled equivocation which becomes fractured in a nightmarish feeling of isolation. In a limited role, Gina McKee conveys an increasingly uneasy sense that her husband is concealing something from her. Paul McGann plays Pierre's transgressive alter ego, and Angel Coulby his angry mistress who wants to break out of her box. And Finbar Lynch gives a deliciously menacing performance as the spectrally white-faced Man in Black, an interrogator-cum-psychoanalyst figure who demands to know the truth of what happened.