"Prayer for the French Republic", Manhattan Theatre Club
Glenda Frank in New York City
2 February 2022
Prayer for the French Republic, Joshua Harmon's (Significant Other) new play, directed by David Cromer (The Band's Visit), is about the limitations of patriotism. The theme is topical, but it is also timeless, as old as emigration.
Francis Benhamou, Jeff Seymour, and Yair Ben-Dor.
Photo credit: Mathew Murphy.
During the Enlightenment, philosophers Jean-Jacques Rousseau and John Locke defined nations as confederations based on a Social Contract, in which we, the people, offer our allegiance in return for protection of our person and our wellbeing. In Prayer for the French Republic, the Salomon Benhamou family state it more personally. Although France has been their homeland for many generations, they no longer feel safe in Paris. Should they leave? And where should they go? There are no easy answers.
The play opens with a young visitor, Molly (Molly Ranson), a distant cousin from America, an assimilated Jew. Violence soon intrudes. Daniel Benhamou (Yair Ben-Dor), the son, has just been attacked – again. Marcelle (Betty Aidem), his mother, is furious that he continues to wear a yarmulke outdoors. At first Charles, her husband (Jeff Seymour), whose parents fled Algeria because of state-condoned attacks, says her fears are excessive, but by the middle of the play, he arranges a family visit to Israel to decide if they should relocate. Molly, the mouthpiece for criticism of Israel, is aghast. She is in love with the idea of Paris, but also an advocate for the Palestinians. Marcelle points out that judgement from a distance is a luxury. Choices look very different when it is a matter of safety.
Nancy Robinette and Kenneth Tigar. Photo credit: Mathew Murphy.
Prayer for the French Republic is a family drama, complete with heated mother-daughter arguments, husband-wife disagreements, young romance, debates about what to do with grandfather – the many aspects of family life that have long been staples of the American stage. But the stakes are unusually high. History and politics keep intruding – as they do for all of us now. Marine Le Pen, a right-wing extremist whose party has been gaining seats in Parliament, is doing well in her run for president against Emmanuel Macron. Across the globe, violence against Jews is increasing. One year later, in America, eleven people are murdered at the Tree of Life Synagogue in Pittsburgh, the deadliest attack on the Jewish community in the history of the United States. The title of the play is ironic, referring to the prayer for France recited by the congregation at the end of the Sabbath service.
For the Solomon-Benhamou family, history is also a personal memory. Interwoven with contemporary events (2016-17) is the story of Adolphe (Kenneth Tigar) and Irma Salomon (Nancy Robinette), the great-great grandparents, who are spared deportation to a Nazi concentration camp and hide in their apartment in Paris. They await news about the family, comforting each other with invented stories about their children and grandchildren. Harmon has written them so real that their waiting is poignant without becoming sentimental. When their son Lucienne (Ari Brand) returns, he is taciturn, unable to reveal what happened to his wife and daughters after their arrest. Pierre (Peyton Lusk), his son, who survived, mutely shadows him. His silence is compelling. It speaks volumes about their suffering.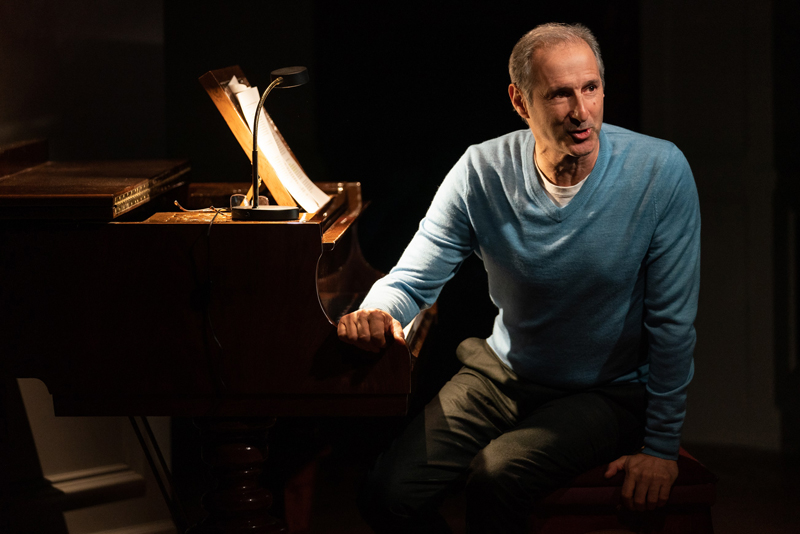 Richard Topol. Photo credit: Mathew Murphy.
Patrick (Richard Topol) is our narrator, linking scenes, providing information, and like most of the characters, offering his distinct interpretation of history. He is a Christian, welcomed by his sister at her family's Jewish celebrations, but believing himself invulnerable to anti-Semitism. Yet he is obsessed with Jewish persecution. He recounts instances of ancient French abuses and genocide, such as the Dreyfus case and the massacre of Jews by French cleric Peter the Hermit and his followers in 1096. (Peter the Hermit was a candidate for sainthood.) Some of the details of torture and murder are graphic.
The family are valuable member of the community. Both parents are physicians, the son is a teacher, and the family business, selling and manufacturing concert pianos, once boasted multiple stores with the name 'Salomon' on the shop windows and on high-quality instruments. Business has trickled down, but the grandfather, Pierre (Pierre Epstein), now an octogenarian, opens the remaining store daily so he can immerse himself in family memories. Pierre advises his daughter to relocate.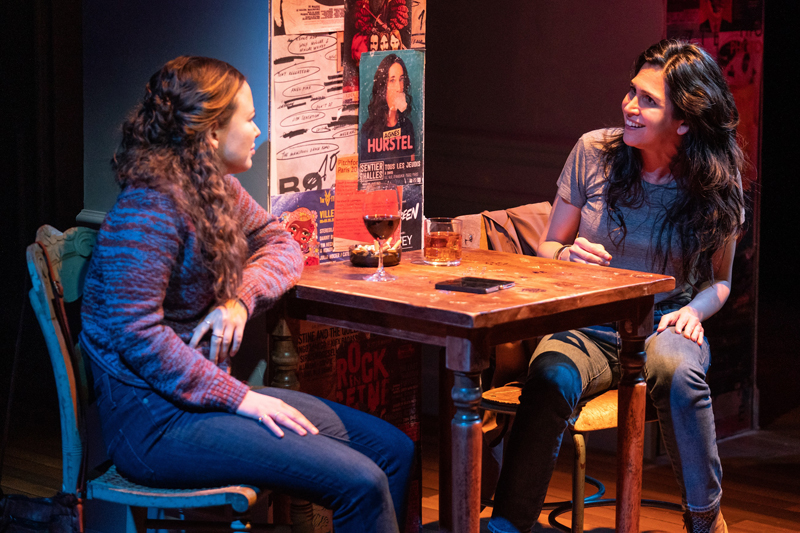 Molly Ranson and Francis Benhamou. Photo credit: Mathew Murphy.
Despite the danger and darkness, Prayer for the French Republic is often funny and romantic. Molly longs to see a shirtless Daniel playing Bob Dylan songs on his guitar. Elodie (a charismatic Francis Benhamou), the daughter, breaks her moody silences with non-stop eloquence on the state of the world and fights with her mother like a teenager. Molly, Daniel and his father gather at the table to shape Charles' famous doughnuts, not from his grandmother's recipe, as he told his wife, but from one he was given by an ex-girlfriend.
The performances, direction, costumes (Sara Laux) and lighting (Amith Chandrashaker) melded into a powerful whole, into three hours of totally engaging theatre. The drama is specific, the characters distinctive yet familiar, but the problems the play raises are universal. And there is the metadrama of the names: Molly Ranson plays cousin Molly;  Pierre Epstein plays the older Pierre Salomon; and Francis Benhamou plays Elodie Benhamou.