"South Pacific", Sadler's Wells Theatre
Jeremy Malies in north London
12 August 2022
Sustained applause in the middle of a show is rarely the will of the entire audience and can derail hard-earned momentum. But when Julian Ovenden sang "This Nearly Was Mine" (not even one of the celebrated songs), matters came to a halt as most of the auditorium rose to their feet ecstatically with clapping punctuated by whoops. It was several minutes before we settled down but the sense of having a collective and exceptional experience was palpable and something I've rarely felt in 40 years of theatre-going.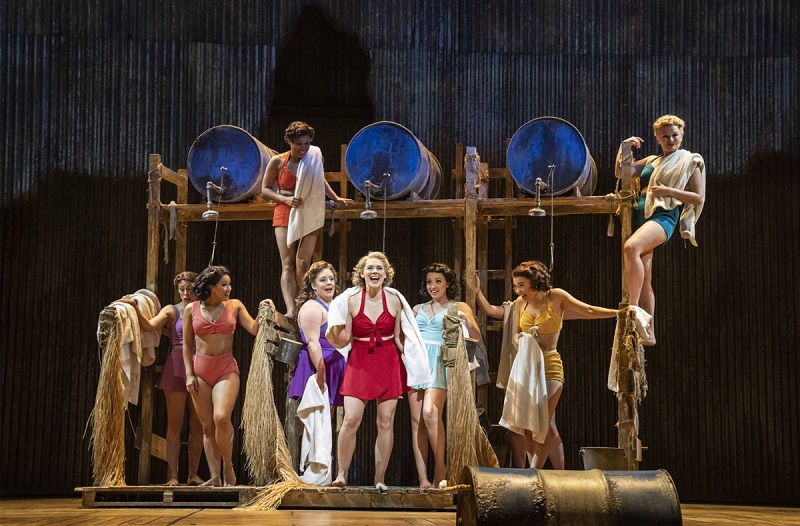 The ensemble. Photo credit: Johan Persson.
The show is both a revival and a London transfer of a Chichester Festival Theatre production that premiered in Chichester in 2021. Many but not all cast members are here from the original run. It's another wonderful production of a Rodgers and Hammerstein piece in recent months matched only by Oklahoma! at the Young Vic.
Director Daniel Evans and choreographer Ann Yee manage to confront the issues of race, inequality, class, colonialism, and occupying forces without once resorting to lazy shorthand from the current environment of culture wars, forensic scrutiny of colonial policy, and the cancelling of public figures.
This is nowhere better illustrated than in the fulcrum if not signature song "You've Got to Be Carefully Taught" in which a liberal Princeton-educated young officer, Lieutenant Cable, calls out the racism of the principal female character, Ensign Nellie Forbush, who is troubled that her French lover (Emile played by Ovenden) has had children by his now dead Polynesian wife. It was probably this song that clinched a Pulitzer Prize for the piece after it opened on Broadway in 1949.
Cable is played by the versatile Rob Houchen, a Les Misérables stalwart for many years, a fine dancer and successful musician and composer. In this tinderbox of a plot, Cable walks a tightrope in a second love story that sees 16-year-old islander Liat (Sera Maehara) somewhat objectified as a child bride though we know that Cable's feelings are deep.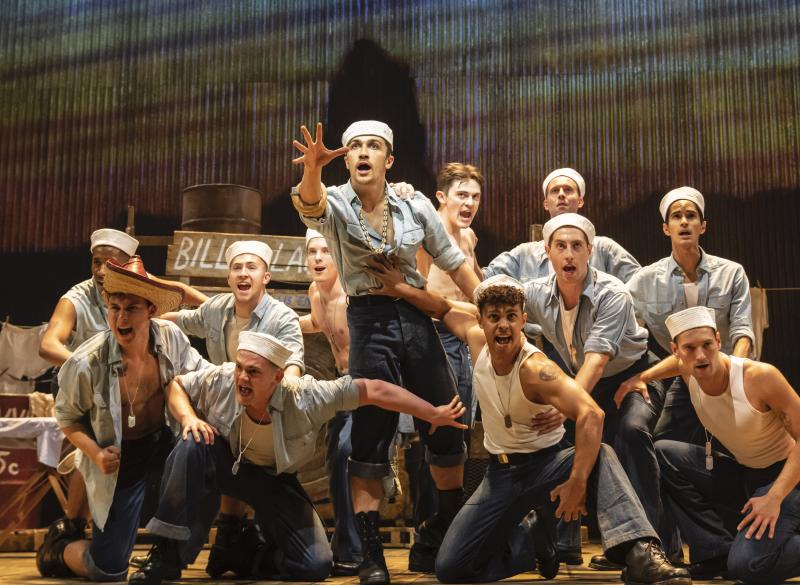 The ensemble. Photo credit: Johan Persson.
In his programme notes, Evans says he is "attempting to discuss racism in its many forms: overt, covert, casual and structural". As Nellie, Gina Beck excels when outlining her upbringing in Little Rock and how it has not proactively poisoned her view of race but simply given her no other perspective.
It should be remembered that while the troops fighting the Japanese by taking over this island might be of many races, the Arkansas that Nellie comes from was segregated. Combine class concerns, as servicemen from right across the social scale coexist on a small island, with the theme of gender as the men juggle attraction for the off-limits women nurses with respect for them as professionals, and you have a sense of how weighty the subject matter is here.
The topics may be profound but the production is always joyous and this is often due to the brilliance of Douggie McMeekin, a newcomer to the cast, as the comic mainspring Luther Billis. I'm in awe of McMeekin's range (he was gloomy and angst-ridden recently in The Breach at the Hampstead Theatre) and impresses when succeeding with every gag that Oscar Hammerstein has given him as well as improvising with much invention as the troops put on their Thanksgiving Day revue. Here he energizes Beck into some of her finest moments during the song "Honey Bun".
From the moment that the troops make their descent onto the stage via ropes almost balletic, the choreography by Yee (a director in her own right) is packed with good ideas, seemingly spontaneous and never formulaic despite the difficult change from Chichester's thrust stage to the proscenium arch here. The subsidiary dancers are always more than a chorus line, interacting with the main characters in a way that gives a sense of a community and common purpose in war but with personal tensions always near the surface.
The set by Peter McKintosh is often intimate; he has the sense to allow book and lyrics to conjure up the looming island of Bali Ha'i and puts his best work into interior scenes as officers in a comms room agonize over the fate of a surveillance mission and Billis runs his laundry in which we hear Nellie sing the feminist anthem "I'm Gonna Wash That Man Right Outa My Hair".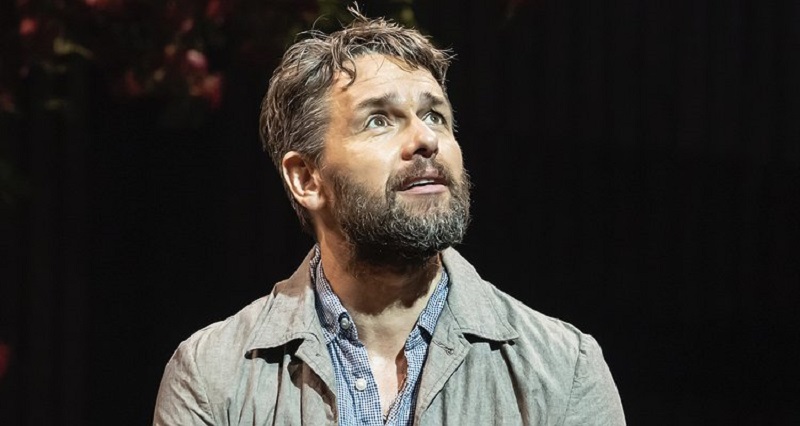 Julian Ovenden as Emile. Photo credit: Johan Persson.
Musical director Cat Beveridge working with musical supervisor Nigel Lilley and orchestrator David Cullen serve up a treatment of the music that focuses on a bank of strings including harp whose romanticism offsets occasional turbulence in the score elsewhere as the war backdrop is explored.
So are we rooting for Nellie and Emile at the end? Perhaps the song I reference at the beginning here swings the balance since Ovenden's brilliant inhabiting of his character suggests he will bring his new wife on a journey from prejudice to rapport and insight.
This is an outstanding production that manages to avoid obvious and worthy tropes in our era of identity politics while always confronting, dissecting, and even resolving the enormous cultural and socio-economic factors that Rodgers and Hammerstein, with their trademark sense of what will prove enduring and problematic, have placed on the island. Evans' main achievement is that he challenges but does not hector us. Some enchanted evening indeed.