"Death of a Salesman" – Hudson Theatre, New York
Glenda Frank on Broadway
31 October 2022
Death of a Salesman, directed by Miranda Cromwell, meets all the criteria for a revival: the title or author is a draw, a celebrity leads the cast list, and the director has an original idea – casting the Loman family black.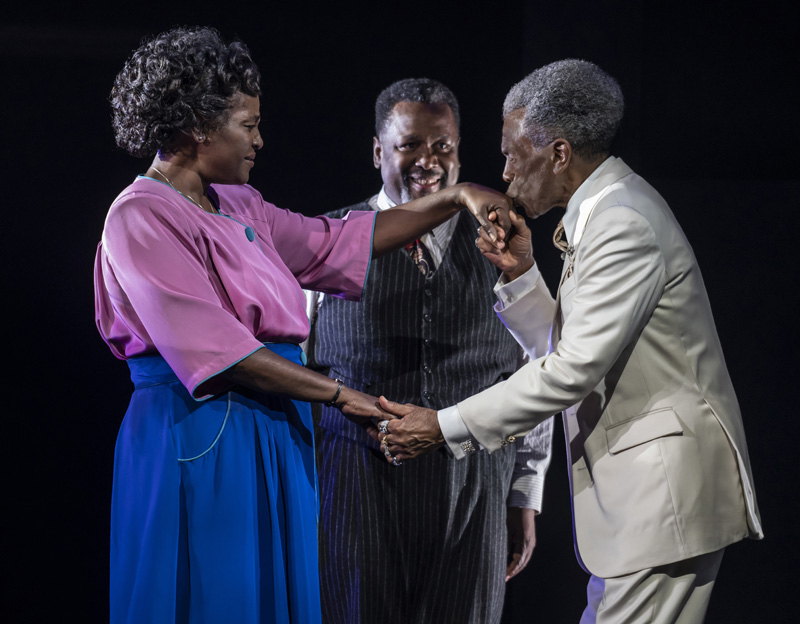 Sharon D Clarke, Wendell Pierce, André De Shields.
Photo credit: Joan Marcus.
It's about time that the American canon reflects America – if only as a test of the work. Wendell Pierce, who plays protagonist Willy Loman, is unforgettable in his television roles in The Wire and Treme. My favourite, though, is his performance in Tom Clancy's Jack Ryan, as an agent fighting the effects of a terminal prognosis to stay at the job he loved. Pierce is joined on the stage of the Hudson Theatre by the new Broadway superstar, Sharon D. Clarke, last seen in a ground-shattering performance in Caroline or Change (Tony nomination). She transforms the often thankless role of Willy's put-upon wife into a strong, central figure. The rest of the cast are new hires after the production transferred from the Young Vic Theatre in London to New York and co-director Marianne Elliott (Angels in America) left the play.
Unfortunately even the best talent needs a strong dramatic vision as a guide, even if that vision is borrowed. Salesman is a blues song – about family and the struggle to pay the bills, about unemployment and dignity, about the shortcomings of the American dream. Who better than a black cast to open the demographics of the play? On Oct. 8, 2022, 24/7 Wall St reported that although the national jobless rate fell to 3.5%, the jobless rate for Black Americans was 5.8%, 87% higher. It is probably even higher for older Black workers.
Willy Loman is a tough role. We have to feel those statistics in Pierce's performance. The performance bar is high for other reasons also. Loman has been played by our best actors. Dustin Hoffman and Philip Seymour Hoffman spoke to my heart before they uttered one word. They carried the sorrows of the world on their shoulders.
First impressions count. I have seen Pierce carry his sorrow and persevere, but not in this uneven production which transfers the emotional centre to Willy's wife, Linda (Clarke), a supporting character.
Miller's words establish that Loman is, at the end, drained of even the will to fight and terrified of his dementia. All he has left is a salesman's bravado and the groundless hope that his sons will miraculously turn their lives around. He hallucinates, doesn't always know what year he's living in, but he's figured out a way to provide for his family – his life insurance policy after he dies.
Khris Davis, Wendell Pierce, Sharon D Clarke, McKinley Belcher III.
Photo credit: Joan Marcus.
Pierce never establishes Willy's range. He doesn't stay low enough for us to glimpse the despair. He rallies and Pierce's booming voice itself is filled with energy and drive. I kept waiting to feel the tragedy of the common man that Miller wrote about so eloquently in his short essay. At Willy's grave when Linda says she cannot cry neither can the audience. And then Cromwell has her sing. Clarke is a magnificent singer but the addition is for another play.
Even in the best production, segments of Salesman can be confusing. Miller titled early drafts "Inside His Head," indicating an expressionist style, a style which shapes the bar scene and some of the flashbacks. Audiences need to be prepared for that. When Ben (André De Shields) appears, he is a conflation of memory and fantasy, an introduction of something close to magic realism in a play that is usually performed as realism.
Cromwell had co-costume designers Anna Fleischle and Sarita P Fellows dress him in an immaculate white suit with sequins on his shoes, which is perfect for magic realism, but bewildering to the audiences, who thought the creative team borrowed the image from Hadestown. The costume, Ben's slow-motion departure, his athletic competitiveness as he topples one of the Loman boys prove Cromwell's directorial skills, but they were visible only in select scenes.
One of those moments was Biff's (Khris Davis) aria in Act II. After a bitter day of collapsing illusions, he needs the family to see him. Davis delivers the most moving Biff confession I have seen as he reveals that he was jailed for three months for stealing a suit, that he can't take orders because of his inflated self-image, that all he wants is to labour outdoors.
Another remarkable scene was set in Charley's (Delaney Williams) office. Charley, Willy's neighbor, has been lending Linda money to pay the bills. Charley's secretary (Chelsea Lee Williams) is half-hysterical at having to deal with Willy's rantings again. The scene clearly encapsulates the breakdown, the moments of rationality as Willy talks to Bernie, Charley's very successful son, and then his lapse into dementia. It shows how terrifying witnessing the lapse can be.
Death of a Salesman has been tightly boxed by its critics. Many called the play dated as though ageism and male pride have vanished. (Willy refuses to work for Charley, a more face-saving option even than today's Disability Insurance.) Playwright August Wilson declared that casting the play black is "an assault on our presence and our difficult but honourable history in America." Critic John Lahr felt the play was a Jewish lament. Some contemporary critics hear references to lynching in the lines. One wrote that the sons, played by handsome, physically fit actors, obviously have opportunities. Some declare that Willy is a success although Linda Loman is clear: they are still paying off the failing refrigerator with borrowed money and she is darning her stockings rather than buying new ones.
I am glad to have spent three hours with this Death of a Salesman at the Hudson Theatre. I treasure the high points and I value the flawed moments for the insights they offered. Much material for reflection!