"Mary" – Hampstead Theatre
Neil Dowden in north London
6 November 2022
Rona Munro had a big success with her 2014 trilogy The James Plays, a dynamic portrayal of three 15th-century Scottish kings inspired by Shakespeare's history plays. Its sequel James IV is on tour in Scotland at the moment after premiering at the Edinburgh International Festival in the summer, and James V is due to be staged next year (with a planned play about James VI of Scotland/James I of England closing the epic cycle). But now, slightly out of chronological step, Munro's Mary – set during the reign of Mary Queen of Scots, daughter of James V – receives its premiere at Hampstead Theatre.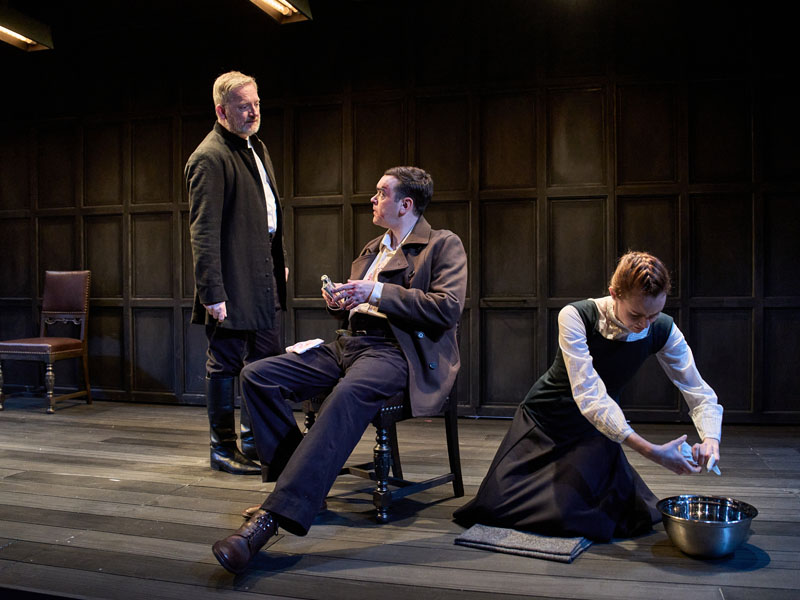 Douglas Henshall, Brian Vernel, Rona Morison.
Photo credit: Manuel Harlan.
Despite its title, Mary hardly features as a physical presence in the play – just two fleeting glimpses, one of which is silent, the other repeating words we have already heard reported. But her influence is all-pervasive. Mary is a sideways look at the queen from the perspective of courtiers and servants close to her. In particular, the focus is on Sir James Melville, her loyal, experienced diplomat, and two young fictional characters, guard Thompson and maid Agnes, who for different reasons have turned against Mary.
The play is set in 1567, the year of Mary's forced abdication. Mary's second husband Lord Darnley has just been murdered, and it is widely believed that the perpetrator is the Earl of Bothwell with whom Mary is intimate – and that she may even have been complicit in the murder. Melville is trying to persuade Thompson to let Mary leave her palace to avoid being imprisoned by her half-brother the Earl of Moray, while ultra-Protestant John Knox supporter Agnes declaims against the wantonness of the Catholic queen.
In the second half of the play, after Mary has married Bothwell, Melville is put under pressure to add his signature to Mary's abdication by the upwardly mobile Thompson (now working as secretary to Moray who will become regent for Mary's one-year-old son James). Melville claims that Mary has been raped by Bothwell but starts to waver, while the formerly censorious Agnes who has repeatedly been told by both men to shut up now begins to sympathize with – as she is convinced – a sexually abused woman.
Douglas Henshall and Brian Vernel. Photo credit: Manuel Harlan.
As well as being different from the previous plays in Munro's history cycle in not being produced by the National Theatre of Scotland, Mary is written on a smaller scale as a compact chamber piece. Unlike most of the many dramas about Mary Queen of Scots it does not deal with her thorny relationship with Elizabeth I and eventual execution, but concentrates on the events around her abdication 20 years earlier.
Some may find it frustrating that the queen herself is largely absent but Munro wants to offer an alternative approach – ironically giving voice to a feminist viewpoint. The contemporary relevance of this historical drama is in its depiction of women being sidelined and suppressed, while even decent men stand by, boosted by the climactic appearance on stage of a 16-strong all-female chorus shouting, "This must end." It's a powerful point, though we don't know for sure how (in)voluntary Mary's actions were, so it is just another take on the myriad myths surrounding the murky story of the Queen of Scots.
Mary is a slow-burning drama – certainly not the "political thriller" promised in the marketing – that only really catches flame in the final part of the show. It's a very talky work, with the second half largely resembling a cross-examination, but the dialogue – written in a mix of English and Scots vernacular – holds the attention because the arguments are so cogently expressed. Roxana Silbert's production – backed by designer Ashley Martin-Davis's wood-panelled wall with concealed doors, which later recedes to create a suggestion of the more spacious Holyrood Palace, and Matt Haskins's beautifully modulated lighting – is rather static, but she has encouraged excellent performances from the cast.
Douglas Henshall is compelling in the spotlight as the tormented, self-conflicted public servant Melville, a man of integrity torn between loyalty and love, whose professional judgement may be tainted by personal feelings, as he has to decide if supporting the Queen of Scotland is in the best interests of Scotland itself. Brian Vernel is the ambitious, increasingly confident Thompson who learns from being beaten up after naively shooting his mouth off to becoming a persuasive government agent with real power. And Rona Morison is outstanding as the fearlessly frank Agnes who comes to understand male political machinations and will not be silenced.