Christine Eccles in Kensington & Chelsea
2 August 2017
This is a fantastic and very well-timed revival of Jim Cartwright's ground-breaking Road which I first saw as a promenade production by Simon Curtis in the Royal Court's tiny Theatre Upstairs just over thirty years ago. It is as relevant today in Theresa May's austerity Britain as it was back in Margaret Thatcher's divided Britain. A kaleidoscopic sequence of nocturnal scenes takes place in a rundown terrace somewhere grim up North – definitely a place which time has forgotten, a Lancashire Brigadoon where everyone's on the scrounge, on the take, taking the piss. It's Coronation Street without that soap's old cobblers.
Folk are getting ready to go out and get well and truly bladdered. A thieving rapscallion called Scullery (Lemn Sissay) hosts this soirée from hell like an experienced holiday rep who knows that we poor metropolitan tourists are well and truly out of our depth. It's slumming it from the safety of London's most comfortable seats. And for sure it's not a pretty sight even though there are heart-breaking nuggets of true tenderness amidst the grime, the vomit, and the all too brutalized flesh.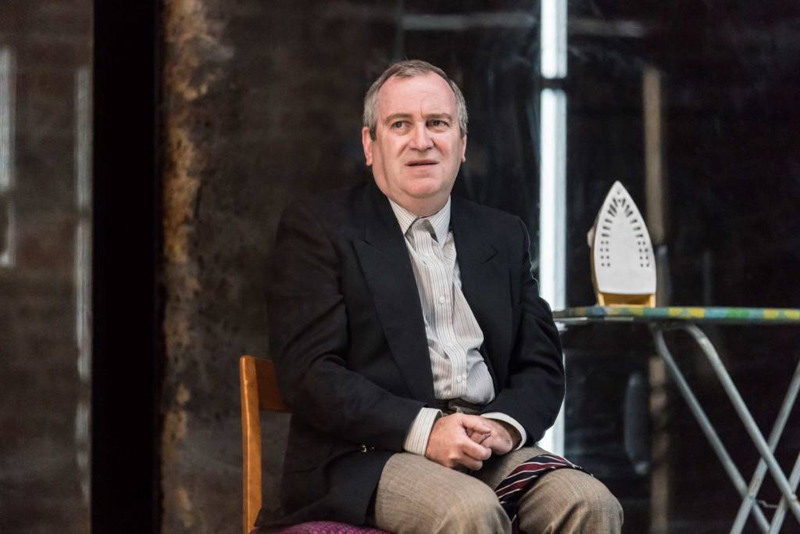 Mark Hadfield in Road by Jim Cartwright. Photo credit: Johan Persson.
Two young lovers are slowly starving themselves to death. An abused wife at the end of her tether still mourns for her abuser. A once proud man is now chucked on the scrap heap and throwing his dole money away on gambling. A sex-mad harridan recognizes through her bleary boozed-up eyes the essential innocence of youth in the comatose figure of the young squaddie she's dragged back home for a quick shag and leaves him alone wrapped in a blanket against the cold night. A brave old biddy piles on the slap for a jolly old knees-up down the pub. To the music of Swan Lake, Scullery performs a pas de deux with a discarded shopping trolley with grace, humour, and finesse. An elderly gent remembers a time when everyone had a job plus a bit put by for a fortnight at the seaside. Two lads on the pull show the two lasses they have pulled how to gain the ultimate in total obliteration by chugging back a bottle of red each and then listening to Otis Redding at full volume belting out "Try a Bit of Tenderness", the music drenching the auditorium. All of them know that this can't be it. That there has to be something else. And the yearning for this known but unknown something else builds to an ecstatic climax.
With the exception of Scullery played engagingly by Sissay, this is a true ensemble. John Tiffany directs the nine actors in what at first seems like a bewildering number of characters until their various story lines bed in. Michelle Fairley as the sex-mad harridan (amongst others) is outstanding and holds together the play's central scene which is also its funniest and its saddest and its most hopeful scene. Designer Chloe Lamford has created a glass box, like a neglected aquarium with uncleaned mossy corners, for Cartwright's trapped and submerged souls. "Every day's like swimming in ache" says one of the suicidal lovers refusing to navigate its waters any more.
"Fuckin' long life in'it?" says someone at the start of this play. But the play isn't. It simply flashes by and leaves you gasping, emotions churning, punch drunk with its punch lines, hungover with its hunger. The aquarium rising up through the stage reinforces our uneasy position as Remain voyeurs in the Brexit lives of Britain's underclass. Cartwright's gift is to leave us to draw our own conclusions.