"Mrs Doubtfire" at Shaftesbury Theatre
Mark Shenton in the West End
23 June 2023 
 The original production of Mrs. Doubtfire began previews on 9 March 2020; just three days later, it shut down as part of what would become the longest closure in Broadway history, covering the rest of that year, with performances of this show not resuming until more than 18 months later the following October. It finally opened officially in December, but with insufficient momentum to survive the winter, the producers put the show on hiatus in January, before re-launching it in April 2022. It then played for a little over a month before closing for good: a show beset by bad timing.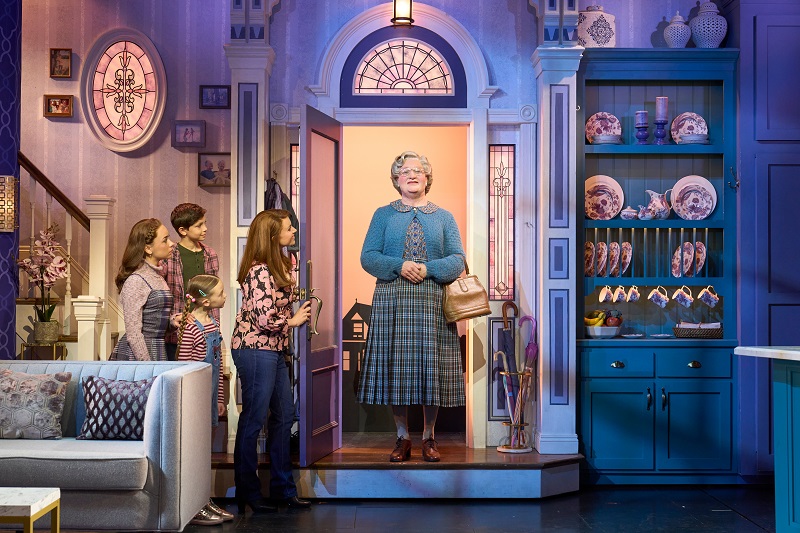 Gabriel Vick (foreground.)
Photo credit: Manuel Harlan. 
Now it is trying to relaunch itself in Britain, and I hope the producers' faith – and investment – in it is finally repaid. For one thing, the precision timing that director Jerry Zaks – a Broadway master comedy craftsman – brings to the action couldn't be better in staging know-how. 
 But a bigger question has loomed over it – the "why now?" of its staging at all. Joining a long parade of shows that feature male actors donning drag, from La Cage aux Folles and Kinky Boots, by way of Tootsie and the current Broadway season's Some Like It Hot (which has just won the Tony Award for leading actor in a musical for its trans-identifying star player), it has run into some definition issues around whether it is offensive to the trans community. Mrs. Doubtfire, the persona of a Scottish nanny that a failing cis male comedy writer adopts in order to gain access to his three kids for whom his divorced wife has been awarded sole custody, isn't trans at all, but the comic disguise of a desperate dad.  
 Twenty years ago, when the film premiered with Robin Williams playing the title role, it was purely a comedy about parenting, and the lengths he'd use his performance skills to see his kids. But is such a comic device permissible right now, when trans people are fighting for acceptance as themselves, not merely a disguise born of comic convenience? I can't speak to how a trans person would receive it, but as played with affection instead of affectation by Gabriel Vick, he is a kind but flawed father whose playful narcissism to be as childish as his own kids drives his wife (played by Laura Tebbutt) away.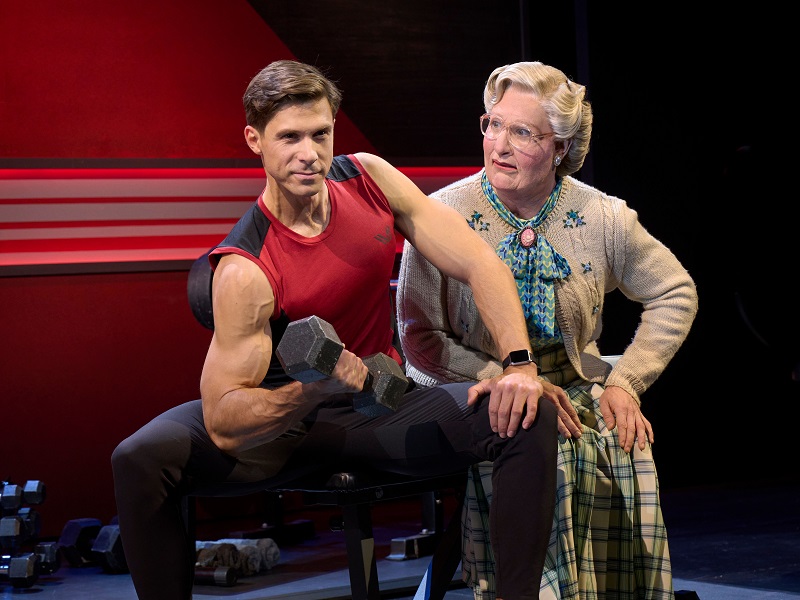 Gabriel Vick and Samuel Edwards.
Photo credit: Manuel Harlan. 
Just why she then wishes to deny him access to his kids beyond limited visitation rights isn't at all explained, but it's the motor for him adopting his disguise to inveigle himself back into the daily life of his family. 
His own extended family includes a gay brother Frank (Cameron Blakely) and his partner (Marcus Collins), who become his clothing advisers and assistants as he moves between disguises. The stage for it to turn into farce is set when Daniel arranges simultaneously to see a TV executive who could employ him in a high-profile job (Micha Richardson) while a family dinner is in progress with his wife and kids. There's yet more farce when the court official presiding over his custody arrangements (Kelly Agbowu) pays a home visit, and Mrs. Doubtfire has to be passed off as his sister.    
Zaks's production keeps the comedy balls afloat of Karey Kirkpatrick and John O'Farrell's book, while the score – co-composed by Kirkpatrick with her husband Wayne – provides mostly anodyne accompaniment. There's a similarly generic quality to Lorin Latarro's choreography and David Korins's design, which evokes San Francisco in a backdrop of cut-out local landmarks.  
A good musical adaptation of a beloved film can add new layers of depth and interest to it, as witness the current Groundhog Day. But others like this and Sister Act (returning to the West End next March, when it will play a season at the Dominion) merely make you hanker to see the film again instead.  
.
.
~