"Dear England" at the Olivier, National Theatre
Neil Dowden on the South Bank
25 June 2023
James Graham has forged a reputation as a political playwright with a sense of history in plays like This House, The Vote, and Labour of Love. And while his new work Dear England focuses on Gareth Southgate's transforming management of the failing England football team since taking over in 2016, it comes across lightly as a state-of-the-nation play kitted out in the garb of a sports drama. It's a thoroughly entertaining, feel-good show that has plenty of interest in it for those who are not necessarily footie fans, with Graham scoring on all fronts.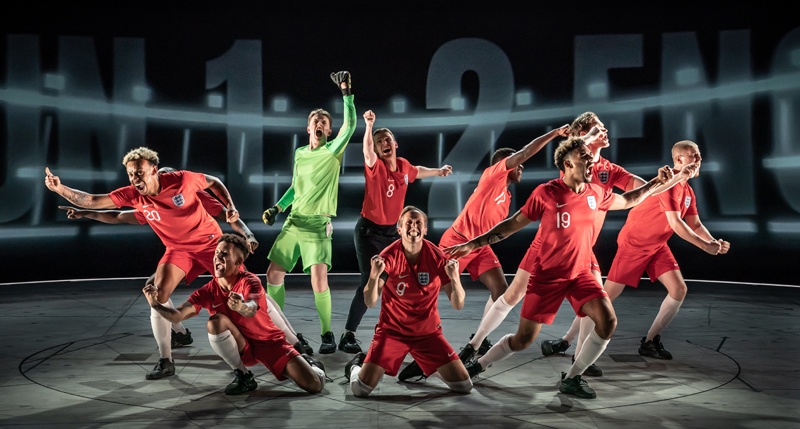 The ensemble. Photo credit: Marc Brenner.
The title is a reference to Southgate's celebrated public letter ahead of the delayed Euros in 2021 after "an extremely difficult year" of Covid in which he wrote about the "players' pride in representing this country" while recognizing that "everyone has a different idea of what it actually means to be English". Dear England is a love letter to the beautiful game that shows how enlightened leadership can bring about renewed hope in players and fans alike.
The play starts powerfully 20 years earlier with the older manager Southgate watching his younger player self missing the penalty that led to England losing the Euro 96 semi-final shootout against Germany, when football didn't quite "come home" … yet again. Fast forward to 2016 when, having already helmed the England under-21 team, he is appointed first as caretaker manager of the senior team after Sam Allardyce resigns in scandal and then gets a four-year contract.
To a large extent, the drama is a redemption tale: about how Southgate, haunted by his iconic missed penalty which replays continually in his mind, puts his personal trauma to positive use by building a mutually supportive culture in which no player under his watch pays this emotional toll. And by freeing the players of that pressure of failing to deliver what "England expects", they together develop self-belief, start performing to their true potential, and do much better in tournaments. Maybe one day they'll go all the way like the Lionesses!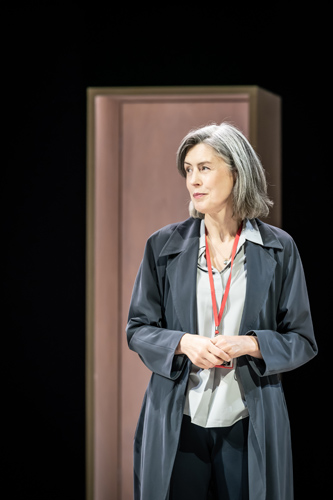 Gina McKee as Dr Pippa Grange.
Photo credit: Marc Brenner.
Of course, getting knocked out of European Championships and World Cups on penalties has haunted the England football collective conscious before and after Southgate's miss – though there have been some wins too – right up to the Euro final shootout versus Italy at Wembley in 2020 and Harry Kane's missed second penalty in normal time against France in the quarter-finals of Qatar 2022. As the play shows, what Southgate has done is not stop England from losing on penalties but help his players to deal emotionally with defeat so that it doesn't hinder them from winning the next time.
He is crucially assisted in this by psychologist Dr Pippa Grange; he persuades her to bring her expertise to St George's Park National Football Centre despite initial scepticism from staff and players. Grange encourages the squad to confront and share their doubts and fears, claiming they "need to learn how to lose" before they can go on to win.
Just as the players have to put aside their club rivalries in the interest of the England team, Graham implies that we need to encourage inclusive empathy in the nation as a whole. He inserts some topical political allusions – and there are even hilarious cameos from a trio of Tory prime ministers, Theresa May, Boris Johnson, and Liz Truss, who all miss their penalties. Since Southgate became manager a few months after the Brexit referendum he has been a unifying force in restoring faith in the multicultural national team as a positive expression of English identity. There are rather rushed references to campaigning against racism with taking the knee and to supporting the LGBT cause with rainbow armbands eventually not worn in Qatar. But there is a general sense of reclaiming the St George's flag from far-right xenophobes.
A pitch-perfect production by Rupert Goold (who has worked with Graham before on Tammy Faye and Ink at the Almeida) is dynamic and fluid, with team talks alternating with high-energy fitness training and simulated goal-scoring (co-movement directors: Ellen Kane and Hannes Langolf). There is good use made of the Olivier's revolve when, for example, we see an array of people from diverse ways of life going about their daily business while supporting England. There are brief recaps of England's underwhelming tournament record and revolving-door procession of managers with some archive footage (video design: Ash J Woodward). In Es Devlin's striking design an illuminated spherical ring above echoes a football stadium, with hollow wooden changing lockers put to flexible use, while the penalty spot on the centre of the stage forms a focal point.
The splendid cast often use the central aisle to enter and exit the stage via a ramp, while encouraging a passionate response from the audience to their rally cries. As the main man, Joseph Fiennes not only looks and sounds the part (including fashion-trend-setting waistcoat, trimmed beard, and quietly authoritative voice), but brilliantly captures Southgate's modest determination and inspiring philosophy. Gina McKee also impresses in one of the few female roles as the calmly perceptive and sympathetic Grange who has to first overcome both sexist locker-room banter and resistance to talking about mental health issues.
Will Close gets big laughs as an endearingly inarticulate captain Harry Kane, who makes up for his lack of rousing words with his genuine commitment to the team, while Darragh Hand plays Marcus Rashford with a keen sense of social justice, Kel Matsena is a defiantly outspoken Raheem Sterling, and Josh Barrow is a pumped-up, ever-competitive Jordan Pickford.
There is skilful multi-roling from Sean Gilder as a laddish physio plus two ex-England managers, a defiant (one-match, 100%-record) Sam Allardyce and intellectually forbidding Fabio Capello; from John Hodgkinson as out-of-touch FA Chairman Greg Clarke, contentious FIFA President Gianni Infantino, and critical former player Matt Le Tissier (who only missed one penalty out of 48 in his career); and especially Gunnar Cauthery who runs the gamut from a buffoonish Boris Johnson and urbane head coach Sven-Göran Eriksson to a taciturn Wayne Rooney and chirpy Gary Lineker who directly addresses the audience without any political bias whatsoever.
Inevitably, having already having been regaled with sing-a-long favourites "Vindaloo" and "Sweet Caroline", we end the evening after three hours with the classic England football anthem "Three Lions" – but after this feel-good show the 57 years of hurt no longer seem so painful.
.
.
~