John Truscott: A Retrospective by Denise Whitehouse
Charismatic, brilliant, temperamental, a perfectionist workaholic and a man of impeccable taste, John Truscott occupies a preeminent place in Australian culture. Rising to international fame in 1967 with his Oscar-winning costume design and artistic input for Camelot, he is best described as a performing arts designer. His career encompassed all the arts, beginning in 1953 with repertory acting and stage and costume design followed by musicals, film, ballet, and opera before moving into the creation of immersive arts environments with the interior design of the Victorian Arts Centre's vast underground concrete theatres complex (1980-84) followed by Super Bowl XX Half Time in 1986. A gifted producer of transformative sensory experiences, his design of the Brisbane 1988 World Expo transformed the city into a six-month arts extravaganza that laid the foundations for its flourishing riverside leisure precinct. Similarly, he transformed Melbourne, for two weeks of the years 1989-1991, into a peopled International Arts Festival, dressing the city with fireworks and lights, street performances, and botanical installations to create all-encompassing experiences that live on in the country's collective memory.
Given John Truscott's undeniable cultural legacy, surprisingly little has been published about him. There is however an abundance of anecdotal stories about his rare creative vision and unrivaled ability to shape change and drive huge projects while mentoring and inspiring everyone around him to excel. There also are "cost-a-lot" Camelot tales about Truscott excess balanced by stories of his ingenious solutions in response to budget cuts such as using black taper candles to light the wedding scene in Camelot and the breathtakingly beautiful wedding dress for which he remains unrivaled.
This article describes the early years that led to Truscott's international fame. Part Two will cover his London and Hollywood years.

Denise Whitehouse on John Truscott, Australian Scene Designer
Part One: The Early Years (1953-1964)
John Truscott (1936-1993) did not leave an archive and was evasive when talking about himself and his upbringing. A difficult childhood was marked by parental conflict over his innate creativity and education; he left home at 16 to join the theatre and pursue his dream of becoming "a provider of the visual magic". Joining a troop of young misfits who gravitated to Melbourne's National Theatre Movement attracted by the opportunities offered by its annual Arts Festivals, he found a creative community in which to flourish. The National Theatre Movement was Australian theatre's training ground where the young could sample opera, drama, and ballet in an inclusive, hands-on learning environment. They could, like Truscott, act in or stage-manage a play, go on as an extra in opera, take a mime role in a ballet, design and make sets and costumes.
When Truscott joined Melbourne's National Theatre, preparations were underway for its 1954 Arts Festival that featured Gian Carlo Menotti's operas The Consul and Amahl and the Night Visitors, and Offenbach's The Tales of Hoffmann directed by Stefan Haag and designed by the artist Louis Kahan. Viennese émigrés, Haag and Kahn brought aesthetic and technical sophistication to the National's productions with The Consul featuring brilliantly devised moving sets, spectacular theatrical trickery, and modern cinematic flashbacks for the opera's dream sequences. Assisting with props, Truscott experienced the benefits of Kahan's avant-garde years in Paris and discovered a modern world of theatrical enchantment that included Jean Cocteau's magical otherworldly fantasies.
John Truscott.
Photo courtesy Australian Performing Arts Collection.
Intent on mastering the vocabulary of all theatrical departments and the teamwork pivotal to theatre design, Truscott spent every hour learning from the National's experts, even hiding in the roof space at night to discover the tricks of scenery painter Dresford Hardingham. He tried his hand at everything: designing and making sets and costumes while learning about fabrics, tailoring, and trims by spending hours in wardrobe. He earned the respect of the milliner Marjorie Head and costumier Phyllis Foulkes who would time and again produce their best work for him. He also took to the stage in order to understand the needs of performers. While not a gifted actor, his presence was magnetic. He was, to quote a contemporary, "almost too good looking with the deep burning eyes of vision and passion and beautiful hands with which he was so adept". He also experimented with makeup, taking inspiration  — when preparing to play a "splendid preternatural" Oberon in the National's 1956 production of A Midsummer Night's Dream — from Sir Robert Helpmann's much-publicized performances as Oberon (Old Vic 1937 and 1954) and as Coppelius in The Tales of Hoffmann in 1951. The designers of these productions, Oliver Messel and Hein Heckroth, were formative influences – especially Messel from whom Truscott drew inspiration for the National's A Midsummer Night's Dream costumes and scenery."
Vanessa Redgrave in Truscott's wedding dress for
Guinevere. Film version of Camelot in 1967.
Photo courtesy Warner Bros, APAC.
Truscott's years at the National coincided with a period of theatre revitalization and renewed focus on design stimulated by the newly formed Australian Elizabethan Theatre Trust and "no cost spared" recovery tours by the Old Vic and the Royal Ballet. Truscott was particularly enthralled by the Old Vic's 1955 Shakespearean tour starring Robert Helpmann and Katharine Hepburn that showcased Britain's leading designers: the Australian Loudon Sainthill (also the subject of an article on this website) was responsible for The Merchant of Venice, Peter Rice for The Taming of the Shrew, and Leslie Hurry for Measure for Measure. Night after night, Truscott watched the transformative trickery of the stage and costume design being exploited, especially by Helpmann, with his extraordinary mastery of the stage and make-believe." When Kenneth Rowell returned from London in mid-1956 to design works for the Elizabethan Trust's inaugural season of Mozart operas during July to October 1956, Truscott was well prepared to work as his assistant.
Set design for The Traveller Without Luggage, 1960. Melbourne Little Theatre.
Courtesy of APAC.
In late 1956, the Melbourne Little Theatre's management — Brett Randall, lrene Mitchell, George Fairfax — invited Truscott to become its first resident designer in an early move towards the professionalization of Australian stage design. The Little Theatre was expanding, having opened the first theatre built in Melbourne in 25 years which had seating for 400 and, importantly for Truscott, a beautifully-proportioned stage. Enormously influential, lrene Mitchell had raised the funding for The Little's new theatre and built its impressive subscription list comprising Melbourne's theatrical, political, and business elite. As Truscott told the British press, The Little Theatre played to capacity houses and "audiences with a certain amount of critical facility which was an incentive for a young artist to put forth his very best efforts". (Unmarked cutting in John Truscott scrapbook.) A talented director dedicated to fostering talent, Mitchell took Truscott under her wing, nurturing his innate abilities and equipping him with the social and theatrical skills necessary for success. Feeling secure, Truscott began cultivating his theatrical designer persona, losing his Australian accent, and applying his flair for exuberant beauty and perfectionism to every facet of life including the white doves that shared his apartment with partner Graham Bennett.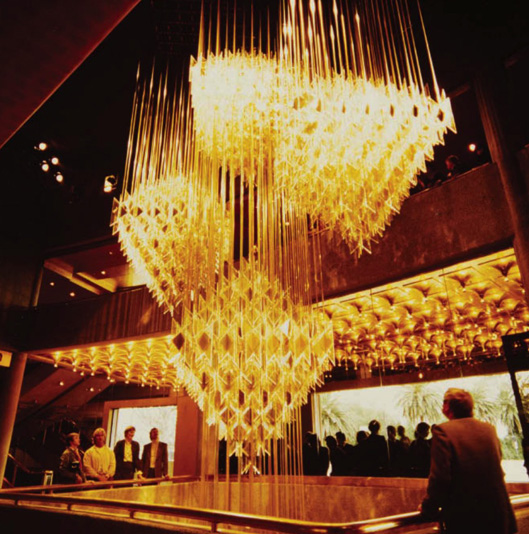 Foyer Hamer Hall, Victorian Arts Centre, 1980-1982. Interior design John Truscott,
architecture Sir Roy Grounds. Photo courtesy of VAC Collection.
With Mitchell, Fairfax, and Peter Randall as directors and Truscott as resident designer, The Little entered a golden era: by the end of 1957, Truscott's first year, it had 700 on its subscription waiting list. The Little staged 13 productions a year, 12 to entertain and pay the bills and one to push boundaries. Many were light entertainment — Noël Coward's Relative Values, (1957), James Barrie's What Every Woman Knows, (1960) — and many were world and Australian firsts including Mitchell and Truscott's version of Truman Capote's The Grass Harp, (1957). With Broadway dramas always a feature, The Little's focus was modern playwrights: Samuel Beckett, Arthur Miller, Dylan Thomas, and Herman Wouk whose Caine Mutiny Court Martial brought Truscott and Peter Randall to national attention when in 1959 their production was restaged as the first full-length and live drama on Australian television.
Scant archival material remains of Truscott's work design prior to 1960 but the small amount of extant information indicates that, faced with three week turn-arounds, he developed exceptional technical mastery and inventiveness as he moved swiftly between genres and eras and the rigours of functional simplicity and captivating decorative elements while paying attention to the detail and trickery required to make the unreal real. An remaining set design for Jean Anouilh's drama The Traveller without Luggage (1960) shows Truscott cleverly using scrim and lighting to envisage the psychological state of a 1930s French military amnesiac whose fractured memories are caught in the misty details of a forgotten past, the menace of which lurks in a rocking horse and a demonic toy cat.
Intent on creating awe and wonder, Truscott made use of abstraction in both form and light to bring alive Mitchell's production of Robert Ardrey's political Shadow of Heroes (1959). Written in 1958 about the Hungarian uprising of 1956, Shadow of Heroes told of the events leading up to it and its aftermath. Truscott's minimalist set of packing crates (some stamped "Australia") was moved by actors during the production in accord with dramatic lighting to evoke the skyline and streets of Budapest and the plight of its refugees. Truscott and Mitchell's brilliance with immersive transformative experiences shone through every night when the cast sang the Hungarian National Anthem to the sound of seats shuffling as the Hungarians in the audience stood unprompted and joined in with tears running down their faces." It was, the reviewer for The Age wrote: "…one of those rare pieces of theatre which commends itself for what it has to say and teach, and for the honesty with which it says it — a bold, challenging and moving drama which strikes hard at the human conscience."
Truscott and Mitchell's partnership reached its peak with two outstanding productions, Rosemary Sisson's The Splendid Outcasts (1961) and Dylan Thomas's Under Milk Wood (1961). Truscott's staging of the radio village of Llareggub involved an entire town of moving parts into which characters would slide in and out on gurneys, and clocks and chimneys drop in and out echoing the enchanted trickery of Heckroth's Tales of Hoffmann. Mitchell's decision to stage the Australian premiere of Sisson's play about Cesare and Lucrezia Borgia tapped into the popularity of Medieval/Renaissance dramas and Truscott's fascination with the romantic kingdoms fashioned by Sainthill, Messel, and Cecil Beaton from colourful pastiches of period styles.
Working in his hands-on manner, Truscott inspired the Little Theatre "family" to strive for perfection. Long hours were spent researching the historical details that Truscott would meld and imbue with contemporary taste to make his Renaissance wonderland plausible. Staff skills and trickery came into play: painting fabrics, fashioning trims and jewelry from nothing, dying tights again and again to achieve an exact colour match so as to create a suite of opulent costumes of a quality which was rare in Australian theatre. Photographs of his simple sets suggest an aura of Renaissance classicism overlaid by implied luxury that came alive when occupied by actors attired in elegantly rich costumes in glowing colour harmonies. You can image the play of light accentuating Truscott's signature use of pearls, plush fabrics, and trims — bringing splendour to the palazzo with its staircases, tapestries, and perfect Renaissance garden.
Encouraged by Mitchell, Truscott began working for the theatre entrepreneur Garnet H. Carroll, who was experiencing success with musicals and challenging J.C. Williamson's market dominance by moving away from replicating overseas productions to showcasing local talent. Maintaining his Little Theatre schedule, Truscott learned the ropes working the wardrobe on The Merry Widow (1960), West Side Story (October 1960), The Most Happy Fella (1961). In late 1962, Carroll took a gamble and gave Truscott creative freedom for a revival of The King and l, the design of which was to be the "star".
The publicity for The King and l made a great deal of the £80,000 (£Aus2,354,000) that Carroll invested, of which £16,500 (£Aus485,511) were spent on Truscott's sets and costumes. The King and I was Carroll's most costly and risky production, and all was resting on Truscott's design. Six rooms in Carroll's Princess Theatre were given over to wardrobe and a dozen buyers were hired to shop for materials, which were described as a fairyland of silk and eastern fabrics, rich brocades, imported sarongs, and vivid Thai silks. Building audience anticipation, the media showcased Truscott's entire process: the model and staff briefing, building of sets and scenery, and wardrobe where much was made of the dedicated detailing that went into making the costumes. Such was Truscott's commitment to authenticity that Marjorie Head's team had each taken three days to make a stunning temple headpiece which, like the traditionally correct jewellery and beaded dresses, probably cost more to manufacture than did the originals.
John Truscott set design for The King and I.
Photo courtesy of John Truscott Collection.
The King and I was a success. The summer crowds flocked to see it and a reviewer for The Sun raved: "With so much colour and glitter on stage it might have been difficult for designer, John Truscott, to match them for settings, but his beautiful gold palace setting with changing backdrops is the perfect background. The ballet is a triumph of wonderland. Four bloodhounds with fearsome Siamese masked heads, an angel glittering blue, little Eva with instant wings … make the ballet a feast for the eyes." Truscott had arrived.
In February 1963, he signed a contract with J.C. Williamson for the Lerner and Loewe musical Camelot. Williamson's practice was to literally copy overseas productions, but the Americans and British were finding Camelot difficult to stage. Truscott's task was to create an entirely new, extravagant Camelot for Australian audiences that would, when it opened in November 1963, be proclaimed "a magnificent spell binding spectacle"? The Nation Review reported that "Technically the show was faultless, the split-second change of enormous sets almost unbelievable, the colour values, variety and movement  magnificent." In Australia for the premiere of his ballet The Display (March 1964), Helpmann contacted Jack Hylton recommending that Truscott rework his Camelot for the Royal Drury Lane Theatre's immense stage. The story goes that Truscott, en route to study in London, began work immediately on his arrival. Jack Warner, seeing the London production in August 1964, spirited Truscott away to Hollywood and Oscar fame.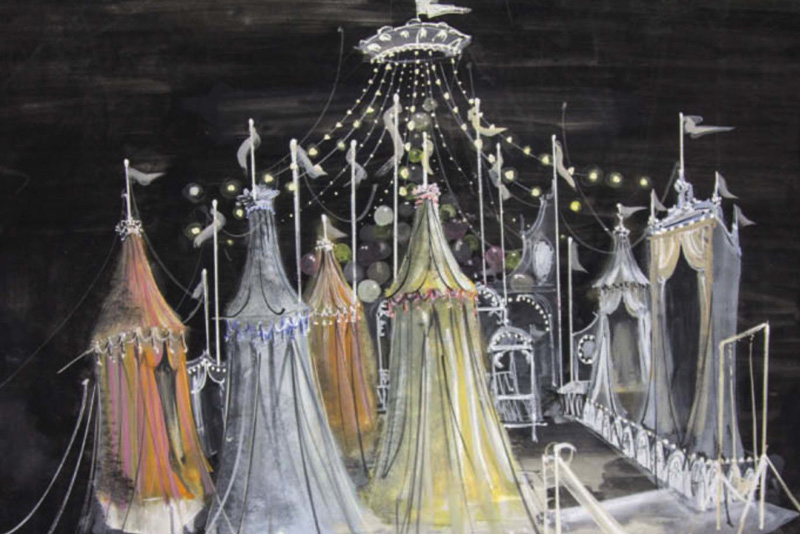 John Truscott set design for Camelot.
Photo courtesy of John Truscott Collection.