"Jerusalem" – Apollo Theatre
Jeremy Malies in the West End
10 May 2022
It's St George's Day in an unspecified year at the village of Flintock a few miles south of Marlborough in Wiltshire and the annual fair is beginning. Johnny 'Rooster' Byron (Mark Rylance) is on borrowed time; the council are about to evict him from his caravan in a strip of forest he regards as an ancestral home and the enraged father of one of his teenage seducees wants to take a blowtorch to him. His disposition remains sunny.
Mark Rylance and Mackenzie Crook. Photo credit: Simon Annand.
Dramatists and critics were asked if this is the best play of the century before it opened for a revival after its premiere at the Royal Court in 2009 and a transfer (also to the Apollo) in 2010. I'm unsure. What I do know is that it's the funniest line-by-line piece I've seen in decades (the only challenger being Martin McDonagh's Hangmen) and Butterworth sets the bar high for himself with barely any slapstick and not a single lazy visual gag.
I wondered if there might be some extra relevance to the text post-Brexit, but the play is folkloric without being parochial. And while it may be nationalistic, it's sufficiently universal to resonate with other cultures. The title might be a hymn of fervent nationalism, but I spoke with a couple from the French Basque Country in the interval who were struck by how many of Byron's tall tales about giants and fairies chimed with their own storytelling traditions.
There is criticism of social services provision for young people in poor rural communities and you can hardly argue with Byron's claim that the adolescents who flock to him have nowhere else to go. The challenges faced by the traveller community are also addressed and Butterworth has serious things to say about Romany and gypsy ritual as Byron gives life advice to an infant son who we sense he will never see again.
Mark Rylance. Photo credit: Simon Annand.
I can't have been the only person when watching a witty older man carousing with younger people and drinking himself into oblivion to think beyond the general theme of a Lord of Misrule to Falstaff. When Rylance and a pub landlord played by Gerard Horan discuss their exploits as young men there are more Henry IV references with echoes of Shallow and Silence.
And what of Rylance's towering (possibly career-defining though it's a huge canon of work) performance? The physicality is intact 13 years after he first played the role and won an Olivier for it. I for one believed that the character could still propel a motorbike over a line of buses. Most impressive is the way that Rylance can turn himself in an instant from a generally avuncular figure for the teenagers who surround the caravan to a far more sinister presence who will probably start them on an addiction to hard drugs. Physically he is mercurial, constantly flowing from a strutting and still potent alpha male to a defeated libertine who is not the fixture that he sees himself to be in this particular stretch of England's pleasant pastures.
Director Ian Rickson (possibly consulting with Sonia Friedman Productions) opts to leave the play in its original time frame (say, 2008) with the characters using vintage Nokia phones and referencing now distant popular culture figures such as Susan Boyle and the Spice Girls. Having  made this decision, I believe Rickson and the whole project could have been spared some grudging reviews by critics who have noted mildly misogynistic remarks and a lack of differentiation of the female characters in a play that despite what is likely to prove an impressive shelf life is now in some senses a period piece.
The illusion of width and depth to a design featuring real trees by Ultz (a theatrical polymath and the closest thing we have ever had to Inigo Jones) suggests that you could indeed follow the ley lines that Byron reveres and walk through the broadleaf woodland of Wiltshire to the Atlantic coast. Ultz won an Olivier for his sets when the production premiered.
Ian Dickinson's choice of incidental music had me almost out of my seat in unison with Byron as he awakens himself with a jive though I'm not sure I could cope with the accompanying hangover cure of raw egg and a quarter bottle of budget vodka. (The eggshell is thrown into the audience.) Elsewhere there are songs by Jake Thackeray and Tom Waits that are apposite to the theme of patriotism. There is also an original score by Stephen Warbeck (an Oscar winner for Shakespeare in Love) whose adaptability allows him to work here in a style that mirrors the oratorios of Hubert Parry whose "Jerusalem" is sung unaccompanied by Eleanor Worthington-Cox as a prelude.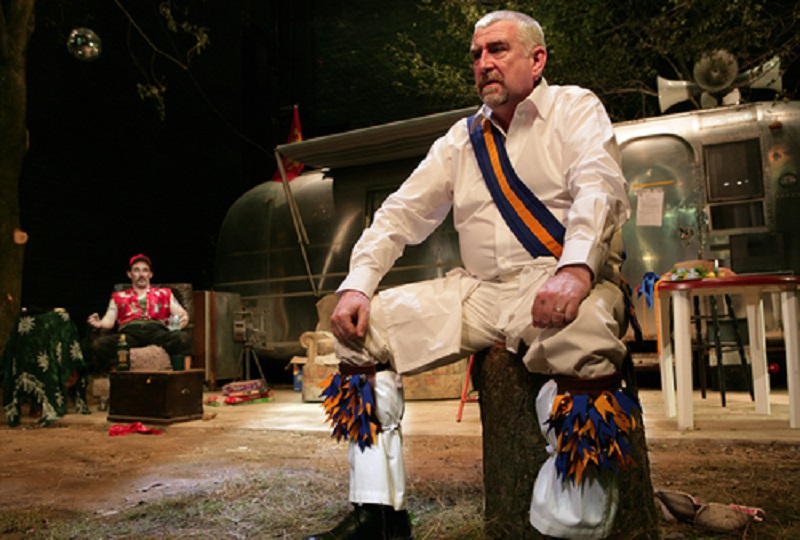 Gerard Horan (foreground). Photo credit: Simon Annand.
There is either an accomplished (uncredited) dialect coach at work with the cast here or they all pull off the West Country accent unaided without once stooping to caricature. Niky Wardley as a bailiff with a particular dislike of Byron captures not just the dialect but the whole persona of a self-important civil servant (empowered and untouchable on account of video camera recording) who perhaps wishes that she too had been one of the many women to be seduced in the caravan. Byron's senior hanger-on Ginger played by Mackenzie Crook (also in the original cast) convinces as an aspiring DJ who is simply never going to get his big chance and it's quite an achievement to be credible as an acolyte at the age of 50.
Butterworth's themes include how our green belts are being shrunk though it's a minor comfort to learn that the much-dreaded new housing in Flintock will be an estate for locals rather than a ribbon development of second homes for the affluent.
I went twice as a paying punter during the first West End London run and enjoyed it immensely but primarily for the general exuberance and profusion of wonderful gags. Perhaps it's an ageing thing but this time around I found more lyricism in the big set speeches which moved me deeply, none more so than a tempus fugit theme when Worthington-Cox reflects that she has five more minutes as the festival queen before a new girl will be crowned up at the unseen village fair.  You have to think that an early pregnancy and grinding poverty is all she has to look forward to.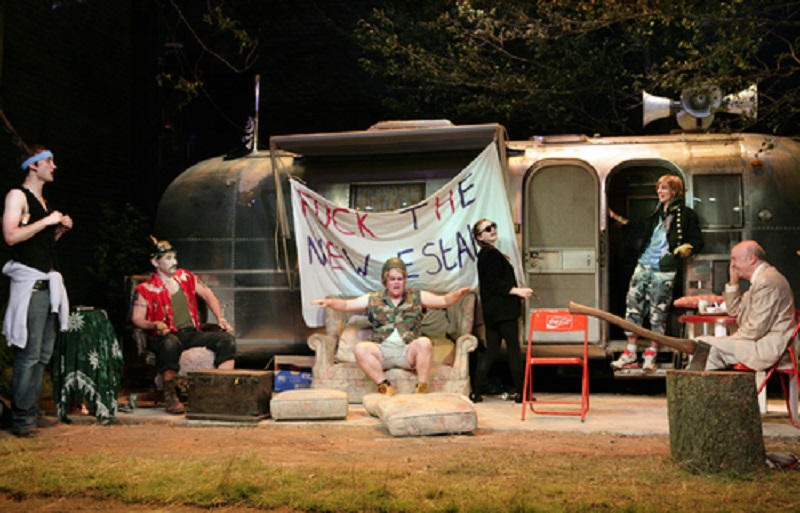 The ensemble. Photo credit: Simon Annand.
While I said that Butterworth avoids slapstick, a sequence in which Horan is forced to give a Morris dancing display in exchange for a few grammes of cocaine is physical comedy of the highest order. And there is a general feel of physical chaos with live chickens under Byron's caravan.
And my greatest play of the century? It's an egocentric subjective exercise anyway but I prefer a smaller canvas and would argue for Lucy Prebble's The Effect or David Eldridge's Beginning. But what I do know is that this is a massive, durable, relevant and joyful work that is served superbly here by a flawless cast. It's the happening event in London and I'd urge anybody to join the scrabble for tickets.