"The Tempest" National Theatre ("Ivan Vazov"), Bulgaria
Sasho Ognenovski in Sofia
19 January 2023
"Woven From Dreams or Prospero's Twisted Mind" 
With his treatment of The Tempest, Robert Wilson offers another artistic miracle woven from his synthesized way of thinking where visualization and symbolic aspects are to the fore.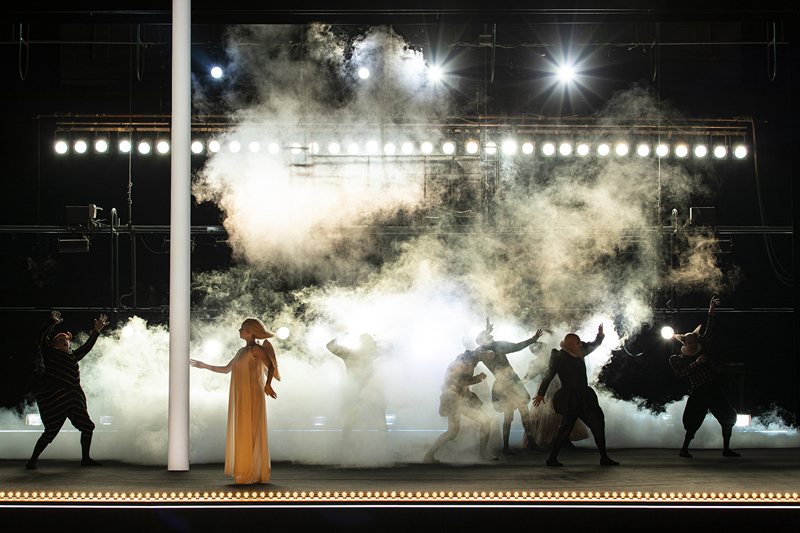 Vasilena Vincenzo as Ariel in foreground. Photo credit: Gergana Damyanova.
In this director's conceptualization, audiences recognize Wilson's strategies and solutions typical of Shakespeare's Sonnets by the Berliner Ensemble and Pushkin's Tales from the Theater of Nations in Moscow. But Wilson is always progressing and developing his analysis so that in this case we have a bit little more actor's recognition and character mobility. This comes out of the satirical emblematic nature of the character ensemble.
The Tempest is one of Shakespeare's plays in which comedy and tragedy are tightly woven; a play with substantial characters made for a powerful stage rendering and a rather complicated plot. Wilson's approach simplifies that complexity based on an adaptation of the text by the German dramaturge Jutta Ferbers, especially the plot with Alonzo's servants Stefano and Trinculo. We are confronted with a striking and visually rich show concentrated on the fate of the heirs, their loss through greed and their general malice.
The superbly directed storm scene at the beginning of the play (fascinatingly executed with excellent manipulation of light, colour and fog and steered brilliantly by the actors' physical actions) leads us into the world of reverie as we have essentially dreamed it. It's the sum total of this veteran director's store of wisdom. The dreams have the twisted reality so familiar to anybody who simply recalls rather than tries to interpret their own dreams.
This is why the figures that Wilson presents to us at the beginning of the piece in a broad way (a little suggestive of cabaret) seem grotesque and although framed in their characterization, they create a story that pulsates with Shakespeare's drama but is especially close to phantasmagoria horror theatre.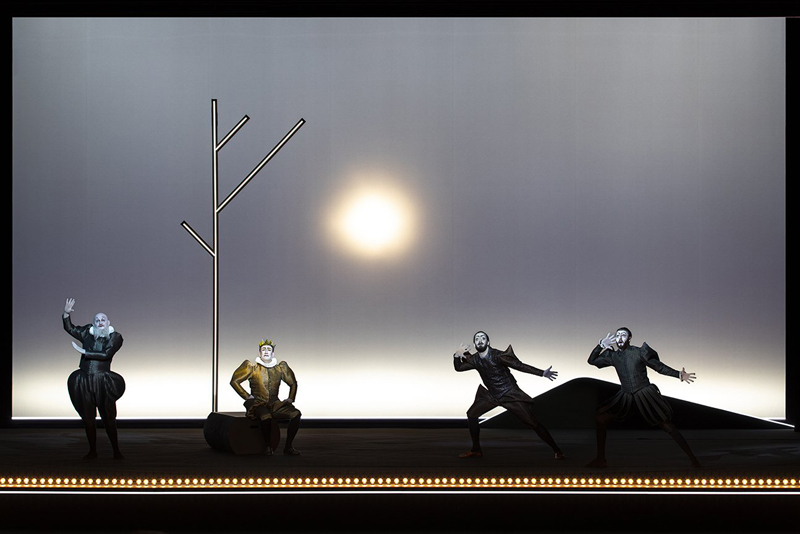 Valentin Ganev, Stoyan Pepellanov, Konstantin Elenkov, Zafir Radjab.
Photo credit: Gergana Damyanova.
Despite the fact that this show veers towards that genre, the scenes have a different chemical nature, a different setting. Looking at the development of the play, one gets the impression that these characters touch their realistic roots, free up their roles from strict stereotyping and the relationships become correspondingly "alive."
The "aliveness" of the characters in this concept introduced by Wilson doesn't mean liberation from the more static elements of the roles as written. On the contrary, the displacement means the ennoblement of those figures with characteristics typical of this time because the fairy tale of this play at the dramaturgical level is in the foreground while in the background are social currents. These characters, unlike those in Pushkin's Tales, where we deal again with a fairy tale, create a slight distance between their fate and the reason for which they experienced it. The engagement and the message can only be extracted from the style and irony of the acting expression itself.
My instinct is that Wilson probably relied a lot on exactly that kind of acting energy. This is impressive. To open up the eternal societal and social imbalance, he puts his emphasis on political relations while the comic plot in this vision of The Tempest sits more quietly within the stylistic presentation.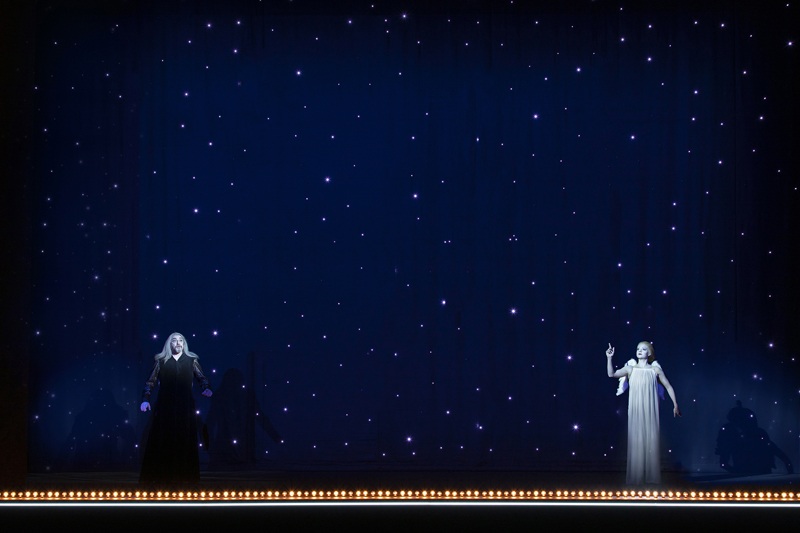 Veselin Mezekliev and Vasilena Vincenzo. Photo credit: Gergana Damyanova.
Unlike the other plays by Wilson that I have mentioned earlier, where the dramaturgy arose from components in another literary genre, here it's a matter of a dramaturgically organic play which he approaches in a different manner. He deconstructs it and adapts it to his vision of human greed and infidelity. Wilson says: "The more you achieve inner freedom, the more you want: it's more fun to be happy than sad, it's more pleasant to choose your own emotions than to have them imposed on you by mechanical innate processes, more pleasant to solve your problems rather than being stuck in them forever." And it's within those frameworks that we locate the complementary thread of this very strange version of The Tempest.
The acting segment of the play is impressive. The compactness and economy of the acting technique, precision and clear expression abound so making this theatrical act unforgettable. I'll begin with the very strange Prospero by Veselin Mezekliev who exudes senility and frailty and yet does so in a farcical way that makes the character endearing. Mezekliev's Prospero is not an old, stuffy and rejected ruler with a lost destiny. He is unjustifiably left aside and relegated to that desolate place where he lives among his memories and hopes. This character impresses with his gentleness and trustworthiness, and Mezekliev reveals through this figure a hitherto unseen Prospero whose wisdom seems to be the core of the whole play.
Miranda, played by Zhaklin Daskalova in this version, is a girl who serves up her combativeness and dynamism in volleys as if she has suppressed it for a long time. It's almost as though that impulsiveness becomes a kind of unconventional behaviour that she herself is surprised by. It's a well-formed ambivalent female character that Daskalova plays with great resourcefulness.
Yvor Vulkanov, Vasil Draganov, Stefan Kushev.
Photo credit: Gergana Damyanova.
Also warranting mention here is the excellent Caliban of young actor Yavor Valkanov who with just a few moves and gestures managed to inject a bravura component into this half-monster, half-man being so turning him into a fine grotesque phenomenon who speaks a language of savages in a wilderness. And yet it is a communication method that becomes a lingua franca with the two drunkards who meld into the dynamism of his approach. Valkanov organizes all his gestures and facial expressions, his entire physical arrangement in a character that is memorable for its precision and comic invention.
Petar Dimov's Ferdinand is the character of a young nobleman who is ready to adapt to all situations if he can get something out of them. Such a Ferdinand is conjured up vividly for us by Dimov whose measured approach and extremely complex rhetoric make this character astounding in terms of steadiness and determination.
Despite the fact that all the characters leave an extremely beautiful impression with their characterization, here we cannot but mention Vasilena Vincenzo's Ariel, whose ethereality forms the other side of this rigid Shakespearean fairy tale. Vasilena, circling all the characters who have fallen into the net of the undiscovered secrets of the abandoned kingdom and the unjustified king, creates the character of a spirit whose human characteristics make her or him perhaps someone "other" from this, someone who sits in another dimension of the plot and can watch it from above so putting it together according to his/her vision.  Vincenzo does all this with a well-organized performance and impresses with her flamboyance. Finally, there should be plaudits for the character of Antonio played by Konstantin Elenkov, an actor who left a strong impression with his rich expressive register. I mentioned earlier that all the actors and actresses are in their own way interesting and strange, farcical and of a type. The inter-relationships as orchestrated by Wilson in this production differ from those we are used to seeing in his other projects.
The ensemble. Photo credit: Gergana Damyanova.
Certainly, what creates the initial and most dominant impression in any play by Wilson is the complex and strong visualization which manages to be precise and managed at the same time. And we would say that in this play it's rather simplified. His scenographic solution, which as in his other projects is mainly panoramic with various set details, takes place here in such a way that all the surroundings of the actions are indicated symbolically. The visual concept is helped along by input from the visual artist Marcello Lumaka.
Colourful costume design by Yashi strikes a compromise between the time in which the action takes place according to Shakespeare (it's been suggested that he read about a real-life shipwreck off Bermuda in 1609) and the present day. All costumes and masks (make-up) are a universal typification of the characters and seem to be the frames that actors and actresses inhabit when capturing their characters.
The music that Wilson uses comes from composers across a spectrum of periods and styles. Some of them we recognize in the interpretation of music by the actors themselves while others are incidental. Tom Waits, Alistair Bruce, Henry Friend/Ted Brett Burns, Katsuya Yokoyama, Michael Galasso, Nuno Nardini, Mario Lanza, Hans Jorn Brandenburg, Philip Glass, Lou Reed, Antonio Vivaldi, Franz Schubert. It's quite a miscellany!
"We are the stuff dreams are made of, and our little life is rounded with a sleep," seems to be the essential sentence from this Shakespeare play around which Wilson's entire conception revolves. And that is why Prospero's twisted mind is not so far from our own twisted minds of today. In that presence, in this virtual world, we have all forgotten to dream. So this The Tempest which is a kind of probe towards the realism that Wilson in his early plays dismembered down to the smallest particles is in a way a warning that if we stop dreaming we will also forget about our tangibility, our very physical essence. We'll be exactly the stuff of someone's dreams at another time.