"Woman In Mind" by Alan Ayckbourn, Chichester Festival Theatre
Simon Jenner in west Sussex
29 September 2022

"Squeezy.. squeezy… Score grounds appeal cumquat doggy Martha hat sick on the bed…" No, Susan can't make out what hopeless doctor Bill's saying either. But she will. "December bee?" he asks, providing the play's subtitle. Knocking herself out by standing on a garden rake, Susan's confusion is understandable. Till it isn't.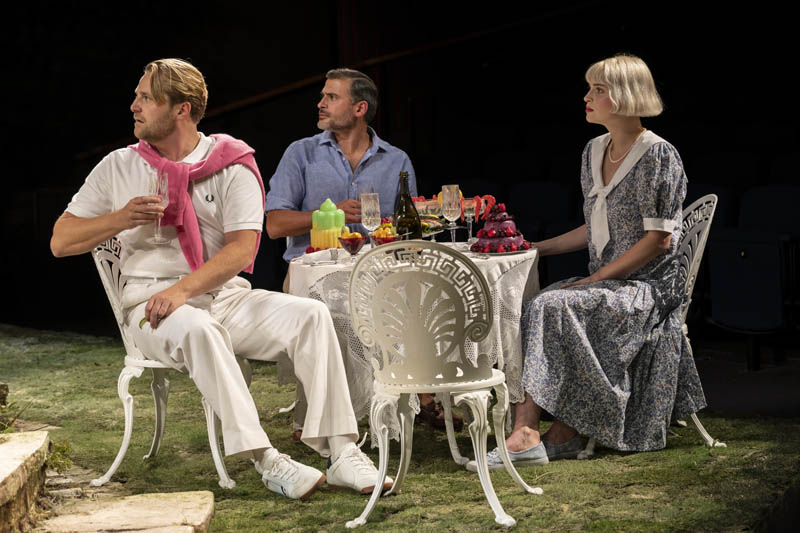 Orlando James, Marc Elliott and Flora Higgins.
Photo credit: Johan Persson.
Susan, the Woman in Mind of the title is never offstage. Jenna Russell follows outstanding performances by Julia McKenzie (1986) and Janie Dee (2009) in a revival worthy of them, in a definitive production of Alan Ayckbourn's very personal 1985 play, partly inspired by Oliver Sacks' study in cognitive dissonance: The Man Who Mistook His Wife for a Hat. Subtly different, departing very slightly from what we might know (with  Ayckbourn's full approval) it's directed by Anna Mackmin who makes her debut at Chichester Festival Theatre.
Woman in Mind is the latest in Ayckbourn productions at Chichester, including a specially constructed lake for Way Upstream in 2015 and in 2017 The Norman Conquests trilogy.
Susan's one of the most demanding roles of the past 40 years. We see her first oscillating between a real and imagined family, precise negatives of the negating family who torment her. "I'm in the herb garden" Susan cheerfully calls. She never leaves it. Ayckbourn eschews stage whirligigs for one of the mind, and it's dazzling. One of his very finest plays, certainly the most personal, it heralded tragi-comic masterpieces: A Small Family Business followed in 1987.
The yawning gap between Susan's ideal family – where she has fame, love, most of all agency – and her beleaguered housewife status, is the fissure opening in her mind. Susan's crisis is in part socially engineered. It's a blistering critique.
Lez Brotherston's elegant set encompasses a small circular garden centred with a sundial that revolves just once, as a panorama above scuds blue sunshine to storm-clouds and a few telling birds. Mark Henderson's lighting flicks with an umbrella's opening from drenching rain to bright sunshine. Simon Baker's sound swings from a bark to a brass band flicked to a piped one and back. There's an Ayckbourn precision in such timing.
Orlando James, Jenna Russell, Marc Elliott & Flora Higgins.
Photo credit: Johan Persson.
Susan whose mind we're in, is being fussily tended by doctor Bill in elegant gibberish: 'December bee' is also the same phrase Susan herself repeats at the end; you realise its distortion echoes a devastating imperative.
Matthew Cottle's exquisitely hopeless Bill is a non-regular doctor from the practice. Susan wants to cancel the ambulance. As Bill forbids this her family arrive and say they'll dispatch it: Marc Elliott's ideally loving husband and superb cook Andy, brilliant daughter Lucy (Flora Higgins) and Susan's much younger tennis-playing brother Tony – Orlando James' bobbing badinage about rakes and progress in the kitchen darkens as he later takes to bagging things with guns and turns the most obviously demonic.
All a great pity since they don't exist: their opposites do. And the uniqueness of this production is to sliver class between the two families, something I've not seen before. If the ideal family seem perpetually sunlit with privilege, then Susan's real family are closer to Absurd Person Singular's Hopcroft in a tweak of accent, as Russell too swerves from privilege to suburbia. At one point she uses that latter voice in her dream world, upsetting her own delusion. It's a definitive division of fantasy and real. The text can take this cue from Ayckbourn suburbia.
Gerald, Susan's neglectful literal-minded vicar husband (Nigel Lindsay, superbly truculent and Hopcroft-ish) soon admonishes Susan who asks why they've not had sex in years. Surely she's over all that? he replies.  He pleasures himself instead in completing 600 years of Parish History from 1386.
Marc Elliott and Jenna Russell. Photo credit: Johan Persson.
It's not just Susan suffering hallucinations. Gerald's live-in widowed sister Muriel (Stephanie Jacob, finding a dash of pathos and bereavement) casts bitter aspersions, signs for her dead husband's apparition, Earl Grey into omelettes instead of herbs (which Susan's mind recycles above as with much else). Coffee made like instant from ground drives off even attentive Bill.
Will Attenborough's Rick – the only child of Susan and Gerald – has foresworn communication with parents, joining a cult – such groups attract the young fleeing rigidly conventional religious upbringings; the pattern fits. In a house touched by failed religion, Rick, lately in a cult demanding silence, loudly tells his mother that she's too embarrassing to meet someone in his life.
It's Rick's sudden appearance prompting Susan's next collapse that begins a deadly seepage. Bill confessing something at a crucial point is interrupted Susan says by Lucy. Humouring Susan, he prods blindly for a child Lucy only for Susan to find the phantom family see him very well, then seize him.
Attenborough's Rick is a priggish mini-Gerald. He alleges Susan tries to befriend his girlfriends. "It's not all your fault" Gerald concedes, Lindsay clucking obliviousness just as Cottle's Bill substitutes humouring for capacity to empathize in an outstanding performance. Repeatedly we see neither doctors nor divines are any help with what Susan terms 'possession'.
This even more brilliant second act unravels. From the ideal family immediately echoing something that happens to the 'real' one – and we even wonder idly who's hallucinating who – they darken and merge. They morph into the sleep of Susan's reason, begetting a family of monsters.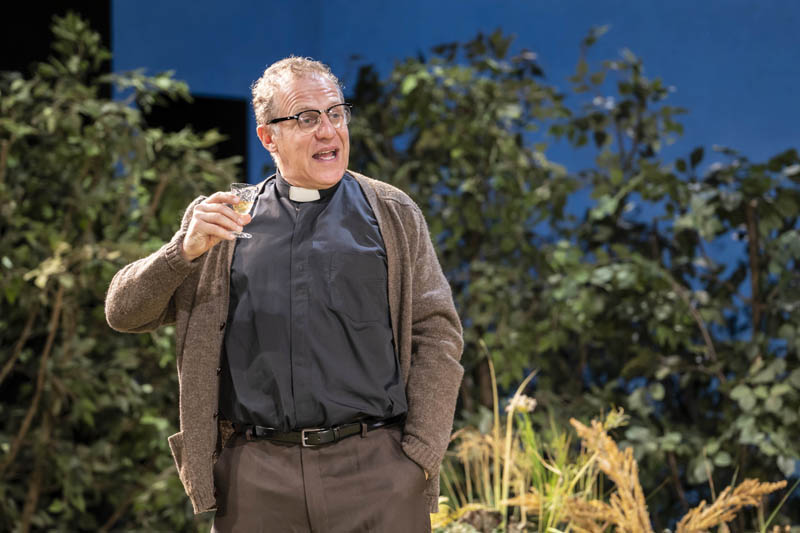 Nigel Lindsay as Gerald. Photo credit: Johan Persson.
Most telling is a moment when ideal Andy and Susan start speaking each other's lines, at first echo-delaying them. This might have been inspired by Sacks, but Ayckbourn's imagined way beyond any case history here, and it's hilariously chilling. Lindsay and Russell are at their subtlest and most quicksilver: less spectacle, more spectacular dialogue.
The climax is catastrophic and hilarious first because of what Susan does. Second, because the fantasy world Susan tries to banish starts blurring with the real as Susan's mind both collapses and sees her own family with devastating clarity – Gerald as an archbishop and a wedding-day-turned-brides'-race in Ascot. What occurs afterwards, with something Muriel takes as visitation, needs  to be seen. Mackmin navigates the glare and pitch of breakdown, pinpoints the criss-crossing shadows of Susan's worlds.
Cottle's eloquently hapless Bill – morphing into a tout at the end –conveys a man acutely self-aware at least: of his lack of charisma, a wife backstory, his feelings for Susan. Jacob evinces a shaft of hapless loneliness through Muriel's disapproving fug, flinching with servility in a final metamorphosis.
Russell's joy with her imagined family is – like them – a volume turned up. Higgins, making a radiant stage debut as Lucy, excels at this and in winces of hurt. Elliott's Andy also morphs from ideal husband to darkening that virtuosic echo-dialogue, finally suave demon lover: it underscores Susan's rejection of Gerald's world. James moves from privilege to sociopath with bullish ease.
Russell shuttles mesmerically between radiance and despair, confusion as narratives fuse, irritation seeping from the real, guilt at offending a young woman who doesn't exist; with admonitions from other phantoms.
'December bee' though returns us to Ayckbourn's violinist father and music as a motif. It's the heart-breaking 'Remember me' in some productions underlined by playing those words from Purcell's Dido and Aeneas –  Dido's Lament scored in an ecstasy of distraction.
Not here. It's pure desolation. Russell, rained on, joined briefly by Lindsay, sits and stands in a bleakness not alleviated by the original stage directions. It deepens a desolation Russell irradiates like a pulsing black hole of grief in a sodden shift.  The most devastating end to this play that I've seen.