"The Sound of Music" at Chichester Festival Theatre
Mark Shenton in West Sussex
18 July 2023
Early on in The Sound of Music, Rodgers and Hammerstein's final musical collaboration that originally premiered on Broadway in 1959, the wimpled nuns of Nonnberg sing of their mountain-loving, free-spirited noviciate Maria, "How do you solve a problem like Maria?", and in the poetry that Hammerstein excelled at, ponder, "How do you hold a moonbeam in your hand?"
The family and Gina Beck as Maria.
Photo credit: Manuel Harlan.
But in the wake of the 1965 five-time Oscar winning film version that remains one of the most commercially successful and beloved movie musicals of all time, the question for directors trying to capture that moonbeam on a theatrical stage is, 'How do you solve a problem like The Sound of Music?'
For Chichester Festival Theatre, who have now produced four of the big five R&H classics in the last two decades (after Carousel in 2006, Oklahoma! in 2019 and South Pacific in 2021), the answer seems to be, "If it ain't broke, don't fix it." A dependable creative team of director Adam Penford, designer Robert Jones (returning to a title he previously designed for the last big London revival at the London Palladium in 2006) and choreographer Lizzie Gee duly supply a solid but safe, pictorial and poignant production that delivers the show we already know and love but with no surprises.
There's virtue in that, of course — familiarity breeds content — but it also has the danger of amplifying the distance we're at from the film, whose memories it can't begin to challenge, but inevitably channel. No stage can summon those gorgeous real-life Austrian locations, for instance, though Jones's lavish sets do stretch from nunnery to the von Trapp family mansion with effortless ease (only Maria's beloved mountains defeat the attempt at verisimilitude).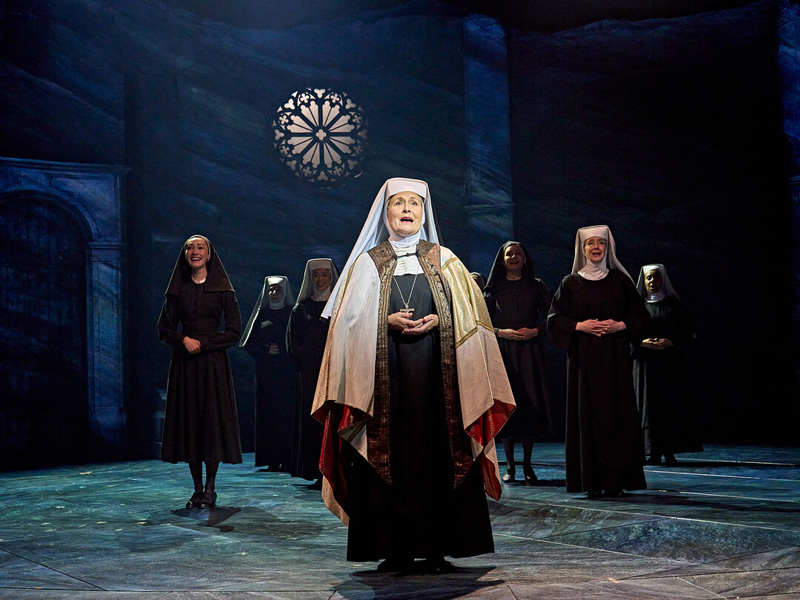 Janis Kelly as the Mother Abbess.
Photo credit: Manuel Harlan.
Instead, the stage has to rely on the human element, and here Penford is on firmer ground in every sense, fielding the luxury casting of a trio of leading ladies that couldn't be bettered. Gina Beck — who also played Nellie Forbush in the 2019 South Pacific — is an ideal successor to Julie Andrews's brand of dewy innocence, insouciance and playfulness as Maria, with an equally radiant crystalline soprano. As the would-be countess Elsa Schraeder, who comes to court the widowed Captain von Trapp, Emma Williams is radiant in her easy sophistication — and can match Maria's gorgeous vocal tones too. (No wonder the captain is intrigued). And Janis Kelly, an ENO veteran, is a spectacular Mother Abbess, lending "Climb Ev'ry Mountain" exactly the full-blooded intensity this most powerful of theatrical ballads demands.
Edward Harrison's Captain von Trapp is a delight as he gradually thaws from strict disciplinarian to his seven children to loving father, and — as with Mary Poppins — finds his family being healed by the presence of a nanny, though this is one he falls in love with himself. Six of the seven kids are played by two alternating teams, led by Lauren Conroy as the 'sixteen going on seventeen' Liesl for both.
A music department — led by supervisor Gareth Valentine and musical director Matt Samer — brings the ravishing colours of Larry Blank and Mark Cumberland's adaptation of Robert Russell Bennett's original orchestrations to gorgeous life.
Summer audiences at Chichester will undoubtedly find much to enjoy with this Sound of Music. But I doubt it will achieve a life beyond West Sussex; there's not enough to justify a return to the West End here.
Lauren Conroy and Dylan Mason.
Photo credit: Manuel Harlan.
.
.
~