"The Shape of Things" at Park Theatre
Neil Dowden in north London
2 June 2023
Neil LaBute 2001's romantic comedy-drama The Shape of Things is his most revived play. His original Almeida Theatre production starred Rachel Weisz, Paul Rudd, Gretchen Mol, and Fred Weller, then two years later he turned it into a film with the same cast. It features characteristically barbed male/female relationships (including archetypal names for the protagonists), but it is not as dark or bitter as much of his subsequent work. For this revival at the Park Theatre, LaBute has tweaked the text without updating it so the millennial cultural references remain intact – the play has dated a tad but it's still makes for an entertaining evening in the theatre.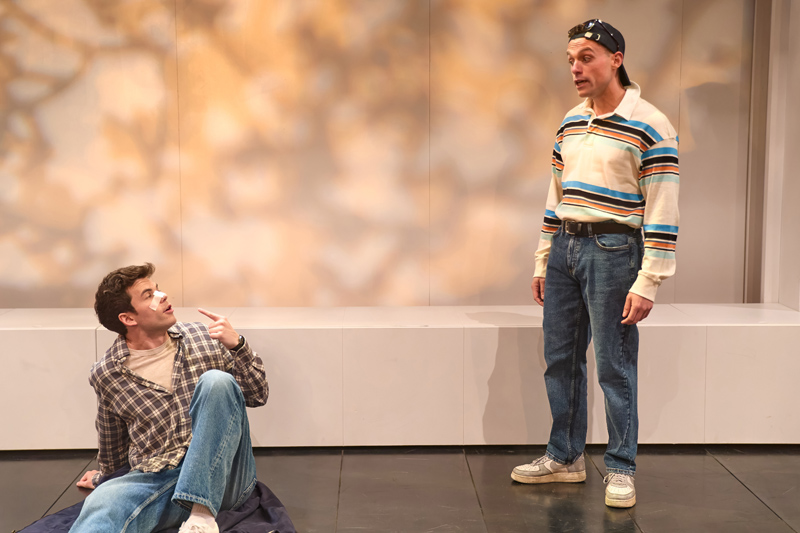 Luke Newton and Majid Mehdizadeh-Valoujerdy.
Photo credit: Mark Douet.
Set in small-town America around the fictitious Mercy University in 1999, the story moves swiftly through shortish scenes that depict a serendipitous romance which turns out not to be what it seems. When aerosol-carrying Evelyn "crosses the line" at an exhibition, gallery invigilator Adam steps in to ask her to move back – but she says she intends to spray paint a penis over the covered-up genitals of a nude male sculpture because she doesn't "like art that isn't true". She's a coolly attractive postgrad art student, he's a geekily inhibited literature undergraduate, so he can't believe his luck when she agrees to go on a date.
Always in control, Evelyn proceeds to give Adam a makeover during the following weeks, changing his hairstyle and clothes, as well as his diet and exercise, persuading him to let her film them having sex and even to have a nose job. Adam's fellow-student friends Phillip and Jenny, who are engaged, notice the improvement in his physical appearance, but he also becomes more sexually confident. When Evelyn tells him he must choose between her and his friends he drops them. A big twist near the end puts everything in a new perspective.
Carla Harrison-Hodge and Amber Anderson.
Photo credit: Mark Douet.
The Shape of Things is a smart, funny look at the subjectivity and ethics of art, the dichotomy of style and substance, scanning some serious issues without going very deep. Conceptual artist Evelyn controversially claims her activism is an artistic statement, while the misogynist philistine Phillip calls it graffiti vandalism during a big row. The play also lightly touches on how body image can be linked to abusive relationships, as Evelyn moulds Adam like a human sculpture, with allusions to Pygmalion and Frankenstein. The secret revealed in the denouement is clever but a bit of a cop-out.
Nicky Allpress's seductive production is on point, with Peter Butler's spare design suggesting a museum alcove for art works. The late 1990s indie rock/pop/dance soundtrack includes pertinently Space's "Female of the Species" which "is more deadly than the male".
The young cast are excellent. Amber Andersen (Peaky Blinders) makes an assured professional stage debut as the irresistibly manipulative Evelyn, a provocateur who knows exactly what she wants and how to get it as she weaves her seductive web. Luke Newton (Bridgerton) is amusing as the naively malleable Adam, whom we see becoming progressively more laddish as he turns from hunched nerd quoting Oscar Wilde to modish man about town. There is good support from Majid Mehdizadeh-Valoujerdy as the vulgar jock Phillip and Carla Harrison-Hodge as the complaisant Jenny whose latent feelings towards Adam unexpectedly surface, in a story of tangled relationships.
.
.
~