"Constellations": Hartford Theatre Works
Robert Schneider in Connecticut
28 January 2018
Nick Payne's two-hander Constellations at Hartford Theatre Works is an invitation to imagine the multiverse as an endless series of parallel worlds where our most intimate stories happen or don't happen simply because of an accidental meeting, a chance remark, or a jammed switch in the giant pinball machine of cosmic possibilities.
Marianne and Roland meet at a wedding. She is an astrophysicist from Cambridge; he is a beekeeper from Mile End. (The first of the cosmic mysteries is finding out how they were invited to the same wedding.) With so little in common they have to fall in love, but then quickly — perhaps too quickly — they discover it isn't easy to talk to each other about their respective professions.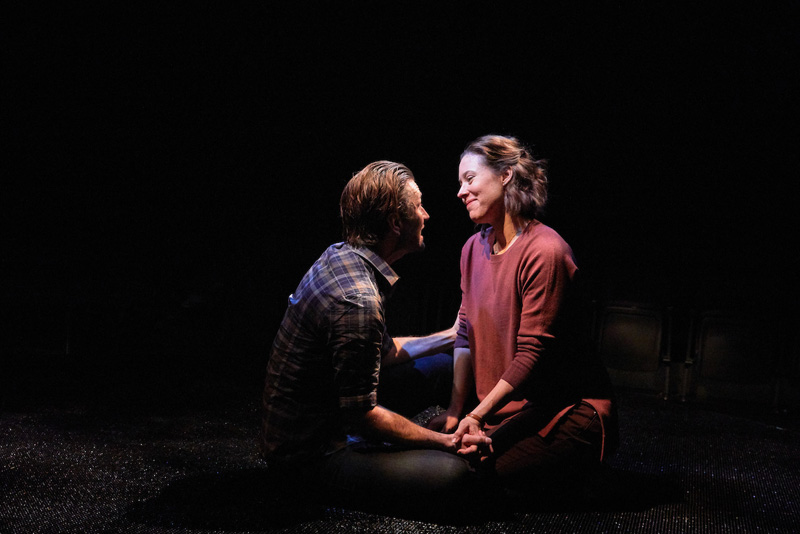 M. Scott McLean and Allison Pistorius in Constellations. Photo credit: Lanny Nagler.

Playwright Payne's technique is that of David Ives' short play Sure Thing where each faux pas that a dating couple makes causes the conversation to re-wind to an earlier moment when harmony was still possible. Marianne and Roland are given multiple opportunities to avoid getting together and staying together, but the clicks and crashes of the particular cosmic pinball machine to which Payne subscribes eventually make them a couple, albeit an unlikely one.
The plot of Constellations recalls that of Erich Segal's Love Story: affecting but meagre; it's no thicker for the "rewinding" technique which requires a great deal of repetition. Accordingly, much of the appeal of the relationship falls to the personality of the two actors. M. Scott McLean as the beekeeper is fresh, engaging, and curious. I would have liked the astrophysicist to have made a more concerted effort to explain quantum mechanics to him. In that role, however, Allison Pistorius is cerebral and not much fun. She's chosen an accent that's posher than necessary, a detail that makes her character even less approachable. While Roland and Marianne are each attractive enough as individuals, it's hard to know what they see in each other. Nor does it help that somebody dressed Pistorius in a dowdy top of indeterminate colour and jeans that don't flatter her. No one is credited in the programme for costume design, so I suppose the pinball machine has sent us the actors' private wardrobes.
M. Scott McLean and Allison Pistorius in Constellations. Photo credit: Lanny Nagler.
Ill-dressed as they are, we do come to care for them. If we didn't, the end of the play wouldn't be as sad as it is. Marianne's recurrent difficulties with language presage a dark outcome, darker still for those who can guess the words she means to say when all she can manage are words that rhyme with them – "getting the green knight" for example, instead of "getting the green light"!
For this production, director Rob Ruggiero has configured his performance area as an arena for the first time. Jean Kim and Philip S. Rosenberg, set and lighting designers respectively, have created a stunningly astrophysical space in the middle: a platform open to the stars and all the cosmic events that the stars might foretell. Also filling the theatre is Billy Bivona's live musical accompaniment on guitar, melodies that respond to the action — or sometimes guide it? There's no way to tell. Michael Miceli's sound design completes the environment: rumbles, groans, and snaps that tell us that time can fast-forward as easily as it can rewind.
Touchingly, Marianne assures Roland at the end of the play that the linearity of time is only a habit of mind. Nothing the cosmos inflicts can either add or subtract from the total of the moments they spend in each other's company. Constellations comprises a series of such pleasant moments. l can't imagine anyone regretting them.