"Portia Coughlan" at Almeida Theatre
Neil Dowden in north London
23 October 2023
Over the last four decades Marina Carr has forged a considerable reputation for her lyrical tragedies set in rural Ireland and radical adaptations of Greek myth, with a focus on dysfunctional family relationships and an alternative female perspective. Her most recent play, Girl on an Altar, a powerful re-telling of the first part of the Oresteia trilogy from the point of view of Clytemnestra, was seen at the Kiln Theatre last year. Now the Almeida has revived her doom-laden early work Portia Coughlan (1996) in an atmospheric production that never releases its unrelenting grip.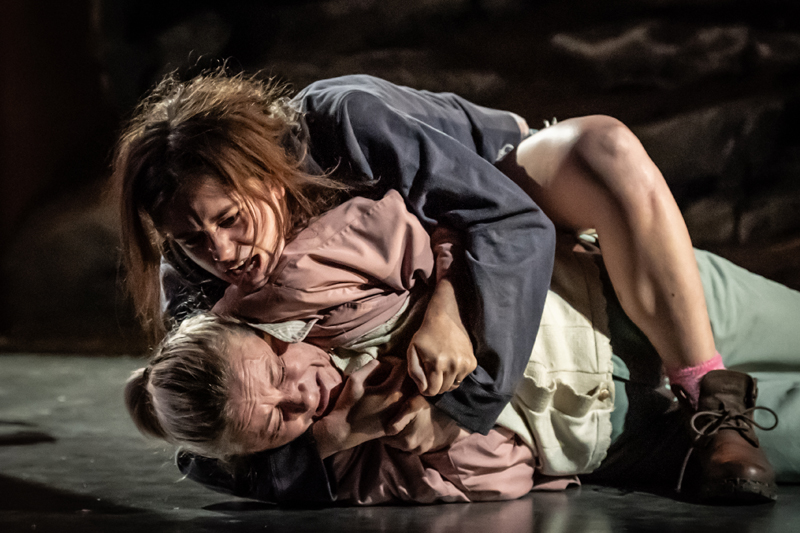 Alison Oliver as Portia and Mairead McKinley as her mother. 
Photo credit: Marc Brenner.
The eponymous character – anti-heroine? – is supposed to be celebrating her 30th birthday with her family, but she is in a far from celebratory mood. Haunted by the drowning of her twin brother Gabriel 15 years earlier, Portia seems bent on self-destruction – it's never a good sign if you're drinking brandy for breakfast. She is married to the wealthiest man in the area but has no passion for him, while she shows as little attachment to her three sons – unable or unwilling to fulfil the conventional roles of wife and mother, she is trapped. She also has a fractious relationship with both her parents, whom she blames for her brother's premature death – though we learn that her grief is suffused with her own feelings of guilt.
Portia's "better half" may have gone, but it seems the twins' relations were based on a borderline incestuous, unhealthy mutual dependence. Portia is continually drawn back to the River Belmont where Gabriel met his end, about which the horrifying details emerge. It is also the place where she meets her long-time on/off lover and the local barman, both of whom she alternately encourages and repels – but like the drink, illicit sex seems to be a form of escape rather than real desire, a symptom of her self-loathing and nihilistic outlook. The fateful climax of the play actually happens just before the interval, while afterwards we see the steps that lead to that inevitable conclusion.
It's an interesting variation on the usual structure of classic tragedy in a play that challenges our attitudes and provokes our responses. As Portia says, "There's a wolf tooth growin in me heart and it's turnin me from everywan and everythin I am." How far can we sympathize with a poetic protagonist who is so deeply flawed? There's no doubt there is real poignancy amidst the portentousness, but – despite some dark humour – Portia Coughlan is unremittingly bleak.
Alison Oliver and Charlie Kelly. 
Photo credit: Marc Brenner.
Although the first name of the title character and the name of the river both suggest The Merchant of Venice, the ominous ambience is much closer to Greek tragedy (including Medea as Portia makes vaguely threatening remarks about her children whom we never see). This is a play, though, that is firmly rooted in County Offaly in the Irish Midlands, whose dialect Carr uses with vivid imagination – though it has to be said it is not always easy to follow.
Director Carrie Cracknell (who was last at the Almeida directing Ella Hickson's Oil in 2016) maintains the intensity throughout the two hours' running time, both during the quiet, reflective moments and during the viscerally violent arguments. Alex Eales's striking set features the interior of a house with a huge gaping wound of a hole in one wall through which a rocky landscape is seen – as if wild nature is bursting through into domestic security – as well as the clever use of a hatch opening to reveal the bar of a corny country and western pub. Guy Hoare's murky lighting adds a ghostly frisson. And Maimuna Memon's richly evocative songs pull at the heartstrings.
As Portia, Alison Oliver (who has already appeared in Women, Beware the Devil at the Almeida and Dancing at Lughnasa at the National Theatre this year, as well as making a name for herself in TV dramas Conversations with Friends and Best Interests) gives a superbly committed performance as someone in the throes of a downward spiral, convincingly conveying both her emotional vulnerability and her primal anger. Sparks fly in her confrontational scenes with her judgemental mother and evasive father (excellently played by Mairead McKinley and Mark O'Halloran), while Sorcha Cusack is acidly funny as the foul-mouthed, vindictive grandmother.
There is also good support from Chris Walley as Portia's hapless husband, Charlie Kelly as her dissatisfied lover Fintan Goolan, and Conor MacNeill as the pervy bartender. Sadhbh Malin plays an eyepatch-wearing friend known as "the Cyclops of Coolinarney", with Kathy Kiera Clarke and Fergal McElherron providing much-needed comic relief as a former sex worker and client in a boozy but amiable partnership. And Archee Aitch Wylie sings beautifully as a spectral Gabriel glimpsed in the shadowy background.