"Dancing at Lughnasa" at the National Theatre
Jeremy Malies on the South Bank
22 April 2022
It's August 1936 in Ballybeg (literally "Little Town" in Gaelic), the fictional Donegal location in which Brian Friel sets Dancing at Lughnasa and his earlier play Philadelphia, Here I Come! Except it isn't. This may be the month and year in which the action is set but the semi-autobiographical piece is a memory play with Michael Evans (Tom Vaughan-Lawlor) looking back from the 1950s on the tough existences of his mother Chris and four maiden aunts.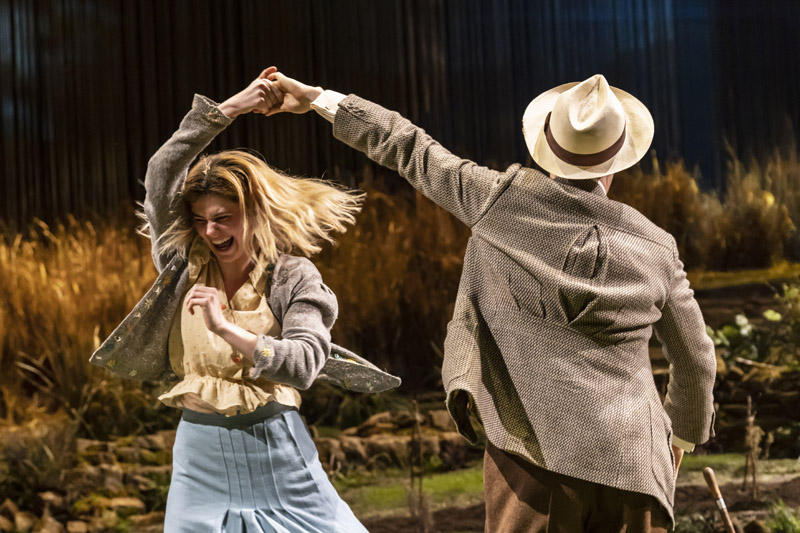 Alison Oliver and Tom Riley.
Photo credit: Johan Persson.
Director Josie Rourke and set designer Robert Jones have tweaked the fan-shaped auditorium of the Olivier Theatre such that the stage has a thrust element here. The Mundy sisters' cottage is front centre, and Jones's artful depiction of a burnished crop extends to the backcloth in shades of yellow, gold, and terracotta brought out by Mark Henderson's painterly lighting. Strands of fabric extend from the ceiling, and as the characters move through them they take on an ethereal appearance.
Deciding to evoke the surroundings more than is the norm works well in that the design stresses events nearby which include a latter-day industrial revolution that spells doom for the hand knitting by which two of the sisters earn a subsistence income. I worried that the set had given up all its secrets at once but video projection by Chris Ross develops themes such as drunken animal sacrifices in the back hills and a few trysts for two of the sisters.
Rourke takes multiple risks and they all pay off. She has the courage to change the set-piece (often clunky) communal jig into something jazzier in which each sister can go off on a cathartic journey of self-discovery. "Dancing as if language had surrendered to movement" is one of the many gorgeous phrases Friel lends his narrator, and Rourke (together with choreographer Wayne McGregor) suggest the aching physical loneliness of these women who crave male company but know they will never dance meaningfully with a man again. There are many visual gags but not one of them is lazy or obvious.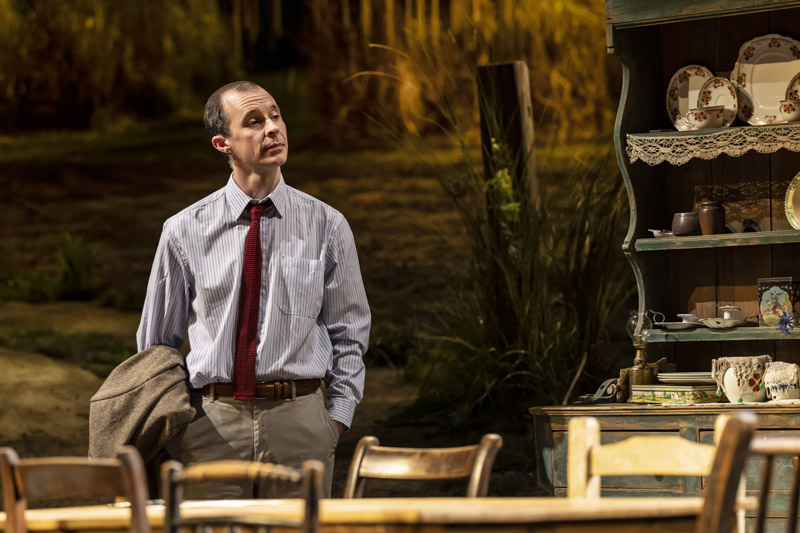 Tom Vaughan-Lawlor as Michael.
Photo credit: Johan Persson.
Rourke proves adept in anchoring her production in a time and place while still making us ponder the wider themes that Friel has injected. The oldest sister Kate has been involved in the Irish War of Independence so her brother Jack's service as a chaplain for the British Army in 1917 is not something to be proud of. It's an example of tension between conflicting though not diametrically opposed values and systems. I gave up counting them but noted economic change versus nostalgia; Catholicism versus the "Godless communism" that Chris's lover Gerry (Michael's father) will briefly fight for in Spain; and Christianity versus the pagan spirits that are now Father Jack's spiritual backdrop. It's part of the rubric of any drama I suppose to create tension, but Friel does it so adeptly here that his artistry only creeps up on you later.
This play is very much an ensemble piece. Justine Mitchell is the buttoned-up school teacher Kate. Alison Oliver plays Chris, the one sister who has found a little love if only with a wastrel. But if anybody stands out among the women for sheer poignancy among a defeated family group it is Siobhán McSweeney as Maggie, be it when she is gently mocking herself with the aid of Cole Porter lyrics or conjuring up memories of a few moments of true happiness at competitive dances two decades earlier.
When Gerry (Tom Riley) swaps partners momentarily and lifts Agnes towards the August sun, Louisa Harland manages to convey a whole alternative existence of what-might-have-beens rushing through her imagination. I'm always in awe of accomplished actors who can suggest their cogs whirring in overtime.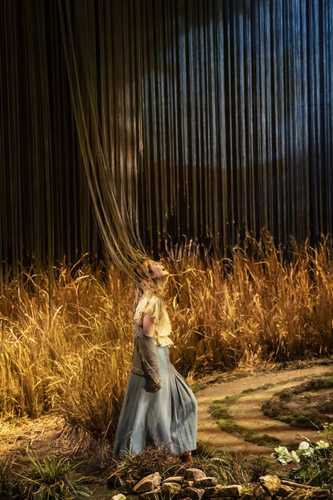 Alison Oliver as Chrissie.
Photo credit: Johan Persson.
Ardal O'Hanlon is Father Jack, who has returned to his sisters a malarial wreck from 30 years as a missionary to a Ugandan leper colony. O'Hanlon handles this deftly as he confuses English and Swahili, mistakes his sisters for his African houseboy with whom we fear there has been a scandalous backstory, and reaches into his faltering vocabulary to find the right word for things. It's precise, multi-layered acting and we realize that for this character, as with Friel his creator, there is no such thing as a synonym.
Any quibbles? Only the ritual exchange of hats between Jack and Gerry fails to ignite. And I wondered about the props by Chris Lake. Michael's eerily pagan kites catch the eye while many items such as a cart, mangle, and gigantic milk churns underline the sheer graft of this existence. But it's unthinkable that the cottage contains no representation of Our Lady and no materials for knitting.
It might be shorthand but "the Irish Chekhov" is apt for Friel who in 2002 wrote Afterplay in which he extracted Sonya from Uncle Vanya and Andrey from Three Sisters. Despite a plethora of sisters, the better parallel here is with Uncle Vanya as the action closes with Kate and Chrissie showing stoicism in keeping what remains of the household together. It came as no surprise to learn from programme notes that many of the cast have solid Chekhov backgrounds.
The set and creative approach here serve the message and spirit of the play in an outstanding revival that was rightly acclaimed by what I had mistakenly taken for a quiet press night audience. Curtain call applause was tumultuous as though we had been collectively released from the spell that is Friel's sustained prose poem using the elegiac narrative voice of an unseen seven-year-old boy whose speeches are given by Vaughan-Lawlor. At the end we have become careless as to "the widening breach between what seemed to be and what was". Wonderful.
.
~