National Theatre of Cluj Napoca: "Together"
The ninth edition [2019] of the annual festival at the Teatrul Naţional Cluj-Napoca, Romania, is entitled 'Together'. Works by Argentinian Rodrigo Garcia, Polish Tadeusz Slobodzianek, Romanian-Hungarian András Visky, and Italian Michele Santeramo were staged. There was also a production of Shakespeare's The Tempest (Futura) and an adaptation of a novel by Romanian Marin Preda. Additionally, there was a session to honour University of California at Irvine Professor Emeritus Robert Cohen, a long-time contributor to Plays International & Europe (PIE) who has been writing about the amazingly innovative work by Romanian theatre directors since 1975. I report below on the productions which I saw. In its totality, this year's festival appears to presage a new orientation in Romanian theatre towards Europe and the west. Romanian playwrights and directors appear inclined to relax their focus on the recent tragic past of the country.
Dana Rufolo in Romania at the International Meeting of the Naţional Theatre of Cluj-Napoca 'Together'.
1 December 2019
William Shakespeare's Furtuna (The Tempest), directed by Gabor Tompa, played to a packed house — not just festival guests and participants but also Romanians drawn into the theatre by the main star Marcel Iureș, who played Prospero. Iureș is a beloved cinema and television actor who began his career 43 years ago on that very National Theatre stage where he stood in character — draped in a blue tunic, tall and apart — as Furtuna opened.
Tompa is the artistic director of the neighbouring Cluj-Napoca Hungarian Theatre, the Hungarians in the city being an important minority population. He has been singled out as a great director, along with the Romanian artistic director of the National Theatre of Cluj, Mihai Măniuțiu (see previous article), by Robert Cohen in his book A Director's Theatre, the Romanian Theatre from an American Perspective. Presently, Tompa is in his second of a three-year mandate as president of the Union des Théâtres de l'Europe (Union of European Theatres); I will publish an interview with him that focuses on this cultural-political role in an upcoming issue.
The English surtitles for Furtuna were not translations of the Romanian script but of a standard simplified version of Shakespeare's play, so l cannot speak to the poetry l was told is embedded in the Romanian language version. l was still nonetheless struck by the poetic fluidity of the scenography. And, upon thinking the entire performance through, also unusual was its questioning of language and therefore — it being a play by Shakespeare — of reality altogether. lures played Prospero as a dreamer: a man of superior stature whose dreams manifest upon the stage wondrously. The scenes – vicious storm; near-drowning; rescue; lost tramping across the barren countryside of the mysterious magical island; drunkenness of the crew (given prominence in this production, with full exploitation of the comedic potential of these wine-barrel-enriched scenes); reluctant reconciliation; and wedding – were enhanced by filmed images. The violent waves of the initial tempest were visible on the screens even while the sailors and their noble passengers bellowed in terror; the rocking bow of the ship itself was visible so as to situate them mid-storm. Various landscapes from lush to barren were projected. Heavenly bodies and earth itself drifted across the screens, waxing and waning during a number of scenes throughout the play. These universal references drew the play out of a specific time and place and challenged our conviction that the events happened in fact and not in Prospero's imagination, even if the characters — at least some of them — seemed real enough. The powerful use of cinematography (video design by Radu Daniel) to project the varying backgrounds into which the characters were planted disturbed my perceptions. Was l seeing the fruition of dream wishes – rather than 'real' events happening on a hard and resistant mother earth?
Alexandra Tarce in Porno. Photo credit: Nicu Cherciu.
.
Ariel (Anca Hanu) was played as a petite and feminine good fairy, a sort of Tinkerbell. Prospero clearly cherishes her, and letting her free as promised costs him emotionally far more than it does her; in fact, she flies from the island and all those whom she had once served producing the ear-splitting sound of a supersonic jet breaking the sound barrier. I was nonplussed by her simple white costume (costumes by Carmencita Brojboiu) that minimized the density of her slight body, but the clue to the decision to stay with simplicity became apparent when l recognized that she is the catalyst — the go-between — making Prospero's dream-wishes come true: a future for his daughter, reconciliation with treacherous but repentant family members, resolution of his onerous relationships with the characters around him.
Caliban's costume was also unspectacular — mere beige-brown tights and shorts, dirty and matted. He was chock-full of hatred for Prospero. Caliban (Cristian Grosu) claims he had shown Prospero all the secrets of the island only to then be tricked and robbed. But due to his slimy appearance, unnatural movements, and grotesque leering, coupled with his lascivious interest in Miranda, we have no sympathy for Caliban's destiny as a victim of colonialization. He remains sub-human throughout the play.
It is Miranda (Sânziana Tarța) who is the most curious of the characters, for her bubbly use of a sophisticated city-bred language in this wildly alien and asocial environment strikes the ears eventually. Her naiveté is born of the island's emptiness but her chatting is born of city life, and so we are suddenly aware of the discordance between the dream-like world projected onto the screens and the stage conventions that condition the character of Miranda. When there are no projections, as is the case in most productions of The Tempest, we know perfectly well that the character of this innocent cheerful girl is an invention. She is, after all, just an actress on stage. But in this production, she loses her independence and appears to be the projection of her father's imagination rather than an independent creature.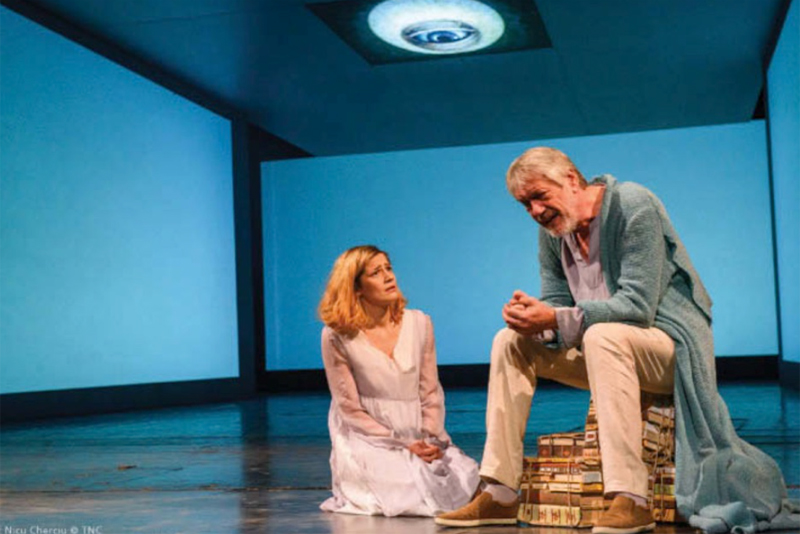 Sânziana Tarța and Marcel Iureș in Furtuna (The Tempest). Photo credit: Nicu Cherciu.
The dramatic rendering of the 1980 novel by Marin Preda Cel mai iubit dintre pământeni (The Most Beloved of Earthlings) directed by Tudor Lucanu, is an ironic title that continues the uneasy backward glance to the country's past that runs through this particular festival. The scenography and storyline communicate the conviction that victimization is fated.
I was told that every Romanian student reads this novel, because it reaches the height of beauty to be found in the Romanian language. As a drama it is action-packed, although the action nearly always takes place amid grinding machine-made noises in claustrophobic settings: the looming walls of a prison designed by Cristian Rusu that reach the height of the stage flies, a barracks, a simple wooden house, and prison again. Victor Petrini (Matei Rotaru) is a charismatic university professor who charms women; he has both a wife and a lover. Initially imprisoned under false pretences for political reasons and subsequently tortured, when he is released he perchance murders the husband of his lover and is again imprisoned. It is his lover who calls him the most beloved man on earth, but she is speaking a private lover's language. This guy is not born under a lucky star; that's the simple truth. He's the beating heart wrenched out of the corpse of a terrorizing political system, in this case Communism.
Porno (Porn) was the right play to see during Halloween season. lt is a drama, like Cel mai iubit dintre pământeni, saturated with re-stagings of the horrors of the Romanian police state system under Nicolae Ceausescu. In the Euphorion Studio Theatre we look upon the action through large glass apartment windows. My immediate thought was that the director Răzvan Mureșan was consciously imitating the staging hallmark of Simon Stone who sealed his characters behind glass in Yerma or within a house in Three Sisters and in Ibsen house, but it turns out that according to Cohen there is an even earlier tradition of the glassed-in production in Romanian theatre history. There may indeed by cross-fertilization, but it becomes apparent that in Porno we spy upon the female lead character Girl, code named PORN (played by Alexandra Tarce), whose apartment is on stage, in an act that symbolically references a trauma that left an indelible stain on the Romanian-Hungarian playwright Andras Visky: he said the play "emerged from my inner need to detach myself from an experience l had gone through … to write about political pornography, that is, the demonical ambition of the political to own you as a commodity, a soulless object, a tool for the glorification of nothingness."
Matei Rotaru, Sânziana Tarța, Marcel Iureș in Furtuna (The Tempest). Photo credit: Nicu Cherciu.
Andras Visky's play is hermetic. I fault it for not opening up the action to spectators fortunate to have not lived through the abnormality of a totalitarian dictatorship. Those who have lived through terror certainly risk being re-traumatized by the portrayal of the main protagonist as a helpless victim. l see it as a problem that the girl PORN is portrayed as mentally unstable from the very start of the play, confusing the spectator as to whether she is the easy victim of a constant spy campaign and sexual exploitation due to a pre-existing personality disorder or if she has been driven into instability by this constant barrage of insults to her autonomy. It would have changed everything for us if in the opening scene we saw her as a puppeteer for children using typical and child-friendly marionettes, but the director remained true to the playwright in keeping her a puppeteer of a horrid and shocking skeleton marionette that makes gruesome utterances. The girl PORN becomes pregnant, but her boyfriend or husband (the surtitles left this unclear) is the son of a general serving the dictator and is prevented from joining her. He is locked up in his own home and "escapes" by committing suicide. Consequently, the young woman is even more helpless and isolated. Small wonder that eventually her baby-to-be dies, and she develops sepsis. She is completely mad by the end of the play.
The Reactor in Cluj is a small black-box theatre where experimental plays are performed. 99.6% put on there was in the style of a psychodrama in that the young people performing were representing themselves. All humans share 99.6 per cent of their genes. So, the young performers plead, why can't we get together and work to improve our lots and the fate of the world? The show was elementary with the actors sometimes speaking too softly to be heard and at other times poignantly describing how alienating it is to be rejected on the basis of one's national identity. For indeed the nine young adults were a mix of (majority) Romanians and (minority) Hungarians, and they expressed a longing to not have national identities separate them. lt is the start of a new direction for Romanian drama.