Almada Festival, Portugal 2021
Sylvie Flammang in Portugal
5 August 2021
The Festival de Almada took place in July, smack in the middle of the fourth wave of the pandemic in Portugal. That did not prevent live theatre performances, although social distancing was strictly enforced.
The festival began in 1982, just eight years after the authoritarian regime Estado Novo had been overthrown and is now considered the most important annual cultural event in Portugal. This year's Almada Festival once again offered an eclectic programme not only to entertain but to remind us that art and culture are essential for learning to live a free-spirited life.
Twenty-one productions from seven countries spanned the classical with Hipólito (Hippolytus) by Greek tragedian Euripides to the contemporary with Who Killed my Father, an adaptation by Dutch director Ivo van Hove of the 2018 French literary success Qui a tué mon père by Édouard Louis, interpreted by Hans Kesting. It's the true story of his father, a factory worker in the north of France whose life was shattered after his back was crushed in a work accident. The production was voted the best by this year's Almada Festival audience and so is invited to return in 2022.
Also, there was music – bel canto – with Maria Callas – Lettres et mémoires (Maria Callas- Letters and Memories) by French director and photographer Tom Volf and also dance with Planeta Dança – Capítulo 4 (Planet Dance-Chapter 4) by Portuguese choreographer Sónia Baptista.
For the 2021 edition, the organizers were compelled to cancel the usual colourful social gatherings before and after the shows, the street concerts, and the closing party. Still, they had set up an attractive supporting programme with discussions between spectators, actors, and directors. As well, the internationally acclaimed Hungarian dancer and choreographer Josph Nadj gave a masterclass for professional actors and dancers, presenting his newest creation, the European co-production Omma, interpreted by eight dancers from different African nations. The programme announced that Nadj's focus would be on how improvisation allows each dancer to dive into personal memory and retrieve universal gestures that are at the origin of dance. Also, this year's thirty-eighth edition festival celebrated the fiftieth anniversary of the theatre company Companhia de teatro de Almada with a commemorative exhibit and several meetings.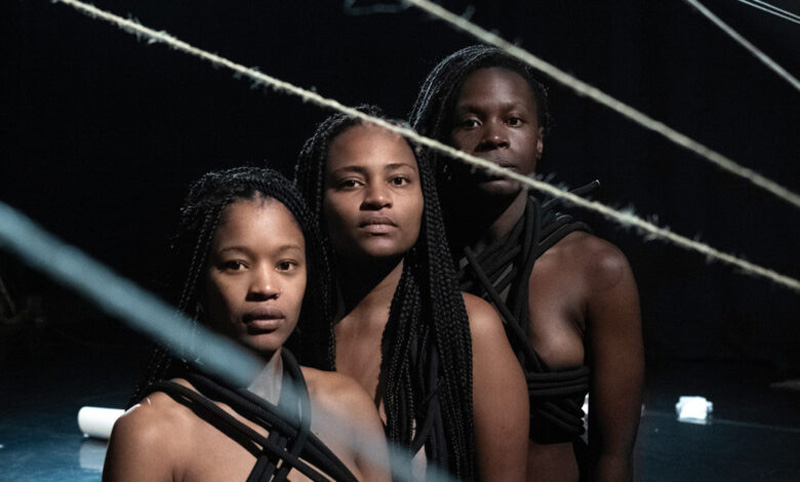 Cast members in Omma. Photo credit: Sophie Carles.
Most of the shows were staged in the small town of Almada, not far from Lisbon, in surprisingly modern theatre buildings ranging from studio theatres to the main venue, the Teatro Municipal Joaquim Benite. One or two were staged in Lisbon or in Cascais.
Maria Callas – Lettres et mémoires (Maria Callas – Letters and Memories) by Tom Volf with Italian film star Monica Bellucci, staged in the large auditorium of the Centro Cultural de Belém in Lisbon, was announced as one of this year's highlights.
When photographer and filmmaker Volf discovered Maria Callas in 2013, he was captivated. Driven to discover the woman behind the legend, he travelled the world for five years to meet and interview Callas's friends and colleagues. He read the personal letters Maria had written to these people over three decades and dived into the memoirs Maria Callas had started to write. "One day I will write my memoirs; I want people to know the real Maria, not only the Callas, " the legendary soprano is often quoted as having said.
The result of Volf's research was the project Maria by Callas: in her own words which includes the 2017 striking documentary film with previously unreleased footage of the diva, an exhibition, and the Italian book he translated into French, Lettres et mémoires.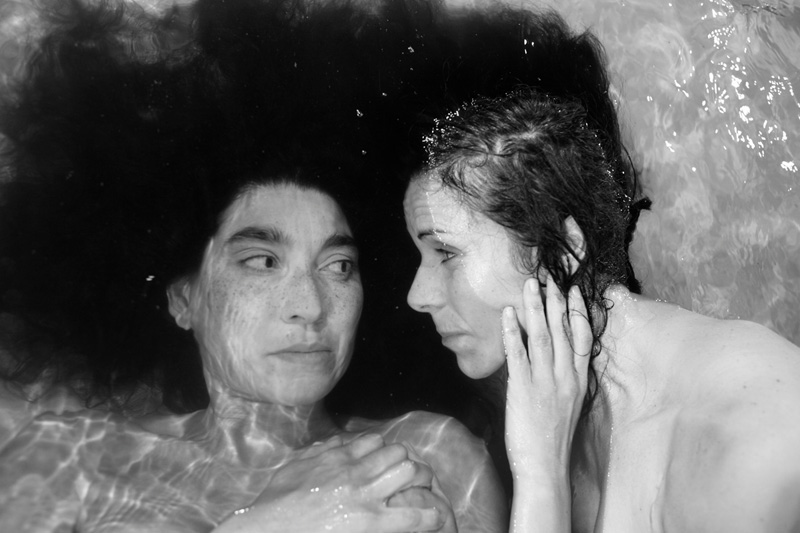 Sara de Castro and Carla Galvão in The Two Character Play. Photo courtesy of Almada Festival.
The stage show Lettres et mémoires premiered at the Théâtre des Bouffes Parisiens in Paris in February 2020 and is Bellucci's first theatre performance. She is known for her work with renowned film directors like Giuseppe Tornatore, Gaspar Noé, and Sam Mendes.
Volf stages the reading on a black box stage with just a sofa and a record player. Monica Bellucci as Callas is dressed in a long black dress with her dark hair combed back; she seems to floats onto the stage. She slowly passes behind the sofa and sits down on the edge of the right side of it, her back straight, her hands folded in her lap. "I was born in New York…". The character Maria Callas remembers her modest childhood in New York, the wartime years in Athens, her difficult opera debut, the summit of her international career, the scandals about her temper, her first marriage to Giovanni Battista Meneghini, 27 years her senior, and her tragic love affair with Aristotle Onassis.
Monica Bellucci has a magnetic beauty and moves with elegance, but she seemed to hold herself back, and her voice – the most important attribute in this staging –was flat toned and monotonous. Where was the passion and the emotion I had felt in Fanny Ardant's voice-over in Tom Volf's 2017 film Maria by Callas? Bellucci ought to have been directed to play up Maria Callas's rough edges, putting more texture and variety into her voice. She opened up only towards the end of the play when reading one of Maria's last fervent love letters to Onassis. Finally, I sensed some feeling – in this case, the onset of apprehension. When reading the letter Maria had written to her best friend, Bellucci's voice trembled as she quoted, "He didn't even have the decency to tell me personally that he was getting married".
Still, with a spot-on choice of text excerpts, arias, instrumental music, and well-balanced lighting with an effective range of intensities Tom Volf put the actress in focus at all times, letting her appear strong as well as vulnerable, and he managed to span 30 years of Maria Callas's life in a well-paced succinct 70 minutes.
Carla Galvão and Sara de Castro in The Two Character Play. Photo courtesy of Almada Festival.
Among the Portuguese productions, I discovered a late Tennessee Williams Play Duas personagens (The Two Character Play) directed and performed by Carla Galvão and Sara de Castro. As a student growing up in Luxembourg I had read and reread The Glass Menagerie, A Streetcar Named Desire, Orpheus Descending, and The Night of the Iguana and was mesmerized by the dialogue of Williams's passionate outsiders in Dixieland's bigoted society. Lonely outsiders, hungry for another life, for love they can't find, and who try to find solace in their own lies, drugs, alcohol, or sex. In this later work the lauded American playwright had attempted a new style that was not well received, although he still recorded and depicted the reality of his time. He wrote The Two Character Play during the struggle for human and civil rights in the USA. A brother and a sister, two abandoned actors on tour, are locked up in an empty theatre and try to overcome their traumatic childhood experiences and to forget their dreary present.
Monica Bellucci in Maria Callas. Photo credit: Tom Volf.
I asked Sara de Castro and Carla Galvão what had motivated them to choose to stage this play during the pandemic. They told me that Tennessee Williams wrote timeless and universal plays. The Two Character Play, though, has an atypically absurd side to it, and when they read it during the first lockdown they found that it matched their momentary reality – not only because of being locked in but also because of the fragile situation the artists were in. It seemed a beautiful metaphor to them, for they believe that without a supportive structure, without others, we lose sight of our way forward and of our future. And that this was true not only for artists but for all of us.
As I sat in the Teatro-Estudio Antonio Assunção in Almada watching The Two Character Play, I was impressed not only by the modernity and quality of the small theatre but above all by how the space did not dampen the intensity of the two actresses. They both wore black trousers and black tops and performed on a bare black stage. In the middle of the stage there was only a large partially-split beam of wood which they swung back and forth, and every time one of them did so, we heard music – an original composition by Duarte Moreira and Sérgio Milhano that became part of the performance. The swaying of the wood and the music added lightness to the atmosphere of the complex play.
The original brother and sister are here two sisters which, according to the directors/actresses, offers the possibility to reflect on how women are restricted all over the world. The moment Carla Galvão and Sara de Castro strode onto the stage, they filled the space as two fascinating Tennessee Williams characters – actually four characters, as the two locked-in actors performing a play all by themselves are additionally two sisters. The two confronted each other, threatened each other, lied to each other, and, clung to each other as they desperately tried to find a way out of their distressing situation. Each gesture, each movement, each facial expression, each scream was right and let the audience grasp the situation and get to the heart of the characters. Although the performance started with a high level of tension, the rhythm increased the suspense as the play unfolded. Carla Galvão and Sara de Castro are two rare talents, brilliant as directors and as actresses.