"The Vertical Hour": Rialto Theatre
Jeremy Malies at the Brighton Fringe
5 June 2021
I once sat with a friend leafing through the Brighton Fringe brochure (a paper copy may now be a thing of the past) as we counted how many of the plays were mainstream theatre texts by known authors. The number shrinks each year and there was a weight of expectation on a production of The Vertical Hour by Sir David Hare, born a few miles along the coast in Hastings and very much a Sussex figure. Hare hasn't written a play of any real merit for many years, and it was a treat to revisit him in his pomp with a piece that has not only aged well but may even have gained extra relevance.
Margo Henson and Hamilton Wilson. Photo credit: Ian Copestake.
The plot has neo-conservative Yale politics professor and former war reporter Nadia (Margo Henson) visit the Welsh-Shropshire border to meet her boyfriend's reclusive medic father Oliver, played by Hamilton Wilson. The muscle of the play (exquisitely handled by director Roger Kay who rescues the dialogue from being polemical) is a garden scene in which the pair argue over the 2003 invasion (I'm with Nadia in calling it a "liberation") of Iraq and the removal of Saddam. Nadia is all for peace through interventionism, while liberal idealist Oliver opposes putting boots on the ground and is horrified to learn that Nadia visited the White House as a political advisor to George W. Bush. He reflects, "I knew who the surgeon was going to be, so I had a fair idea what the operation would look like". Hare is known and respected for constantly testing his own prejudices, and it's intriguing to see the argument (usually more of a tussle and balanced on a knife edge) being convincingly won by Nadia as a result of Henson's overwhelming fluency and the rhetoric with which she invests lines that already resemble a prose poem.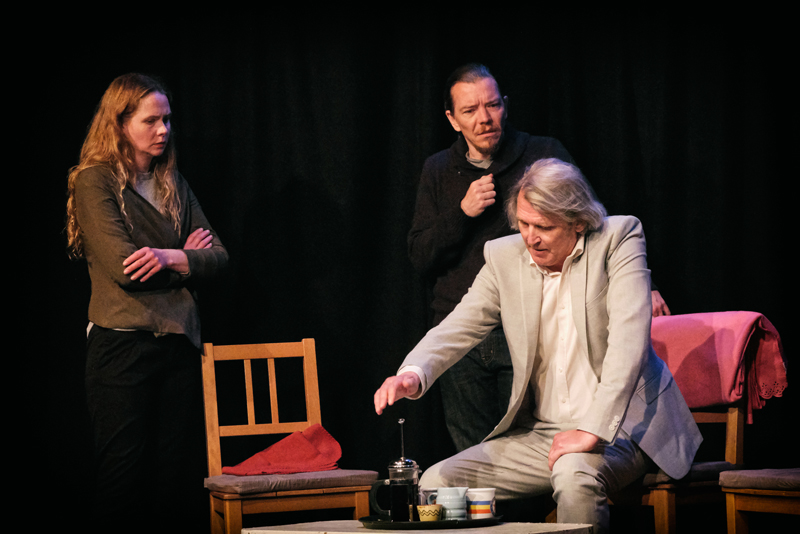 Margo Henson, Jack Kristiansen and Hamilton Wilson. Photo credit: Ian Copestake.
Physically, Wilson is perfectly cast as Oliver, being all angular uneasiness and rickety movements with the penitent air of a reformed womanizer. But he is still a sexual threat who might just seduce his son's girlfriend. It's all thrust and parry. Henson might have the sustained linguistic dexterity, but Wilson is effective with his medical metaphors which emphasize Hare's central position that global politics has a habit of infusing private lives. Henson also excels with an ironic detachment that can make us laugh uproariously. As dawn breaks with the pair drinking copiously, he notes, "Five's a good time for Chardonnay".
The play famously skipped a London debut and premiered on Broadway in 2006 starring Bill Nighy and Julianne Moore with Sam Mendes given a budget of $15m. It's reassuring that it can be performed so impressively on a small black box stage with minimal props. And unlike the Oscar Wilde piece at the same venue, this production has strength in depth. The main action is bookended by two seminars that Nadia conducts at Yale. Her first student is played by James MacAuley portraying an acquisitive commerce student who has taken politics as a minor and developed a crush on his telegenic tutor which the young actor conveys well. The other student is Caitlin Cameron (wonderfully still and focused) whose hopefully brief phase of nihilism after being jilted by her first love is partly responsible for sending Nadia back into journalism.
Illuminated by a spotlight and dominating front of stage with his sizable but slim frame, Wilson gives us a postscript. He says that he heard nothing of Nadia again (she broke up with his son) until reading that she had resigned from Yale and returned to Baghdad with notebook, flak jacket, and tin helmet. I don't exactly rub shoulders with Ivy League celebrity politics professors or frontline war correspondents (the closest I get to such people is book signings), but what I do know is that the two occupations don't mix, and the lurch seems particularly abrupt here.
And the title? "The Vertical Hour" is a phrase used by field medics to indicate a window of time immediately after a catastrophe during which a doctor may be able to help a patient significantly. It's particularly relevant here not only in the sense of Nadia getting out of a potentially damaging relationship but also because the Rialto Theatre itself only survived the Covid-19 pandemic through some astute crowdfunding and local donations after being shamefully denied grants from larger national bodies.