"The Merry Wives of Windsor": Shakespeare's Globe
Eva de Valk on the South Bank
1 June 2019
The summer season at Shakespeare's Globe Theatre is a Falstaff-heavy affair this year: the fat knight shares top billing with Prince Hal/Henry V, both of whom appear in three out of the four shows that are currently playing. Don't expect much in terms of continuity though; unlike the Henry plays, The Merry Wives of Windsor is unapologetically silly and, unlike in the Henry plays, Falstaff is surprisingly serious.
The Merry Wives of Windsor sees Falstaff plotting to seduce his way out of his persistent money troubles by attempting to simultaneously woo two married women, Mistress Ford and Mistress Page. Since neither of the ladies is in any way interested in Falstaff – he has very much imagined them giving him "good eyes" – they decide to get their revenge on him.
This play is patently not one of Shakespeare's finest works. The plot, as is par for the course in a lot of comedies of the period, is both paper-thin and annoyingly convoluted, spread out as it is over a range of characters with their own subplots. Perhaps unexpectedly, its saving grace is not the usual audience favourite Falstaff but the titular merry wives, who prove themselves to be the confident, self-sufficient women we could really use more of on stage and screen. Recognizable as these ladies will be to any woman who's had to ward off unwanted male advances, it is immensely satisfying to see Mistresses Ford and Page run rings around Falstaff while simultaneously putting the jealous Mister Ford in his place. Mistress Page's exasperated exclamation that she'll "exhibit a bill in the parliament for the putting down of men" gets a hearty cheer from the women in the audience.
Most of the play's comedy has to come from its farcical plot twists and its filthy humour, however, and both really have been dialled up to eleven here. l can imagine this "go hard or go home" approach would have paid off if director Elle While had indeed stuck to merely going hard rather than going the very hardest on every opportunity at humour, however banal. There are still plenty of amusing moments; I particularly enjoyed the slapstick humour of the scene in which a disguised Falstaff is chased around the stage by Ford accompanied by silent film-style music, as well as the elaborate dumbshow in which Mistresses Page and Ford mime the tricks they've played on Falstaff or their husbands. Nevertheless, on the whole, the comedy does feel more like a relentless onslaught than a careful picking and choosing of jokes.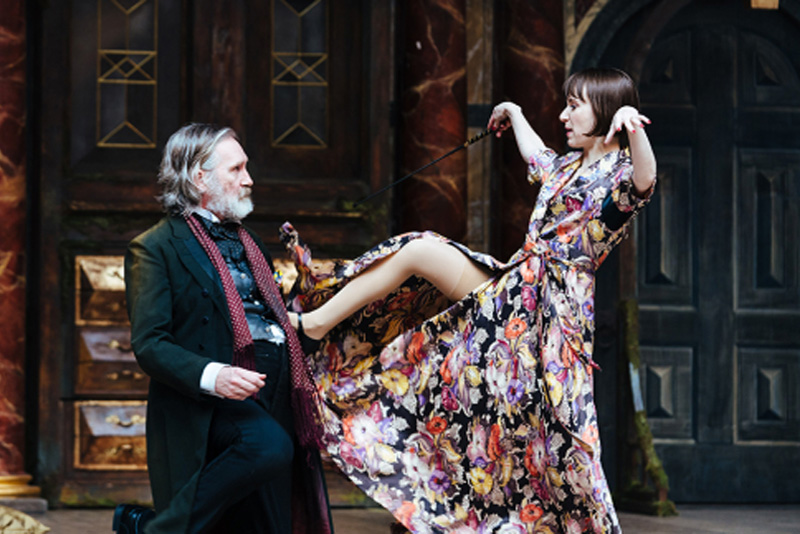 Pearce Quigley and Bryony Hannah  in The Merry Wives of Windsor:
Photo credit: Helen Murray.
The performances are uneven in tone. l very much enjoyed Sarah Finigan and Bryony Hannah as Mistress Page and Mistress Ford respectively, and the scenes in which they conspire to trick Falstaff are good fun. But they seem a lot more like real, modern characters than most people around them, and Jude Owusu's performance as the suspicious husband Ford feels particularly overdrawn next to Hannah. Meanwhile Richard Katz's French Doctor Caius seems to have wandered in straight off the set of the TV sitcom 'Allo 'Allo, while there's a slightly more subtle turn from Hedydd Dylan as the Welsh priest Hugh Evans.
And then there's Pearce Quigley's Falstaff. What makes Falstaff such a loveable character in the Henry IVs is that he's clever, unashamed, and completely outrageous, but here he is none of those things. Granted, Shakespeare has made him the butt of pretty much every joke in The Merry Wives of Windsor, so the cleverness was always going to be a lost cause. But Quigley's portrayal is unusually toned down and "droopy". Slouching about the stage with a put-upon expression, there's a distinct air of "Charlie Brown gone to seed" to his performance. For me, this made it rather hard to like him, although admittedly Quigley is good on audience interaction and does manage to raise the most laughs. The other effect of this sober(ish) Falstaff is that he too seems somewhat out of place alongside other characters, making him feel weirdly realistic in a play that's anything but. Overall, the problem with the performances, then, is not that they don't work in and of themselves, but that it's as if the cast was put together by plucking actors out of three or four very different productions of the play.
The show has been given a lovely 1930s setting by designer Charlie Cridlan, which is an unusual choice. The glamorous costumes suggest a New York speakeasy rather than a middle-class home in Windsor, and there doesn't seem to be any particular reason behind this aesthetic other than it fitting well with composer Frank Moon's jazzy score. But it does look and sound good, as do Sasha Milavic Davies's accompanying swing choreographies particularly when fetchingly performed by Boadicea Ricketts and Zach Wyatt. The final scene, in which the Windsor locals dress up like fairies to trick Falstaff, is another visual highlight.
Overall, however, I was not convinced by this production. It certainly delivers its fair share of entertaining moments, but it's simply not as thought-through or as compelling as the other shows currently on offer. If you're keen on catching a show at the Globe this summer, I would stick to the Henrys.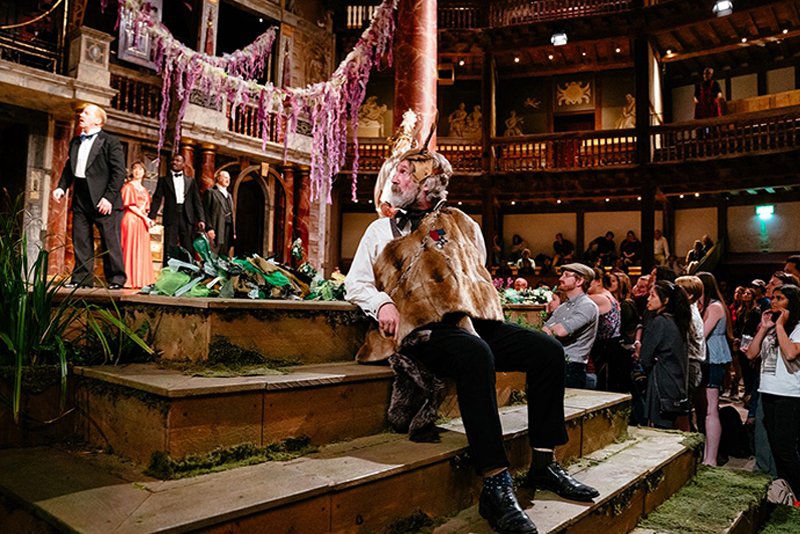 Pearce Quigley in the deer park scene. Photo credit: Helen Murray.