"Measure for Measure": Sam Wanamaker Playhouse
Tom Bolton on the South Bank
4 December 2021
For her last production in the Globe's candlelit Sam Wanamaker Playhouse, Ben Jonson's Bartholomew Fair, Blanche McIntyre expertly conjured the life of a city – London – onto a tiny stage. Her Measure for Measure is another city play, but of a very different kind.
Ishia Bennison as Escalus and Ashley Zhangazha as Angelo.
Photo credit: Helen Murray.
It is an enclosed affair, in which the action takes place in the private chambers of Vienna – hidden manors, courtrooms, confession booths, jail cells – and in the tortured heads of its leaders. The Playhouse is built for dark interiors, but not usually for the 1970s settings that feature in James Cotterill's design. McIntyre has taken the cheeky decision to set the play in 1975, which allows the use of some very enjoyable costumes. She also uses the neat trick of a power cut – echoing those dark years in the UK when electricity use was restricted by strikes and government action – at the start to justify the use of candles throughout the play. It is debatable whether the choice of time period adds to the play's interpretation, but the cast looks great in a succession of chic pantsuits and wide-boy outfits.
The show has a female Duke, played by Hattie Ladbury in an ankle-length white coat which sets her apart from her subjects. In disguise, wearing a friar's black habit, she becomes her own hidden reverse, a provocateur prowling the jails and brothels, throwing lives into chaos. The Duke's motivations are the abiding mystery of Measure for Measure. Ladbury is a tall, socially awkward presence. There is a hint early on that she has been unable to communicate her true feelings towards Angelo (Ashley Zhangazha), and her decision to flee her responsibilities is a way to regain some level of control. Her activities seem increasingly strange and cruel, as she uses her subterfuge to toy with the lives of her subjects, pretending to Isabella that her brother Claudius has been executed long after any justification has evaporated. However, her behaviour seems to stem less from malicious intent than from a clumsy desire to play the fairy godmother.
Georgia Landers as Isabella has the wide-eyed certainty of the young about her, convinced about the rightness of everything she does. Her moral certainty makes her much more dangerous than the supposed villains of Vienna, the pimps and bawds. Yet, when Angelo corners her in a sudden fit of rage and demands her body, she cries out "To whom can I complain?" in a way that seems entirely modern. So too, perhaps, is her polarized position which allows for no flexibility of thinking. From a 2020s perspective, it is becoming easier again to understand the right-or-wrong mindsets with which she, and other moralists in the play, back themselves into corners.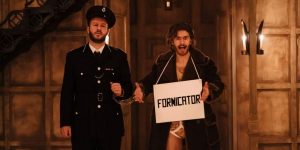 Daniel Miller as the Provost and Josh Zaré as Claudio.
Photo credit: Helen Murray.
The cast is strong and versatile, ensuring McIntyre's production is always compelling to watch. Ishia Bennison plays four roles, including a concerned Escalus, a brassy Mistress Overdone, and a triumphant cameo as the prisoner Barnardine, drunkenly insistent from a hole in the ground. Eloise Secker puts her mark on the production as a flatly insolent, androgynous Pompey and as a Greta Garbo-like Mariana in headscarf and sunglasses.
Gyuri Sarossy's Lucio, with dirty blond hair, moustache, and brown suit, is first seen collecting his belongings from the street, where Pompey has slung them from a bawdy house window. His line in comedy and sleaze fits the 1970s setting very well. Sarossy also delivers a twitchy, white-coated version of the executioner, Abhorson, dragging a giant axe behind him. Daniel Millar plays both the Provost and Elbow, opposite ends of the law-enforcement spectrum. His Elbow is a chaotic fantasist wielding a malfunctioning bull horn which punctuates his tall tales.
Eloise Secker as Mariana and Georgia Landers as Isabella.
Photo credit: Helen Murray.
These many entertaining parts do not always coalesce, and a coherent interpretation of this elusive play is never quite delivered. There is plenty of food for thought however, not least in the gender-swapping of the Duke's role. This allows the character's motivations to be separated from the exercise of male power that has always dominated interpretations. Both Zhangazha's Angelo and Ladbury's Duke are ill at ease with themselves. For Angelo, this leads to downfall and public disgrace, which does not appear to be eased in the slightest by the Duke's closing instruction that he should marry Mariana. For the Duke, her appearance belies the woman beneath. In the final scenes, with her cropped hair and dressed head-to-toe in white, she strongly resembles the evil, sexually charged character Servalan, from 1970s sci-fi sensation Blake's 7. However, she lacks the sexual confidence her appearance implies, leading to an intriguing final moment. Her offer of marriage to Isabella, which comes out of the blue and is now usually played as a disastrous misstep, is embarrassed and tentative. She and Isabella linger, facing one another, neither knowing what their next move should be. It is a surprisingly romantic ending for a play that has some of the fairy-tale elements of Shakespeare's later comedies. Will they or won't they? We will never know and neither, probably, will they.