Simon Jenner in Waterloo
25 September 2022
Something about the fall of 2017 seems to haunt American playwriting just now. Prophesy perhaps. No sooner have we seen the delayed world premiere of Christopher Shinn's The Narcissist at Chichester, determinedly set in 2017, than Jonathan Spector's school-committee-based comedy Eureka Day – receiving its European premiere at the Old Vic – follows it within weeks. Fleetly directed by Katy Rudd, it brings a mostly American cast with the luxury of a full set of (British) understudies.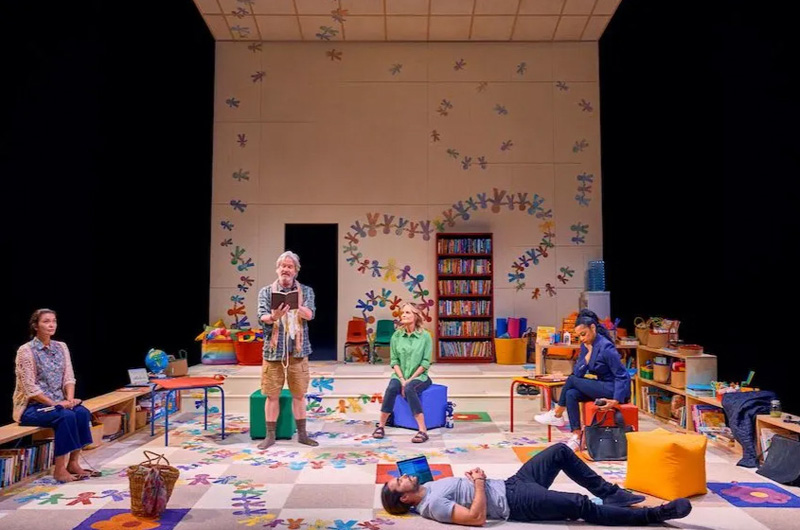 The ensemble. Photo credit: Manuel Harlan.
There are differences. The Narcissist probes Democrat politics and despair, set in the recent past. Spector's play received its US premiere in April 2018. Whilst it would be easy for Spector to state "present day" he doesn't, and fixes its date. That's because it's about the consequences of non-vaccination: specifically around MRR jabs and an outbreak of mumps at a junior public school. So why is it hilarious?
We remember MRR differently now because "anti-vax", a term quoted here, is one of those phrases leaping out at us for very different reasons.
Sounds grim, sounds kooky? It's a comedy that blisters, hurts, and heals. As its characters might say: just go see it.
Eureka Day School in Berkeley, California is somewhere where Christopher Columbus Day is replaced by recalling the Indigenous people exterminated by white "progress". Everyone proceeds by consensus and the school head Don (Mark McKinney) presides so seraphically with his four fellow-committee members that they're almost asleep by the time he finishes intoning another Rumi poem to promote harmony and breath control.
He's also conflict-averse. As his co-chair Suzanne (Helen Hunt) points out to newbie committee member Carina (Susan Kelechi Watson): "he's a great captain until you come up on an iceberg". It's taken a crisis to have Suzanne admit that. And the iceberg's partly of Suzanne's making. Senior, white, subconsciously entitled (a running theme with others here), she's about to reveal why she objects to the compulsory vaccination now clamoured for after an outbreak: and there are personal reasons on both sides. Spector almost certainly absorbs the "good people on both sides" dictum of Trump in October 2017, after Charlottesville. But here he twists it: there really is pain on both sides. Truth, though, is more elusive.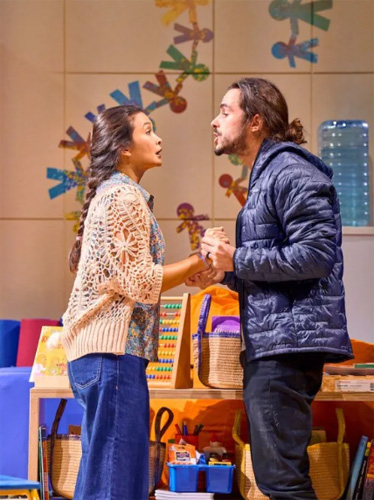 Kirsten Foster and Ben Schnetzer.
Photo credit: Manuel Harlan.
We start with Eli (Ben Schnetzer) dominating proceedings with a dizzying Gilbert and Sullivan list of racially diverse identity options on the drop-down school website. Every time Black Carina makes to intervene, she's batted away. Ironies extend to married-with-child Eli asking single-parent May (Kirsten Foster) with whom he's having an affair: "Did you feel like I was talking too much tonight?" May's "no" is a mute yes.
As in that mute yes the text's explicitly directive and pin-point virtuosic in its layout. Characters talk at once but in the climax to the first half are completely upstaged by a visible chat bar – Andrzej Goulding's brilliant video design includes illumined flowers chasing each other over the upstage wall and ceiling (no walls either side) on Rob Howell's white set, set against bright primaries, children-sized tables with adult beanbags. Goulding's rising chat bar though is the digital answer to Feydeau.
That's when we get to the consequence of a kiss. A live-stream committee discussion of whether to send out a vaccination letter explodes in mute invectives the audience are meant to read whilst ignoring the increasing desperation of a committee responding to each emoji grenade lobbed at them – and at others on the chat. We've seen chat made visible but never one that becomes the drama. It's uproarious.
Don naturally wants to be inclusive: McKinney's achingly funny wide-eyed sleepwalking liberal seems programmed to choose disaster, then express surprise, oblivious as to his causing it: but virtue-signals all the way.
Hunt's Suzanne, however, shadowed by something else, is less shy in asserting herself: like Eli, Suzanne's confident of her own virtue. Hunt's great moment though comes only when this is cracked open to show quite why she draws lines in the play-pit. It's explosive. This harrowing witness emerges just as Carina gains confidence and authority, in ways Suzanne doesn't see coming. Whilst Spector's superb when co-ordinating five characters and a multi-voiced chat bar, he's particularly telling in how two characters fail to understand each other. Especially when one's blissfully assured of – and oblivious to – privilege.
Susan Kelechi Watson and Helen Hunt. Photo credit: Manuel Harlan.
Hunt's stand-off with Kelechi Watson blossoms in a final scene with McKinney's sidelined Don. Foster's May (Meiko in the text, bespeaking her bi-racial Japanese heritage) and Schnetzer's Eli move in two scenes from tryst arrangements to guilt versus simmering resentment; still controlled in an envelope of attraction overtaken by events. The complex dynamics in such duettings are consummate. Such a bald summary doesn't do acting or text justice; nor the way Schnetzer moves Eli from confident "open marriage" bullishness to scared protectiveness of his family.
There's other telling strokes where Spector shows how California dreaming's become tolerance without walls: there's no due diligence that can't be cancelled by dissent, no core responsibility. Not even tact. Don notices the illicit couple earlier so when Suzanne declares early in the second half to May, "It's so great Eli has you in his life right now", not only Suzanne but tacitly Don are revealed as blithely ignoring dynamics in front of them, just to show how OK they are with the affair. May's bafflement and declaration blindsides Suzanne.
Spector's generosity to his characters ensures the ensemble emerge as individuals, each with telling agency. Thus Foster's May furiously knits on the sidelines for much of one meeting, epitomizing anxiety displacement. That's until she's put on the spot, when others' displacement-seeking demands another voice to deflect dissent. May surprises herself with an eloquent, emotional outburst about hubris that has its roots elsewhere but lands with sublime awkwardness in a debate on big pharma and doctors occasioned by Suzanne, which plagues both houses at once. Foster's wrenching herself out of reluctance to commit – then losing control – is just right.
With such vivid characterization, it's not only a relatable, but believable play; and springs surprises like Winter (Rachel Handshaw) in a telling, non-speaking part, doubling as one of five understudies. That's a luxury in casting, but ensures this richly probing comedy inoculates itself against theatrical slings and arrows. It's also heart-breaking, allowing each character's truth to flourish in a hothouse of Californian progressiveness. It traces their truth's damage, too, with such sad, infectious laughter.