"I Am Gavrilo Princip", Edinburgh Festival Fringe 2022
Jeremy Malies at Army @ The Fringe – Drill Hall
3 September 2022
It's 1994 and the Bosnian War is at its height. With no functioning sanitation under a Bosnian Serb siege, the people of Sarajevo are defecating around the tomb of a national hero. And looking down at them from an uncomfortable purgatory or limbo is the man whose mortal remains are in the tomb and who 80 years earlier had defined the nightmare course of the twentieth century for all of us.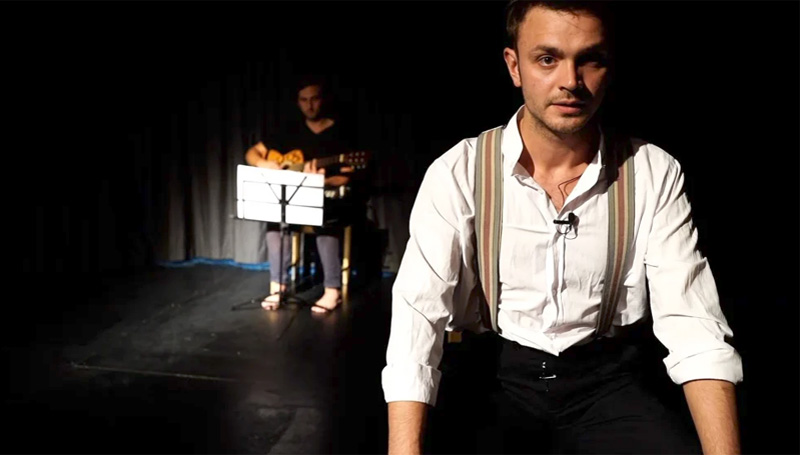 Oliver Yellop as Gavrilo Princip.
Gavrilo Princip, in this portrayal by the gifted and insightful young actor Oliver Yellop is, as the assassin told the judge at his trial, "by no means a brute." Yellop stresses that this supposed weakling who had been turned down by the military in the First Balkan War of 1912 had, unlike several other would-be assassins on that sunny Saturday afternoon in June 1914, a steady enough nerve to fire off rounds from his Browning revolver that killed Archduke Franz Ferdinand. Another bullet that did for Duchess Sophie was in fact intended for the colonial governor. Touchingly, Princip hoped that these would be the last shots ever fired in anger in the region.
What a change from the round of historical monologues at Edinburgh that so often leave you feeling that you have been watching a dramatized Wikipedia entry! This is a subtle, well-crafted play full of contrasts and with pace that varies from rollercoaster to the reflective and melancholic. Yellop (who also wrote the script) is accompanied by a live jazz score (Adam Farrant on trumpet and Benji Hooper on guitar) which contributes much to the exploration of Princip's moods as he reflects on his actions and their ramifications. It's considerably more than incidental music; I suspect that if Yellop's delivery pace or mood varied at performances, the instrumentalists would truly improvise and they contribute to the feverish hallucinatory quality associated with the prisoner's tuberculosis.
Direction by Anna Mors has rigour; not once does she choose an easy option by allowing Yellop too simple an appeal to our heart strings. We see this intelligent, complicated idealist in the round. Most moving for me – and it's testimony to Yellop's research which is both forensic on detail but convincing in its broad judgements – is the overwhelming conclusion that the future that Princip envisaged for his region was non-sectarian, probably secular and a truly homogenous society. It would have respected its constituent parts so embracing Bosnian Serbs, Muslims and Croats. Yellop may give us tirades about 500 years of Habsburg rule and inbreeding, but his character comes over as much more than an irredentist. His inclusive vision might just have worked.
All this is balanced against Princip (as written by Yellop) being a jaunty egotist. Watching a tubercular youth in the fortress of Terezín describe solitude and physical disintegration that saw him finally weighing six stone and having an arm amputated is hardly a barrel of laughs. But the script is surprisingly rich in humour as we see the demented aspect of Princip match himself against Franco, Mussolini and Hitler in terms of havoc caused. He likes to see himself as a trailblazer, a source of ignition or combustion. "This is my century" he claims. Other assassins and dictators have simply played catch-up. I wouldn't argue though of course there is irony coursing through this element of the script.
The presentation is simple; there are few lighting changes and Princip has a black slate box on which he leaps about and scrawls in chalk. Subtly, Yellop and Mors prompt us to think of suicide killings in our own day. Of course, for the jihadist, suicide is usually an integral part of the atrocity. Princip and the other assassins in Sarajevo had been given hopelessly weak cyanide capsules which simply burnt their stomachs a little.
A criticism? It's unfair to complain about what is not here but I should have loved to have heard Princip speculate as to whether there would have been a world war without his intervention. I believe not but more doom-laden students point out that the Schlieffen Plan had gone through 28 variants and some kind of conflict was inevitable.
At an hour, this is slick, unmannered, technically assured and thought-provoking. I love Yellop's ability to filter his research and he shows an eye for the revealing detail. He has Princip note, moments before the shooting, that a newspaper placard is announcing that the Tour de France has just begun. It would be the last Tour until 1919 and the three best cyclists in the world would die at Flanders and on the Somme. Similarly, Yellop tells us that psychiatrist Martin Papenheim, one of the few people to be given access to Princip when in prison, would also become an inmate at Terezín during the Second World War. History doesn't repeat itself but it certainly chimes.
Princip claims that his ghost will haunt the halls of Vienna. Perhaps not, but with the Balkans remaining unstable – Serbian separatists are currently pushing towards secession in Bosnia-Herzegovina – his spirit is unlikely to be quiet any time soon. We are at turns repelled and seduced by the character's idealism. Yellop calibrates these changes with great skill using his considerable technical armoury. No tropes about war in general, no politically correct filling of checkboxes. It's an impressive, responsible and perhaps topical piece of work.