"East Is East", National Theatre
Neil Dowden on the South Bank
13 September 2021


Actor turned playwright Ayub Khan Din is best known for his semi-autobiographical play East Is East, first staged in 1996 but revived many times since then. It was one of the first British-Asian plays to reach a mainstream audience and was turned into an award-winning film in 1999. This culture-clash comedy-drama about a British-Pakistani family in northwest England in the seventies reopened the Lyttelton auditorium at the National Theatre as part of a 25th anniversary tour. Although very funny at times, it also deals with serious issues of cultural identity, gender roles, intergenerational conflict, and domestic abuse.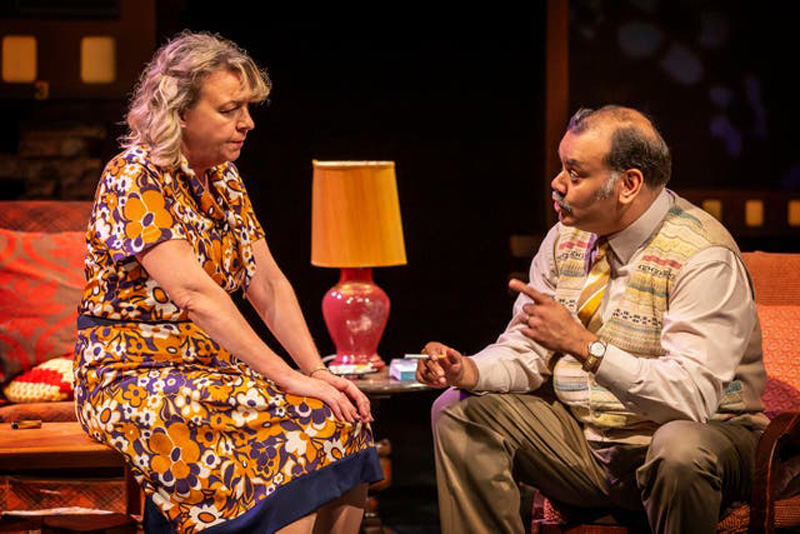 Sophie Stanton and Tony Jayawardena. Credit: Pamela Raith Photography.
Set in 1971, the story revolves around the Khan family who run a popular fish and chip shop in Salford. First-generation immigrant and family patriarch George, whose wife Ella is British (although he also has a wife in Pakistan), wants his family to follow traditional Pakistani Muslim customs. But his seven mixed-race children (who call him "Genghis") have other ideas as they increasingly identify with a modern British lifestyle in terms of language, food, dress, and sexual freedom. As relations become strained, Ella is torn between her loyalty to George and the happiness of her children.
Eldest son Nazir (whom we don't see) has already left home, having rejected an arranged marriage and come out as gay. George then arranges for the two unattractive daughters of a fellow Pakistani-British businessman to marry his own sons Abdul and Tariq without telling them; they ultimately rebel. He also makes an appointment at the hospital for his youngest son Sajit to belatedly be circumcised despite the latter's fear of the procedure.
Sometimes the rebelliousness of the anglicized children is shown comically as when they frantically try to hide from their father that they have been eating bacon and sausages. But the mood turns nasty when George ends up beating Ella and some of his children for disobeying his commands.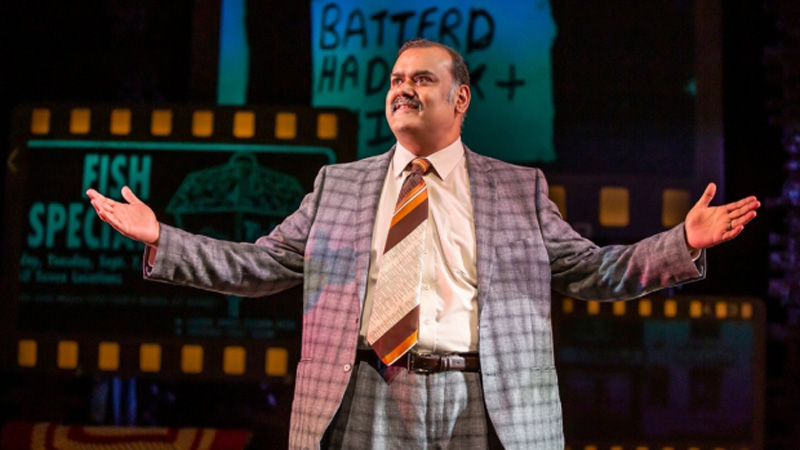 Tony Jayawardena. Credit: Pamela Raith Photography.
Outside the family drama, there are occasional references to the historical background such as the war between West and East Pakistan which led to the creation of the independent nation Bangladesh and the antiimmigration speeches of right-wing MP Enoch Powell. We also hear about examples of racist behaviour towards the children regardless of how assimilated they are. There is an uneasy mix of broad comedy and raw violence which Khan Din does not reconcile.
Iqbal Khan's dynamic, entertaining production is a crowd pleaser. Bretta Gerecke's ingenious set design flips from chip shop to coal shed, with a mobile staircase splitting off the informal kitchen from the posh parlour, while her projections display family snapshots plus black-and-white period photos on multiple screens. Susan Kulkarni's colourful costumes evoke seventies fashions effectively. And between scenes the ambience is maintained with music that mixes classic Indian songs with bhangra and house.
With a strong, sensitive performance Sophie Stanton gains much sympathy as the long-suffering Ella who vainly tries to keep everyone together: she is the emotional core of the play. As George, Tony Jayawardena is by turns clown and tyrant, a ridiculous figure who is out of touch with his family and inspires fear or mockery rather than love or respect.
The younger cast play the children with engaging energy and are fully convincing as siblings. Assad Zaman plays the dutiful Abdul who is reluctant to confront his father, and Gurjeet Singh the long-haired rebellious Tariq who has a white girlfriend. Joeravar Sangha is the religious son Maneer, always seen with a skull cap, while Adonis Jenieco plays art student Saleem who pretends he is studying engineering. Amy-Leigh Hickman is the only daughter Meenah, a feisty tomboy who hates wearing a sari. And Noah Manzoor impresses as the anxiously withdrawn 12-year-old Sajit (a self portrait of the artist as a boy), whose face is perennially half hidden inside the hood of his parka-coat – but with a discreet camera in hand he becomes the one who documents the family's history.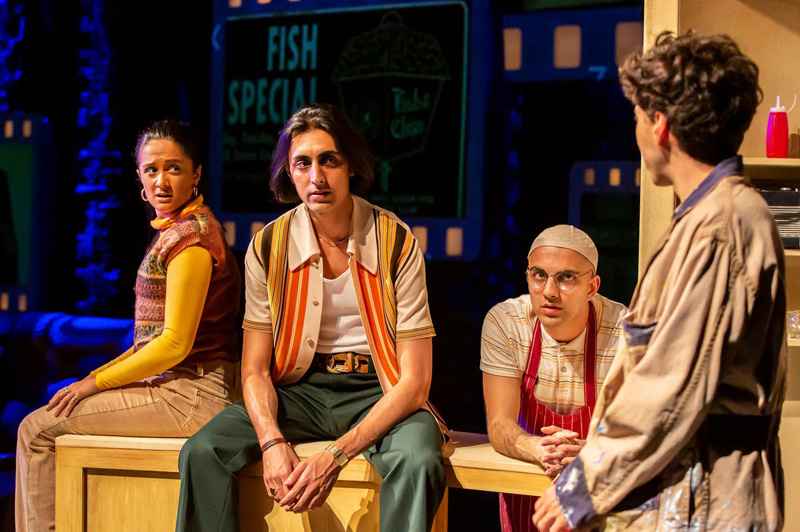 Amy-Leigh Hickman, Gurjeet Singh, Joeravar Sangha and Adonis Jenieco.
Credit: Pamela Raith Photography.