"Backstairs Billy" at Duke of York's Theatre
Jeremy Malies in the West End
13 November 2023
Cock jokes it seems, to paraphrase Claudius in Hamlet, "come not single spies, but in battalions". I wasn't counting but there was a profusion in this play by Marcelo Dos Santos, and when a sculpture of a black phallus gets misplaced you just know that it will end up being handled by Penelope Wilton as the Queen Mother. But if Dos Santos wants cock jokes, then he earns them just as he earns a happy ending. See what I did there? Well, it's all of a piece with the wealth of smut in this play (even the title is a pun) which sits somewhere between a Carry On film and a Joe Orton farce with hints of Alan Bennett who is also partial to phallic humour.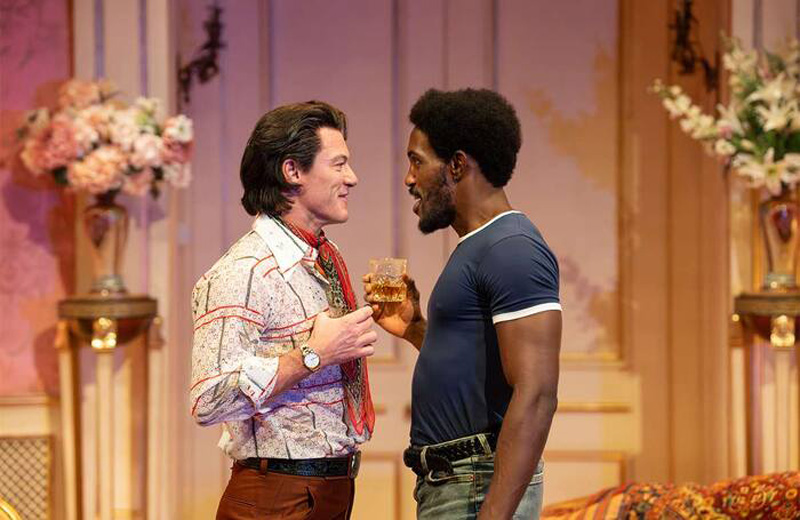 Luke Evans and Eloka Ivo.
Photo credit: Johan Persson.
I'm hard to amuse and fear that I may be excessively high-brow. But I was soon laughing at the script by Dos Santos who has won a Fringe First in Edinburgh and been a writer-on-attachment at the National Theatre. He would not have secured this venue for a world premiere, direction by Michael Grandage, and Dame Penelope Wilton as one of the leads without an excellent vehicle.
The vehicle is his treatment of the real-life friendship between Elizabeth Bowes-Lyon and the openly gay (another queen) Billy Tallon played by Luke Evans. Tallon had entered royal service in 1951 at the age of 15. "Unlikely friendship" – and it is the phrase you would initially grope for on the keyboard – would not only be a cliché but factually incorrect. The Queen Mother favoured gay men as servants, knowing that general openness and absence of sexual tension could minimize formality and prompt the witty exchanges that she valued.
There are run-on parts by two corgis, Pumpkin and Tring. I was at second press night when they behaved well but have read reports that Pumpkin had been troublesome the evening before. Never work with children or animals was Noël Coward's advice. Another cliché of course but I mention it only because Sir Noël is explicitly referenced here. Amid the torrent of wonderful gags, often so rapid that it's hard to keep up, Her Maj occasionally lectures Billy when he transgresses. In one resonant speech, she mentions her time spent with Sir Noël and affinity with his "kind" who she finds enlivening. But there must always be limits and decorum whatever your sexuality.
This is one of the moments when Wilton's prodigious technique allows her to spin the mood of the theatre. Another comes when she describes the death of her husband (the stalls who were boisterous in the right sense suddenly hushed) with a poignancy that owed something to most of us having seen the man's innate decency portrayed either on stage or film in The King's Speech. Another touching moment comes when we realize how crushed Elizabeth is to be stood up for a meeting with the unseen charismatic Princess Margaret.
Pure Bennett and Orton territory – there is a rent boy, Ian played by Eloka Ivo, who is brought home by Billy for sex in the drawing room of Clarence House. Ian is also the sculptor of the aforesaid phallus. With Billy's squeeze being found in the wrong place (there is much running around with trousers down) the comedy takes a transcendent turn as Ivo brilliantly justifies Ian's sudden presence at a function by claiming to be a prince from Lesotho. He then reverts to being Ian and, with deftness, Dos Santos gives us the social backdrop to 1979 which is the main setting. The Southall Riots are beginning and Margaret Thatcher is about to come to power. It's an outstanding speech and I marvelled at the virtuosity of the writing.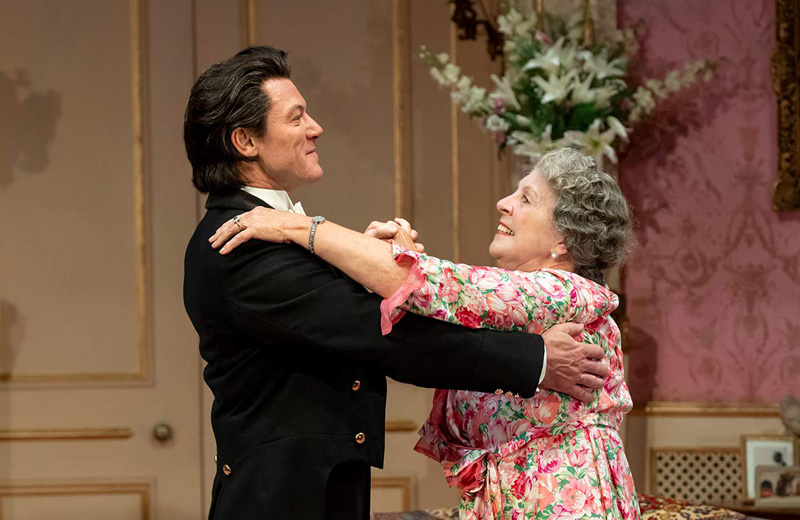 Luke Evans and Penelope Wilton.
Photo credit: Johan Persson.
There is only one magnificent set by Christopher Oram. It dovetails with a major theme, that of the royal household being put through austerity measures. Courtier Jeremy Kerr played by Ian Drysdale has brought a Coutts bank manager in to lecture Her Majesty on the need to economize, but she and Billy will not cut back on the flowers or the premium booze at functions. Oram's set asks us just how many variations you can have on chintzy still lifes of flowers amid the damask silk curtains. Oram (with Tom Rand) also dresses Wilton in wonderful gowns which I can't really comment on. But the flares, tweed, and miniskirts worn by other characters are well judged.
This is not a tour de force: Dos Santos and Grandage lavish care on every character however minor. But Luke Evans excels whether it be in moments of mimicry of Prince Charles, illustrations of his devotion to the boss, bawdiness with a young Welsh courtier played by Iwan Davies, or reflections on sexual mores with Section 28 looming under Thatcher. "Coming out" no longer relates solely to the Queen Mother's contemporaries making their debuts at social events.
There is also a young Billy played by Ilan Galkoff. We first see him circa 1950 while George VI is still alive. With skill, Galkoff brings an ethereal quality to his voice and movement such that we are in pleasurable doubt as to whether Grandage wants us to imagine that we have travelled back in time or whether the whole scene is being played out in the older Billy's head. One of the closing moments sees Galkoff dance with Wilton while Billy senior watches and admires. It must have put many in mind of the final scene in Tom Stoppard's Arcadia.
You have to ask whether the whole piece coalesces and knows exactly where it is going. It's not deep but the discussion of sexual politics, loyalty of servants, and vacuous nature of the social-climbing guests at the endless receptions is serious enough and more or less forms a coherent whole. I have enough self-awareness to know when I'm being priggish. My initial scepticism melted. This is not a play for the ages (though Dos Santos's writing will become notable) but it's a really enjoyable evening full of writing craftsmanship and fine acting.