"The Imaginary Invalid" – Franco Parenti Theatre, Milan
Maggie Rose in Lombardy
19 October 2022
One of the best definitions of a classic has to be that is speaks for many cultures and for all time. This is certainly the case with Moliere's The Imaginary Invalid (premiered in Paris in 1673) and currently playing at Milan's Franco Parenti Theatre. The loneliness and anxiety of Molière's imaginary invalid, Argan, recall feelings similar to those that many of us experienced during lockdown, when we were isolated, some of us struggling to fight Covid19 at home, others hospitalized, unable to see their loved ones, in intensive care units.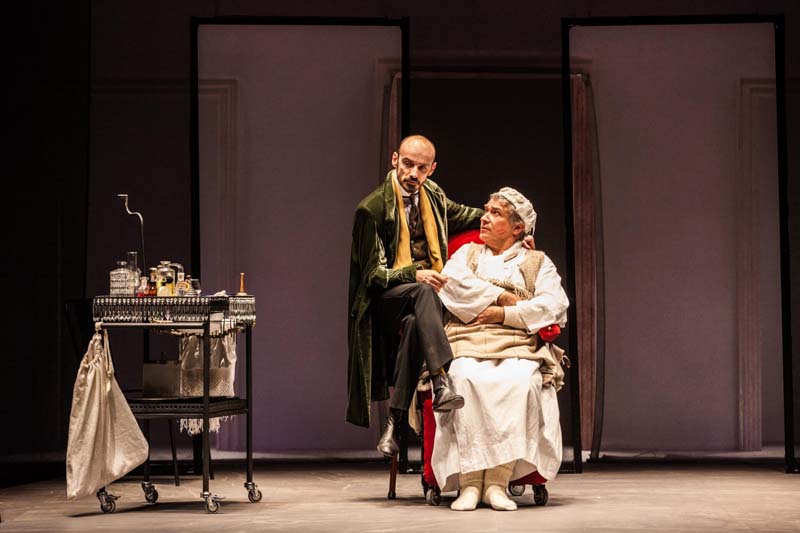 Pietro Micci and Giole Dix. Photo credit: Fabio Artese.
At the opening night of the play the atmosphere was weighted with anticipation. This year marks the fiftieth anniversary of this much loved Milanese theatre, and Molière was a fitting choice to celebrate and open the season since Franco Parenti, the theatre's founder, directed this piece and played Argan in a highly acclaimed production in the early 1980s.
Andrée Ruth Shammah, the current director, who has revived the comedy on several occasions, has selected a cast containing some highly experienced performers (notably Giole Dix as Argan and Anna Della Rosa as his maid, Toinette), while other cast members inject new blood into the show.
Onstage, a stylized set, consisting of a single red armchair and trolley, loaded with medicine, suffice to suggest Argan's home while some of the costumes, made of velvet and a veil-like voile fabric, point to the wealth of seventeenth-century-upper-class Parisians.
From the opening lines, as Argan and his apothecary comment on the long list of medicines the former will be taking that day, the energy and hilarity of the dialogue never wanes. This was Moliere's final play (he died onstage in the role of Argan during the fourth performance) and shows him at the top of his game as a supreme writer of comedy and adept in this form.
The subplots are deftly interwoven into the main story line; in the first, Argan selfishly decides to marry his daughter off to a doctor, whom she despises, so he will have free medical treatment, while in another subsidiary plotline, his second wife, Beline, contrives to do her stepdaughter out of her inheritance.
The outstanding verve with which Dix and Della Rosa interpret their roles are my abiding memory. This master and servant engage in constant bickering and witticisms, with Toinette, from time to time, wielding a chair or a table to threaten Argan when his behaviour grows truly unbearable. Like many of Moliere's female characters, this feisty determined woman refuses to toe the line, another sign of the modernity of his writing. The deception, greed and cynicism, pervading the play, likewise, made me feel that little has changed in the 400 years since Moliere's birth in 1622.
Anna Della Rosa and Giole Dix. Photo credit: Fabio Artese.