"Sunset Boulevard" at Savoy Theatre
Mark Shenton in the West End
16 October 2023
As the sun finally begins to set on Andrew Lloyd Webber's long reign as king of the British musical – for the first time in 42 years, he doesn't have a single title playing on Broadway at the moment – a new dawn has begun (as Grizabella sings in "Memory" from his 1981 show Cats), with a radical reappraisal now taking place of his back catalogue. (Next up, an immersive production of Starlight Express will return that show to Wembley's Troubadour Theatre in 2024.)

Tom Francis and Nicole Scherzinger.
Photo credit: Marc Brenner.
A recent, short-lived West End revival of his 1989 show Aspects of Love fizzled rather than sizzled on Shaftesbury Avenue, despite a ravishingly beautiful physical production; as Michael Ball, its original star whose project to bring it back and star in it again this was, recently commented, "Some shows are simply of their time. To be honest, Aspects was never a great hit anyway."
But now director Jamie Lloyd has taken a completely different, bare-bones approach to Sunset Boulevard, Lloyd Webber's 1993 collaboration with playwright Christopher Hampton and regular Lloyd Webber lyricist Don Black based on the 1950 Billy Wilder film about a silent movie actress trying to make a comeback, and turned it into an astonishing, multi-layered hit it was always meant to be.
This is a piercing study of the disposability of fame and the terrors of its fleeting passing, as a former movie icon seeks to rebuild her long-stalled career at Paramount Pictures.
Lloyd re-animates it with a surging theatricality that strips it back to a minimalist, black-and-white aesthetic, its mostly bare stage constantly re-defined by the dynamic lighting of Jack Knowles. But it also feels partly like a live movie, with video and cinematography created in real time by Nathan Amzi and Joe Ransom that projects key moments of the actors' live faces on large screens and also from behind the scenes. This includes, in one extraordinary "walkabout" scene that opens the second act, following a character from the dressing rooms and out the stage door, onto the Strand, and back into the theatre.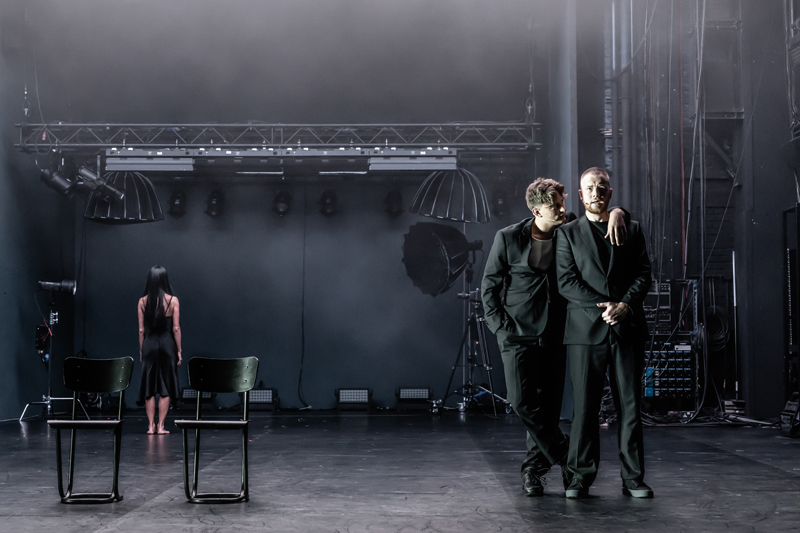 Tom Francis and David Thaxton.
Photo credit: Marc Brenner.
There a vivid sense of both immediacy and jeopardy to this approach; the actors have nowhere to hide and things could go haywire. There are also some nice jokes buried in it, like the sight of a Jamie Lloyd Company mug on a dressing-room table or an actor caught snorting cocaine; the production indeed feels at times like an adrenaline-fuelled drug high.
Just as the now legendary 1996 revival of Chicago – still running on Broadway today – brought a simmering, dark drama of sex and seduction to the show, this Sunset Boulevard makes explicit what was implicit before: that aspiring but broke screenwriter Joe Gillis is an opportunistic young hustler on the make, ready to seduce – and be seduced by – the older actress who ensnares him in her devious (but deluded) web. Meanwhile, he's also ready to betray his friend Artie by seducing his fiancée Betty Schaefer.
The only truly honest person here is Max von Mayerling, the devoted manservant of Norma Desmond, who helped create her when he was a director but is now reduced to slavishly trying to keep her happy, or at least prevent her from self-harm.
Lloyd's knock-out casting brings the startling dynamics fully into play. Nicole Scherzinger – a pop star who made her theatrical debut as Grizabella in the West End's last revival of Cats in 2014 – is a smoking hot Norma Desmond, and not just because she is regularly engulfed in billowing haze. Her soaring vocals lend impressive heft to such iconic songs as "As if I Never Said Goodbye" and "The Perfect Year"; she is much more vocally secure than Glenn Close, who originated the role on Broadway in 1994, and then reprised it there in 2017 (in a version transferred from London's ENO).
Tom Francis is a youthful, athletic Joe Gillis, strutting with confidence as he knows the source of his appeal. And newcomer Grace Hodgett Young's Betty is captivatingly earnest as she falls under his spell; she shares one of the best numbers, "Too Much in Love to Care", with him in one of the show's most beautiful and tender yet doomed moments. But it is David Thaxton's Max who is at the beating heart of the painful play that Norma's delusions have brought them all to. Thaxton's complex performance is full of suppressed emotion but also real concern and sincerity.
An amazing ensemble of supporting dancers and actors bring frenetic energy to Fabian Aloise's harsh, angular choreography.
This is the best musical revival in town since Cabaret, still at the Playhouse; it's no accident that the back cover of the programme for Sunset is an ad for Cabaret. They are both productions carving out new space for musical theatre classics, and are sure to bring new audiences to them.