"Roman Holiday" at Theatre Royal Bath
Simon Thomas in the West Country
21 June 2023
A brand new Cole Porter musical has to be a good thing although, with the master songwriter dead for nearly 60 years, that can only mean a jukebox-style collection of songs for a show now receiving its UK premiere. The Oscar-winning film Roman Holiday was released in 1953 when Porter was still as busy as ever, so it seems a good fit. Writers Kirsten Guenther and Paul Blake work wonders matching the mood and sentiments of the much-loved romantic comedy by incorporating 14 numbers without too much shoehorning.

The ensemble. Photo credit: Ellie Kurttz.
With some 800 songs to choose from, they had their work cut out. The chosen songs range from some of Porter's best known (including "Night and Day", "You Do Something to Me", "Ridin' High", and "In the Still of the Night") to lesser-known works such as "Experiment" from Nymph Errant, "Throwing a Ball Tonight" from Panama Hattie, and The New Yorkers' "Take Me Back to Manhattan".
There are some great songs here but no real blockbusters. The writers have carefully avoided culling from the best-known shows (although "Easy to Love" from Anything Goes puts in an appearance), which seems a sensible move, but the end result comes across as a minor Cole Porter rather than a hit-after-hit classic.
In recent years, London audiences have become familiar with the jaw-dropping dance routines and explosive performances of shows like Anything Goes while in comparison Roman Holiday comes across as a more modest affair.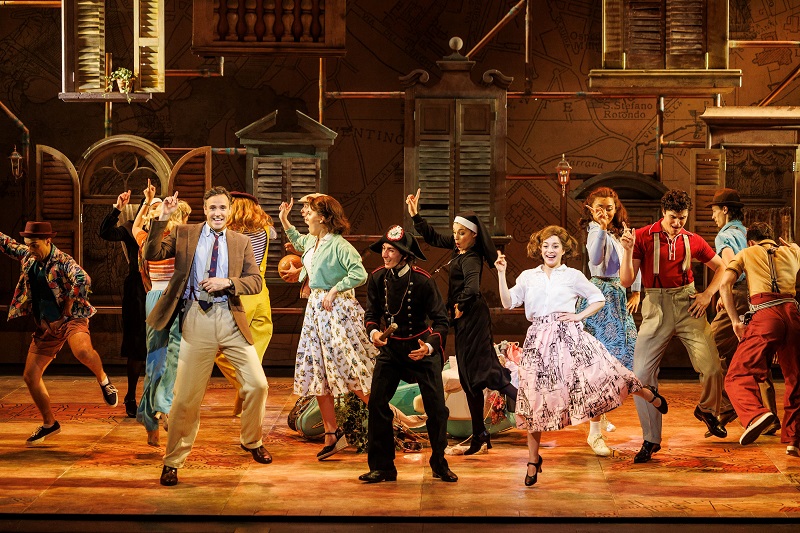 The ensemble. Photo credit: Ellie Kurttz.
No 21st-century cast can quite match the charm and innocence of the original film, not to mention the charisma and sheer glamour of Audrey Hepburn and Gregory Peck, but Rebecca Collingwood and Michael D. Xavier bring bags of talent and brightness to the leading couple. The former doesn't quite convince as the fish-out-of-water princess enjoying a day off but she sings prettily and is a strong and attractive presence.
Anyone familiar with Notting Hill will recognize the storyline. A gauche princess from an unnamed principality tours Europe, shaking hands, expressing gratitude, and endowing majesty upon those she meets until she can take it no more and goes incognito into the city after a bit of fun. The city of course is Rome and she becomes a tourist for the day in the company of a handsome American newsman who sniffs a scoop and an accompanying fee that will enable him to hoof it back to the States.
The inevitable happens and opportunistic cynicism evaporates in the romantic atmosphere but can an errant royal sustain a budding relationship with a mere citizen? Coming out at the same time as Princess Margaret's ill-fated affair with air ace Peter Townsend, the film must have resonated particularly with contemporary British audiences and today, in a period of post-monarch reflection (and the popularity of Netflix's The Crown), it still does.
The original film was beautifully put together and stylishly played by star leads. Putting it on stage presents a few challenges, not least in the famous scene where the couple career through the city on a Vespa, bringing havoc in their wake. The largely static scooter does what it can, with a busy chorus trying to create the flurry around it but it can't quite create the magic. What looks wild and abandoned on film appears careful and controlled on stage.
Adrian der Gregorian is lively and characterful as the journalist's ditzy photographer sidekick Irving and Tania Mathurin performs a couple of the best songs wonderfully well, including the opening cabaret number "You Do Something to Me", as an expanded version of Irving's girlfriend Francesca.
With a new scene added and frequent stoppages for songs, it's surprising that the running time of the show is almost exactly the same as that of the film, which shows just how snappy and fast moving Guenther and Blake's script is.
Veteran director Jeremy Sams does everything right and the eight-piece band led by MD Stephen Ridley does full justice to Porter's wonderful melodies. Lively choreography by Matt Cole and Jane McMurtrie is skilfully executed by a committed ensemble to add an Italianate flourish to the evening. Francis O'Connor's sets do just enough to evoke the atmosphere of the bustling city.
On a hot summer day the show is like a light salad, seasoned with lashings of olive oil and citrusy crispness, and leaves you wanting more. Following on from last season's magnificent Into the Woods, Theatre Royal Bath Productions are ridin' high with their musical offerings in these gloomy economic days. 
.
.
~