"Habeas Corpus", Menier Chocolate Factory
Neil Dowden in Southwark
14 December 2021
Alan Bennett may be cherished for his subtle melancholic comedy but in 1973 he wrote the full-on farce Habeas Corpus. The title is not a reference to the legal term but the Latin phrase literally translated as 'you shall have the body': the play deals with matters of the flesh, in particular sex and mortality. Although the convoluted plotline is firmly in farcical mode, there is a dark side with sexual activity seeming to serve as a transient escape from fear of ageing and death.
Dan Starkey, Kirsty Besterman and Matthew Cottle. Photo credit: Manuel Harlan.
The play is set in the early seventies in Hove on the south coast in the Wicksteeds' house. Arthur Wicksteed is a jaded fifty-something general practitioner tired of his patients' medical problems and bored with his marriage, while Muriel is his dissatisfied wife, Dennis their hypochondriac, virginal son, and Constance his flat-chested, spinster sister. All become entangled in carnal relationships. Arthur pursues the attractive young blonde Felicity, who has her eye on Dennis with ulterior motives. Meanwhile, Muriel's dalliance with diminutive old flame Sir Percy Shorter ("a leading light in the medical profession") and Constance's engagement to voyeuristic cleric Canon Throbbing are complicated by the arrival of a returning expatriate widow and a false breasts salesman.
With Habeas Corpus, Bennett joined fellow British playwrights known for comedy who have dabbled in the sub-genre of farce, such as Alan Ayckbourn, Tom Stoppard, Michael Frayn, and Peter Nichols – though the closest comparison is with Joe Orton, especially his What the Butler Saw. Bennett plays with the conventions of a sex farce, in the vein of a saucy seaside postcard, Carry On films, or a politically incorrect Seventies sitcom. But he seems to relish its tropes as much as sending them up. His aim was to write it without "the paraphernalia of farce – hiding places, multiple exits and umpteen doors" – but there is the usual mixture of two-timing and mistaken identity, not to mention trouser-dropping and fake boobs.
This "no-frills" farce is less naturalistic and formally more experimental than most of Bennett's plays. Some of the dialogue is in rhyming verse, sometimes characters speak directly to the audience in arch asides, and the play even includes a few songs. At the start, the characters are presented as if in a TV game show with stylized choreography, while the show ends with a danse macabre. As one would expect from Bennett, there is plenty of witty word-play and one-liners amidt the raunchy goings-on, though the humour is broader than usual and the characters tend towards caricatures with their appropriately "funny names". There are also misfires such as a running gag about a patient trying to kill himself. The overall result is an admittedly rather dated but still amusing show with a slight metaphysical undercurrent.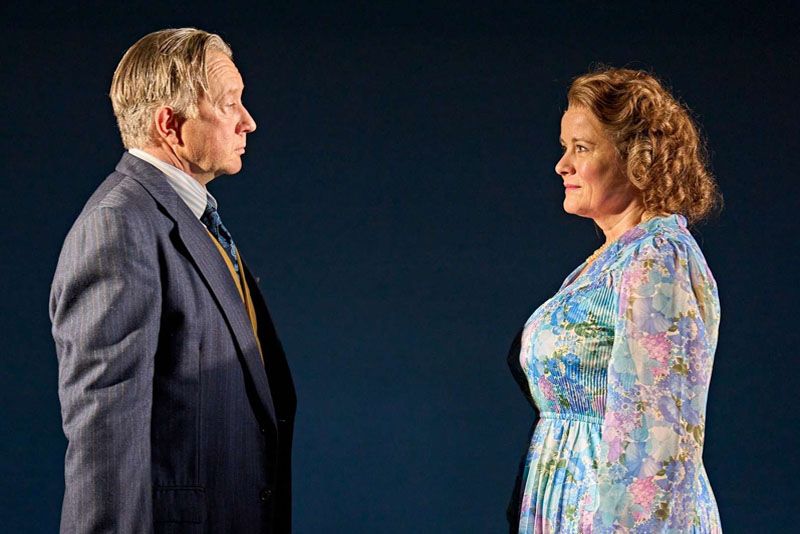 Catherine Russell and Jasper Britton. Photo credit: Manuel Harlan.
This rescheduled revival (originally planned for the early summer of 2020) is entertainingly and fluidly directed by Patrick Marber, who had a hit with Stoppard's almost contemporaneous comedy Travesties at the Menier in 2018. Richard Hudson's stripped-back design with an almost bare stage features a symbolic coffin in the middle plus a sea-blue backdrop, as the cast come and go freely.
Jasper Britton is excellent as the sexually frustrated Arthur Wicksteed who wants to feels his pulse beat fast again, with his words "He whose lust lasts, lasts longest" acting as a sort of motto for the play. Catherine Russell plays the lonely Muriel, Thomas Josling makes an assured professional stage debut as the self-obsessed Dennis, and Kirsty Besterman is the body-dysmorphic Constance. As the reluctantly celibate Canon Throbbing, Matthew Cottle provokes much laughter with his Alan Bennett impression during a sermon, Katie Bernstein plays the manipulative Felicity, and Dan Starkey the bombastic Sir Percy Shorter. And Ria Jones (in her non-musical theatre debut) is very funny as Mrs Swabb the cleaner, a choric figure who spies on everyone and gleefully airs the family's dirty linen in public.
.