"Choir Boy" at Bristol Old Vic
Simon Thomas in the South West
20 October 2023
In 2017, Moonlight, the film adaptation of a play by Tarell Alvin McCraney, won best picture at the 89th Academy Awards. McCraney also won the Oscar for Best Adapted Screenplay. Moonlight was never produced as a stage play but in 2012 McCraney's Choir Boy was premiered at London's Royal Court Theatre and went on to an off-Broadway production the following year, making it to Broadway in 2019. Like, Moonlight it is a coming-of-age story.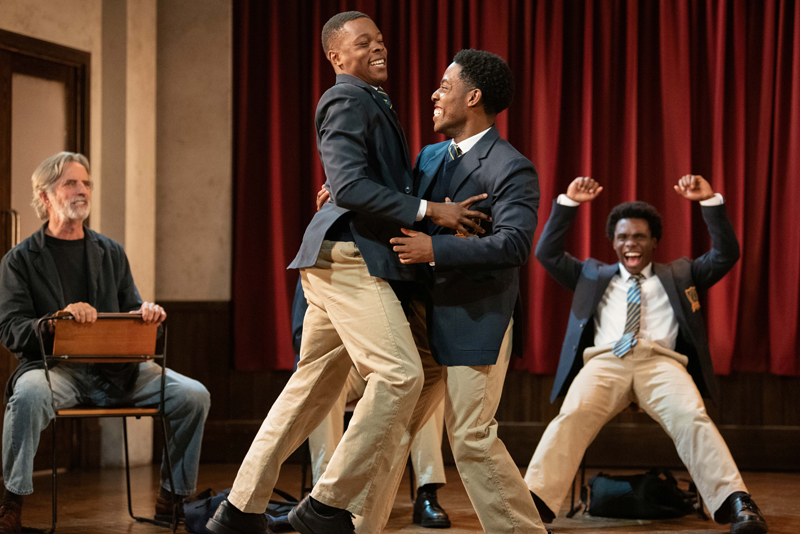 The company. Photo credit: Camilla Greenwell.
Now revived at Bristol Old Vic as Nancy Medina's inaugural production as artistic director, Choir Boy was written during Barack Obama's presidency and since all the promise of that breakthrough moment, the road to the top has, if anything, got rockier. It fits with the themes of the play. "I was bullied as a student and found a way through it," says McCraney in a programme note, "but what about the students who couldn't? How do they survive … thrive?"
Set in the Charles R Drew Prep School for Boys, the play shows the path of a young black American to the top job leading the school's famed gospel choir as strewn with difficulties, despite his knack of running rings around his competitors and the school hierarchy. Pharus Jonathan Young is gay, talented, and clever. If anything, his intellect differentiates him from his peers as much as his sexuality. He's cocky and confrontational, and doesn't allow bullying to stop him being top dog.
The five boys featured in the play are all members of the choir and there's growing tension between Pharus and Bobby, the troubled nephew of the headmaster, who taunts him with homophobic slurs and can't relinquish power to the more talented singer. When violence eventually erupts, it doesn't come from Bobby but an unexpected quarter.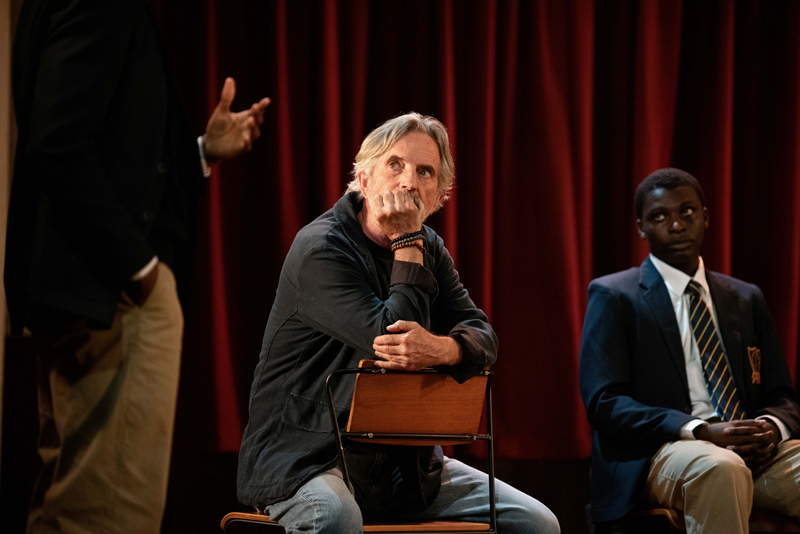 Martin Turner as Mr Pendleton (foreground).
Photo credit: Camilla Greenwell.
Medina has brought together a team of talented young British actors, who handle McCraney's elegant and layered text effectively. Terique Jarrett underplays the campness as Pharus and is funny and truthful in a part that combines cockiness, vulnerability, and eloquence. Jyuddah Jaymes as Pharus's roommate AJ, Michael Ahomka-Lindsay as trainee pastor David, Alistair Nwachukwu as Bobby, and Khalid Daley as his sidekick Junior all excel in their roles. They also sing beautifully the a cappella gospel numbers that pepper the action under Femi Tomowo's musical direction.
Daon Broni seems on the young side for the school's headmaster, who struggles to keep control of the boy's varying needs, while upholding the institution's codes of conduct. Martin Turner, the only white member of the cast, is effective as Mr Pendleton, a civil rights veteran who is brought in to lead a critical thinking class and sets up a dynamic which he too loses control of.
One of the most effective scenes is the classroom confrontation, where Pharus shoots down Bobby's received notion that spirituals were coded instructions to slaves to help them escape their captivity. He accepts this without question but Pharus gives an eloquent alternative plea to evaluate the traditional songs for their aesthetic value. It's a playing out perhaps of McCraney's own ideas and it doesn't fully ring true that a teenager can deliver such well-thought-out polemic off the cuff. "Have you finished your TED Talk?" responds Bobby and, given that there's a strong autobiographical feel to the play, perhaps McCraney was that boy. He's certainly got the gift of words and articulation of ideas.
Designer Max Johns provides a realistic school auditorium setting, which switches swiftly from bedroom to schoolyard and shower room.
Medina starts her tenure in promising fashion. The production has exhilarating moments but lacks bite at times, which is perhaps down to the writing, and drifts towards sentimentality in the later stages. It ends with a plea for kindness between people which, given the world we now live in, is a simple message that can't be repeated enough.