"Abigail's Party" at Devonshire Park Theatre, Eastbourne
Jeremy Malies in East Sussex
7 June 2023
"Ever and ever, forever and ever you'll be the one / That shines on me like a morning sun." Well, it appears not. The titular track from Demis Roussos's best-selling album, music that is always associated with this play, has been cut by director Michael Cabot. There were even discontented mutterings from the genteel red velvet of the stalls when this awful truth dawned.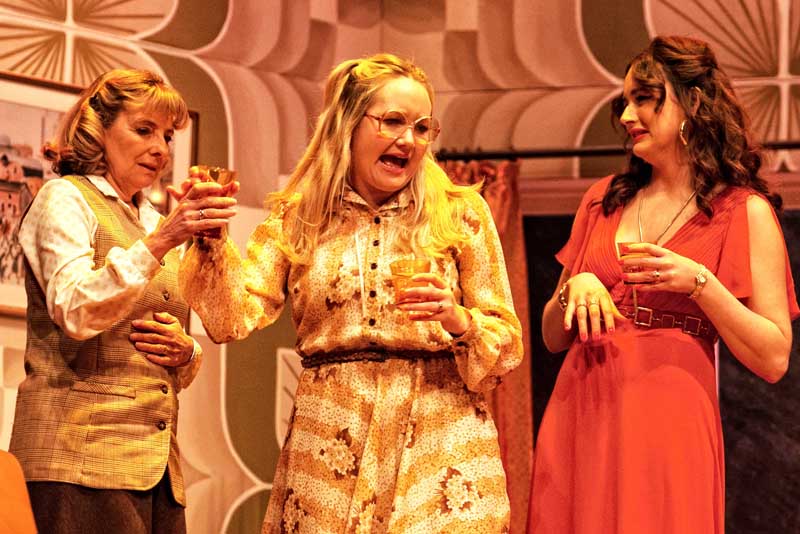 Jo Castleton, Alice De-Warrenne and Rebecca Birch.
Photo credit: Sheila Burnett.
But for me the piece is all the better for it. Cabot has done something clever in creating a counterpoint between the caterwauling of the principal women (Rebecca Birch as hostess Beverley and Alice De-Warrenne as the cringing Angela) and the LPs chosen by the hosts. The pulse of the dialogue matches the beat of the music. No such coordination was possible with Demis's Europop, so he had to go. We get more Elvis and José Feliciano meaning that the dance interlude is slicker though I should have liked Beverley and alpha male Tony (George Readshaw) to have mauled each other more in the slow dance clinches.
It must be difficult for the actors to stick with the accent that Mike Leigh intended (north-east London not Cockney) and at which Alison Steadman excelled. It would be easy to stray into current Estuary English or even mockney but except for the RP used by Jo Castleton as Susan (mother of the unseen Abigail and living in an unaccountably bigger house next door), the dialect is I believe exactly what the playwright associated with this type of striving lower-middle-class Londoner.
Cabot coaxes out of the characters the grim reality that there is significant violence in both the marriages. It's the one thing that the super-false Beverley with her dazzling display of canned phrases, knock-off jewellery and catwalk body language can never disguise. The physical comedy evolves naturally. I cackled as Angela proves incapable of assisting her new pal after (through boredom and social embarrassment) she has placed Hula Hoops on all her fingers. Yes, the dreadful Seventies party snacks – in themselves enough to bring on acid reflux – remain intact. And I had a nauseous hangover flashback to being a teenager myself when Susan describes having bought the horrible (now discontinued) ersatz champagne Pomagne for the youngsters.
George Readshaw and Tom Richardson.
Photo credit: Sheila Burnett.
"Did you leave your carpets down?" is one of Beverley's questions to Susan as the music from the party next door swells. I guess it's an easy brief, but the sound design (uncredited in the programme) succeeds in splitting our attention between what we hear in the room that is on view and the escalating drama elsewhere among Abigail and her friends. The cast are also skilful in conjuring up the larger party for us.
Birch shows us that Beverley's behaviour is not a sequence of foot-in-mouth moments. She is a vicious troublemaker who wants to belittle every character in the room except for Tony who she has sized up like a prize heffer and deemed worthy of a flirtation if only to belittle her own husband and his wife. And Angela is little better; I lost count of how many times she stresses that Tony might be in the new and glamorous world of computers but is only an operator.
There are glimpses of a wider social fabric; Susan flat-bats away a question by Laurence (Tom Richardson) as to what she thinks of the few immigrant families now appearing and there is one reference to wife-swapping that gets us thinking. Richardson is adept in showing that while he may be the most decent character on view, he becomes a social chameleon when ingratiating himself with clients at his estate agency. His leather-bound complete Dickens is obviously mail order and untouched while Macbeth is "not something that you can actually read." But his desire for self-improvement is touching and might console him as he is ignored by the young punk rockers next door who prove keen to snog Tony while they cavort to "The Ramones".
It's one of the premises of the plot that the couples are poorly matched I suppose. But not so this cast who combine wonderfully. There is an honest quality to the whole production created by a touring company against a detailed set design by Bek Palmer that is so adaptable it has been used at both proscenium arch and in-the-round venues. Again, perhaps an easy brief, but Palmer gives us a ghastly mix of Conran furniture, Pyrex kitchenware, geometric wallpaper, and the fibrelight mobile that fascinates Angela. All the actors realize that you don't merely slur when drunk; your speech becomes indistinct because you are putting too much effort into enunciation that you can't pull off.
My only real criticism was of fellow audience members, at least in the stalls, who you would think were watching some bleak piece of contemporary social realism or Strindberg in one of his sombre moods. Gales of laughter were coming down from the cheaper seats but those around me sat on their hands. The dialogue delivery deserved to be buoyed up by appreciation from those close to the actors right through until the mood change that comes with the sombre conclusion. But even the revelation of Beverley's woeful piece of soft porn art, a naked man and woman encircled by a giant swan, raised barely a titter.
A comedy of manners? Yes. And a period piece? Absolutely not. The real merit of the writing is that we could so easily be in the present. Replace Beverly's tray of snacks with sushi, the turntable music centre with a Bose entertainment system, Laurence's succession of minis with a people carrier and you've got a horror show of aggressive consumerism that is still being played out all over suburbia.
.
.
~