Annie Loui in Perugia
5 July 2022
The Belgian-based choreography WEG by Ayelin Parolin comes to this Umbria festival framed by the stylish Victorian opera house named after the festival founder, Teatro Nuovo Gian Carlo Menotti.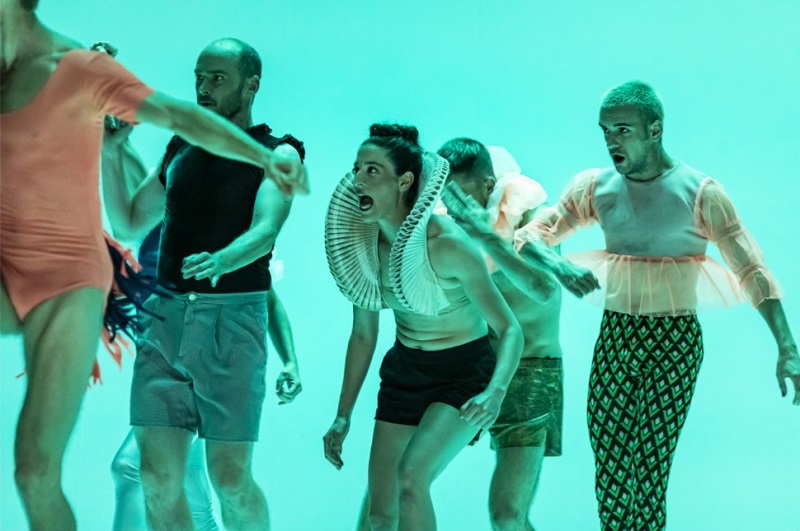 The company. Photo credit: Dajana Lothert.
In direct counterpoint to the venue's solid and stately red velvet boxes and rococo ceiling paintings depicting the muses, we have an assemblage of contemporary dancers in gold lamé or oversized Elizabethan ruffs and in one case, a bright pink leotard with tail feathers on an exceptionally tall man.
The dancers move as pulsating mechanical dolls in their separate spaces; insecure, awkward and flamboyantly individual.  They occasionally glance at each other, as all vibrate separate parts of the body simultaneously- full torsos, or legs, or shoulders or hips; and awkwardly attempt motion in space.
This is a humorous dance in the era of Them and Zem where identity is everything and coupling is curious.  With individuality established, the dancers eventually pair up with minimal eye contact and re-couple in new configurations.  Particularly memorable is a moment when a black-ruffed woman is forsaken by her white-ruffed companion who unemotionally presents herself to the tall blond in pink leotard. There is posing, some touching, and the new couple parades in pulsating motion through the space side by side, quickly joined by other re-configurations.
Photo credit: Pierre-Philippe Hofmann.
There are occasional attempts at speech or song that are quickly subsumed by the general sense of repressed communication.  Well performed by the dancers committed both to the movement and the intention, the stifled moments of transmission are accompanied by an on-stage pianist in black heels who plays the amplified piano keys, mostly by scraping them percussively with plastic until the plastic breaks.
Echoing the escalating angst, the musician eventually uses a metal pipe to shatter the plastic, and then turns to shattering compact discs with their heels, finally trying to eat one.  Somehow, this was an enormously satisfying development.  The performance is witty and well-paced with individual bravura demonstrations of truncated motion, leaving us with a sense of sympathy for the separate characters and their inability to have meaningful communication.  And yet, I kept thinking how much fun this was to construct in rehearsal.  There is an integral percussive score and performance by Lea Petra along with fabulous costumes by Wim Muyllaert.
This is an impressive co-production with Spoleto Festival dei Due Mondi working in association with Charleroi Danse, Theatre de Liege, Tanz im August, Hau Hebbel Am Ufer, Atelier De Paris/Cdcn and Theater Freiburg.