"The Lehman Trilogy", Gillian Lynne Theatre
Neil Dowden in the West End
13 February 2023
Stefano Massini's epic three-act play The Lehman Trilogy adapted by Ben Power has been a big hit since first being staged at the National Theatre in 2018. Winner of five Tony Awards on Broadway, it now returns to the West End with a new cast still under the masterly helm of Sam Mendes. It remains an impressive piece of dynamic theatrical storytelling, even if individual human drama is overshadowed by the significant events of its large historical canvas.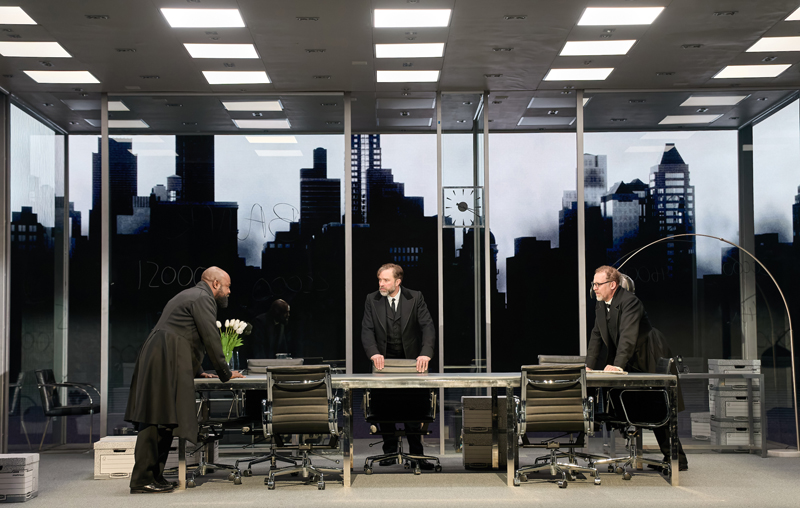 Michael Balogun, Hadley Fraser and Nigel Lindsay. Photo credit: Mark Douet.
The Lehman Trilogy not only charts the meteoric rise and dramatic fall of Lehman Brothers from its founding in 1844 as a modest dry-goods store in the Southern United States to its collapse as one of the world's biggest financial services firms in 2008 during the Global Financial Crisis. It also tells the emblematic story of entrepreneurial European immigrants making the transatlantic journey and setting up a family business in a free-market capitalist society before losing their grip, with the American dream turning to nightmare.
The show starts at the end, with a short prologue showing a closed-down skyscraper office full of packed-up boxes as a news bulletin announces the bankruptcy of Lehman Brothers, the fourth largest investment bank in the United States, with the economy spinning out of control. Then it goes back to the beginning, with Hayum Lehmann, son of a German-Jewish cattle merchant in Bavaria, arriving in New York and symbolically changing his name to Henry Lehman – a new identity for the New World. He sets up a shop in Montgomery, Alabama selling fabrics and clothing in the antebellum, plantation-era South. He is soon joined by his younger brothers Emanuel and Mayer, respectively the "head", "arm", and "potato" of the family firm – with the smooth-skinned conciliator Mayer acting as lubricant between the authoritative Henry and muscular Emanuel.
The brothers start to make serious money by buying and re-selling raw cotton – pioneering the role of "middleman". Even though Henry dies suddenly, the company branches out to New York, while after the Civil War it becomes a bank providing aid to Alabama in the Reconstruction era as well as investing in coffee and railways. Emanuel's son Philip becomes a partner as does Mayer's son Herbert, as the next Lehman generation take over, joined later by Philip's son Bobbie, with the firm expanding into airlines, motion pictures, and armaments. Lehman Brothers survive the Wall Street Crash and ensuing Great Depression, as well as World War II, but in the Sixties family control is loosened then lost with Bobbie's death in 1969. The company's later involvement in the subprime mortgage lending crisis spells the end.
Hadley Fraser, Nigel Lindsay and Michael Balogun. Photo credit: Mark Douet.
Covering 164 years, The Lehman Trilogy is necessarily episodic. But the broad sweep of American economic development – of which Lehman Brothers is to some extent representative – is compellingly enacted. The move away from consumer goods to pure finance is summed up in Philip's words, "We use money to make more money." The play arguably underplays the Lehmans' role in exploiting slavery in the South to build up their business, and it fast forwards through the final years of recklessly greedy mismanagement that ultimately led to the Great Recession. Any ideals of progress are tainted by moral if not legal corruption. It's a grand history lesson relayed with audacious imagination.
The Italian writer Massini's original play ran to five hours and employed a large cast, which Power has skilfully condensed to three hours on stage with the text performed by just three actors who play a huge array of minor characters as well as the principals. Although not as poetic as the original, this version has a distinct impressionistic quality, while the mixing of dialogue and narration – with the cast stepping out of character to give the overarching perspective – is effectively done.
Mendes' slick, elegant, and visually arresting production makes the long running time pass quickly. Es Devlin's ingenious design features a glass box containing office furniture and boxes that are reassembled to suggest different scenarios, which rotates with each change in time and place. Luke Halls' atmospheric video projections range from rolling ocean, cotton fields on fire, and stormy skies to small-town buildings, transcontinental railroad, and the Big Apple's soaring skyline (though the Statue of Liberty is anachronistic). Nick Powell's evocative music may be a little over-insistent but it makes an emotional impact, with beautiful playing by pianist Yshani Perinpanayagam.
All three actors – dressed throughout in nineteenth-century formal dress – multi-role brilliantly, characterizing women and children as well as men. In particular, Nigel Lindsay is extraordinarily versatile portraying (amongst many others) the far-seeing, domineering Henry, the ruthlessly competitive Philip, and a charismatic old rabbi. Michael Balogun impresses too as the determined, combative Emanuel, the polemical Herbert who leaves business for politics, and a thumb-sucking toddler. And Hadley Fraser also shows his wide-ranging skills as the amiable peace-maker Mayer, playboy businessman Bobbie, and a host of prospective wives whose diverse qualities are rated by the demanding Philip in the same way as the Lehmans assessed business opportunities – is it a good investment?