South-west round-up: Autumn 2021 by Crysse Morrison
Crysse Morrison in the west of England
10 October 2021
Open-air theatre has always formed a strong strand of live performance in the summer season in this area. As the weather has been mostly good, several of these open-air shows are currently touring. Yet, this hasn't been an easy ride for any of these companies. Illyria, one of the most established of the outdoor touring companies, reported nearing "an economic abyss" that could have ended their touring days, but public support eventually ensured a summer tour of three productions. Frome's Merlin amphitheatre hosted their comic opera, their children's show, and their – anarchically performed but unabridged – version of Much Ado About Nothing. A multi-tasking group of five took on all the roles, emphasizing the comedic elements in Oliver Gray's production without softening the cruelty of Claudio to Hero or lessening the absurdity of Beatrice and Benedick's unlikely liaison.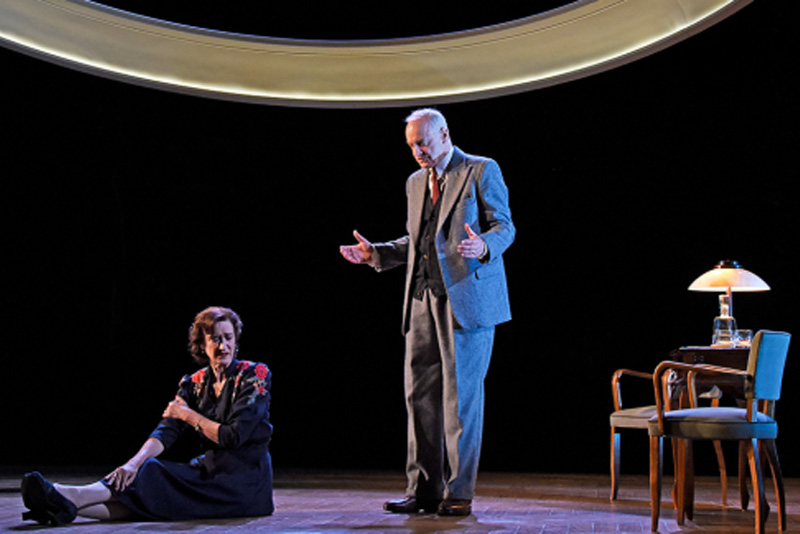 Haydn Gwynne and Malcolm Sinclair in Copenhagen at Theatre Royal Bath.
Photo credit: Nobby Clark.
Another popular provider of Shakespeare outdoors is Folksy Theatre, touring this season with The Tempest. This endearing group of five held their audience rapt as they morphed between the full range of characters, most impressively doubling a couple of drunken villains with a romantic lover and an ethereal sprite. Directed by Lee Hardwicke, Folksy's production wisely minimized the gratuitous mythical set pieces and focussed on clarifying the storyline and maximizing the comedy. The result was entertainingly fresh interpretations and clear story-line presentation. Tom Hardwicke's Prospero was especially impressive. The audience clearly loved it, and so they should – it was delightful, well-paced, and full of energy and fun.
However, the sad news that premier touring company Kneehigh is to close, with all upcoming productions cancelled, due to "changes in artistic leadership" has disappointed many admirers of this well-respected Cornish touring theatre company. Kneehigh, founded in 1980 by Mike Shepherd, is renowned for its mix of knockabout comedy with mythic themes and romance. Their final performance was a bubble-rehearsed revival of their award-winning production of The Flying Lovers of Vitebsk, broadcast live from Bristol Old Vic in collaboration with Emma Rice's Wise Children.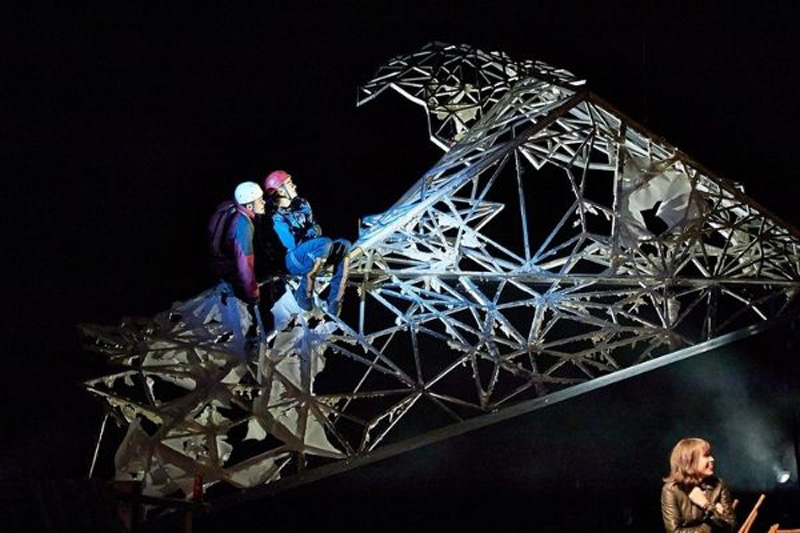 Touching the Void at Bristol Old Vic. Photo credit: Tristram Kenton.
For non-mobile theatre companies, the last season continued to demand much in terms of resilience and new approaches. Bristol Old Vic has rallied to the challenges of the times in various creative ways. This recently renovated theatre can manage social distancing for audiences, but difficulties are posed by the intensive rehearsals needed for high-standard productions. One of the creative responses of director Tom Morris was to offer his 2018 production Touching the Void as performed on stage, transmitted by global live broadcast plus one week of "On demand" viewing. This dramatization of two climbers' near-catastrophic attempt to scale Siula Grande, one of the most dangerous peaks of the Peruvian Andes, was adapted by David Greig from the book of the same name by Joe Simpson, the climber who nearly lost his life. The original, fully live, and highly acclaimed, production had been staged at the end of the Bristol Old Vic's long closure for its £26m renovation project, so this seemed a fitting revival to celebrate the easing of the Covid-induced closure. Fiona Hampton took the prime role of Joe's sister, with Josh Williams as Joe, Angus Yellowlees as his co-climber Simon, and Patrick McNamee as a random hitchhiker.
Bristol Old Vic's new season was then launched by webinar, hosted by Tom Morris, to assure audiences that flexible new approaches will continue; their next production is available both live and online. Outlier, a poignant and passionate coming-of-age story, was created and developed from 2020's Ferment Fortnight biannual event with performance poet Malaika Kegode and the brilliant fusion band Jakabol. It doesn't have the ferocity or raw humour of Trainspotting, but it does have moving credibility, sad as well as wild, enhanced by Malaika's confident and connective stage persona and supported by lighting graphics in a party atmosphere – definitely a season highlight.
Touching the Void at Bristol Old Vic. Photo credit: Tristram Kenton.
Theatre Royal Bath in contrast maintained a more traditional stage presence and struggled to sustain its ambitious programme until regulations were relaxed. The "Lights Up" Season in the Main House, published in late May, promised a strong return from their initial setbacks, promoting plans for seven further plays on the main stage, including a reprise of Oleanna and several West End shows on tour. Michael Frayn's forensic analysis of the troubled relationship between two wartime physicists, Copenhagen, had been initially planned as one of a trilogy of revivals last November, then rescheduled to the spring season but was again hit by restrictions; it eventually arrived on the main stage in June with a different director: Emma Howlett taking over from Polly Findlay.
Critics agreed this production was worth the wait. Restrictions on spacing were scrupulously observed and the play, although set in 1941, evoked relevance to life today in its whispering anxieties and uncertainties. It's a known fact that Werner Heisenberg re-met his old mentor Niels Bohr in Copenhagen in 1941, but the argument they had that night has never been clarified. Michael Frayn spun from this a trio of options that was part historical surmise and part psychological guesswork. Philip Arditti and Malcolm Sinclair are great as angry physicists yet irresistible friends, with Haydn Gwynne as Bohr's wife, whose role is to shadow her husband's perplexity. We meet them now deceased and still baffled, and the insoluble introspections of these two scientists' mighty minds prowl the massive space between them, emphasized by Alex Eales' bleak set with an enormous white circle above them shifting like a magnifying glass over their protestations.
Here, as in other regions, theatres without the option of outdoor staging or the capability to manage audiences with appropriate spacing have obviously suffered. In Bath, the popular small independent theatre The Rondo had to cancel and postpone productions until a relaunch was possible but has a full programme planned for autumn. Bristol's Tobacco Factory, well known for its annual productions of Shakespeare, moved online with The Place at the Bridge, a medley of the bard's sonnets and speeches compiled by Chinonyerem Odimba as "an exploration of our relationship with our city and our culture." Directed by Helena Middleton, this had the bonus of accompaniment throughout by brilliant Gambian kora player Sura Susso.
Perhaps the most ingenious survival strategy of all came from Bristol's popular Wardrobe Theatre Ensemble, which had to maintain a pause on live performances in their usual pub[1]theatre venue but has continued to find ingenious ways to deliver excellent theatre "pop-up" style. Theatre on the Downs is literally that: a tent on Bristol Downs "to create opportunities for south-west artists and provide a community-focused hub in the city for audiences to enjoy after a year inside". Their first shows for the local community ran through August with the last performance on 2 October. Theatres have survived long times of plague closure before; Shakespeare's company saw five outbreaks from 1582 to 1608. The difference these days is the degrees of ingenuity that companies are finding and the resources they are creating to deliver great live productions to their audiences. Online or in a tent, the show must go on.