"Life Is a Dream" ("La Vida Es Sueño"), Barbican
Ken Edwards in the West End
17 April 2023
Pedro Calderón de la Barca (1600–81) was one of the most celebrated dramatists of the Spanish Golden Age, along with Lope de Vega, and Life Is a Dream is generally acknowledged as his masterpiece. The play is nevertheless not often staged in Britain, and so this excellent new version, in the original Spanish with English surtitles, is to be welcomed. Cheek by Jowl have a long record of working across national borders, but this collaboration with the Compañía Nacional de Teatro Clásico is their first Spanish-language production. It toured in Spain before arriving at the Barbican.
Ernesto Arias and Goizalde Núñez.
Photo credit: Javier Naval.
Life Is a Dream (1635) is an example of the genre known in seventeenth-century Spain as comedia nueva. But comedia does not mean "comedy"; it can be better translated simply as "play". In fact, for those of us brought up on Shakespeare, neither of the opposed notions of tragedy and comedy comfortably fit this work. It has comedy in it, and violent and tragic events too, but we do not have here a tragic hero brought to his destruction by a combination of ineluctable forces and his own flaws; neither do we have a completely happy-ever-after conclusion (for example, the main comic character, the servant Clarín, meets a shocking and arbitrary death). It has sometimes been described as a dramatic poem, and this perhaps suits it better.
The action is complex and sometimes bewildering, and can be summed up as follows. Basilio, aged king of Poland, has been persuaded by omens that his son Segismundo is destined to overthrow him and to prove a violent and irresponsible leader. Therefore he has ordered him to be imprisoned from birth in chains under the guardianship of his courtier Clotaldo.
Rosauro, a woman of high birth, arrives in Poland from Muscovy, disguised as a man, on a mission that is only revealed later. She finds Segismundo jailed in a tower, but is then captured by Clotaldo and his soldiers. Clotaldo recognizes the sword the disguised Rosauro wields as his own, and concludes from this that he is her father.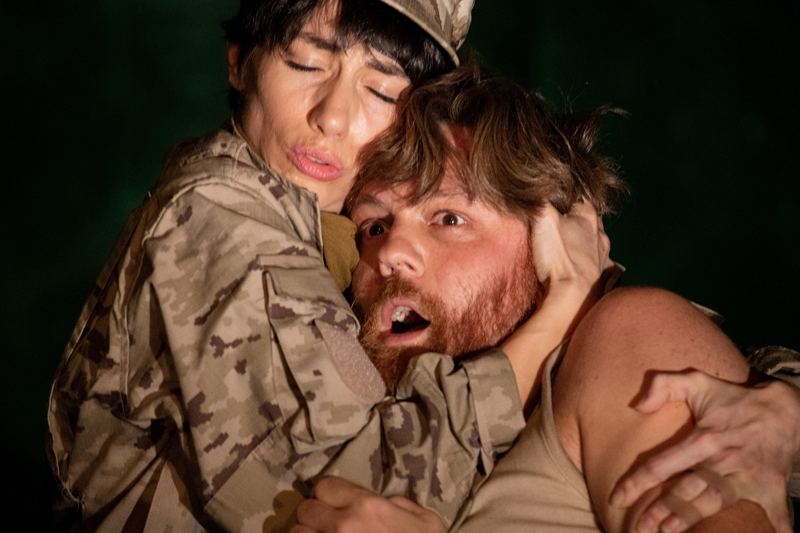 Rebeca Matellán and Alfredo Noval.
Photo credit: Javier Naval.
Meanwhile king Basilio has decided to free Segismundo and conduct an experiment by making him king, to see if fate can be circumvented. He already has the cousins Estrella and Astolfo, his niece and nephew, lined up as alternative successors to his throne if this experiment fails – which it does, spectacularly: Segismundo, consumed by anger at his treatment by his father, goes on a rampage during which he throws a courtier off the palace battlements into the sea (the geography of this mythical "Poland" is somewhat vague). So he is returned to jail, drugged beforehand so that he can be persuaded that it was all a dream. Mayhem ensues.
In the original text, Basilio the king does not enter until midway through the first act. In this adaptation, he is the first character to appear, alone in the spotlight. His opening speech, transposed from later in the play, introduces the theme of life as a dream and imagines his situation as like being in the Cretan labyrinth without a thread to guide him. Thereafter, he remains onstage throughout the entire play, a ghostly spectator except when he is called upon to intervene in the action, apparently dazed and appalled by the nightmarish results of his own ill-advised actions. Or is he simply dreaming all this? Life Is a Dream has been compared to Hamlet, but a better reference may be King Lear: a foolish old king irresponsibly throwing away his kingdom.
Ernesto Arias's performance as Basilio is impressive, but the undoubted star of the show is Alfredo Noval as Segismundo. He engages the audience's sympathy right from the start when he staggers onstage (shocking the newly arrived Rosaura), chained and dressed in animal skins, clutching to his ear a portable radio on which an irritating popular song incessantly plays – a tune that becomes a leitmotif of the show, returning time and again accompanied by grotesque, dreamlike dancing by various members of the cast.
Rebeca Matellán as Rosaura.
Photo credit: Javier Naval.
When he is arbitrarily transposed to the palace, and sudden luxury and power replace confinement, Arias brilliantly conveys Segismundo's confusion and rage, venturing out into the auditorium and hilariously committing faux pas after faux pas, to the horror of the courtiers, one of whom he finally grabs bodily and hauls backstage, where the murder can be heard taking place.
The characters enter and leave the stage via a series of portals in the enormous and forbidding wall that is almost the only furniture in designer Nick Ormerod's set. As the play progresses, it reaches various crisis points where the dream-illusion starts to break down. Arias/Segismundo's excursion into the auditorium is one of these, but another is a change of lighting, revealing for the first time the rigging and stage machinery behind the mysterious wall, in all its tawdriness.
For modern audiences, one of the most difficult aspects of this play to accept is the final scene, with its casual marryings-off, the apparently callous acceptance of the violent and sudden death of Rosaura's comic servant, Clarín (here played with spirit by a woman, Goizalde Nuñez), and what seems like the arbitrary punishment of Segismundo's jailers while their bosses, Basilio and Clotaldo (David Luque), are pardoned.
Director Declan Donnellan's solution is to present it as if it were the denouement of a ghastly reality TV show. On being told of her proposed marriage to Segismundo, Irene Serrano as Estrella affects surprise and emotion in the manner of the winner of a beauty queen contest. The sprightly Rebeca Matellán as the cross-dressing Rosaura seems to punch the air in triumph when she is announced as the bride of the ineffectual Astolfo (Manuel Moya). All this is done with the house lights already up, all illusion banished. Life a dream? Comedy or tragedy? Theatre of the Absurd, anyone?
~