"Julius Caesar": Bridge Theatre
Neil Dowden on the South Bank
30 January 2018
For the second play in the opening season of the new Bridge Theatre, artistic director Nicholas Hytner seems keen to show off the technical capabilities of this state-of-the art venue. Stall seats have been taken out for his Julius Caesar performed in the round in semi-promenade style, with bits of the set popping up from below the stage in various parts of the auditorium in a free-flowing production.
As with Hytner's previous productions of Shakespeare when he ran the National Theatre, this is in modern dress and has contemporary resonance without straining too much for "relevance". lt's an exciting, dynamic, and immediate piece of theatre that injects new blood into this well-known political thriller as a play for today.
The show starts raucously with a street band playing garage rock surrounded by the standing part of the audience, with placards proclaiming "Do this!", and T-shirts and baseball caps being sold as merchandise in support of the new populist leader Julius Caesar. This is a political rally as rock concert. The promenaders make up the Roman crowd ("infiltrated" by flag-waving actors playing citizens and shepherded by stewards) whom the politicians later try to sway to their way of thinking in the Forum. Although this may seem to be a form of mob rule, the politicians are in fact manipulating the fickle mob — this is demagoguery not democracy. Any allusions to certain right-wing populist leaders of today are purely un-coincidental.
The assassination of Caesar (who is shot rather than stabbed) is powerfully staged with the conspirators kneeling in mock entreaty before advancing on their prey in choreographed fashion, and then dipping their hands ritualistically in his blood. Brutus's initial justifying speech and then Antony's supposed funeral oration to the plebeians pulsate with collective energy. And there is a real sense of anarchy being let loose as the innocent Cinna the Poet is beaten to death by a blood-lusting gang while the citizens run riot through Rome.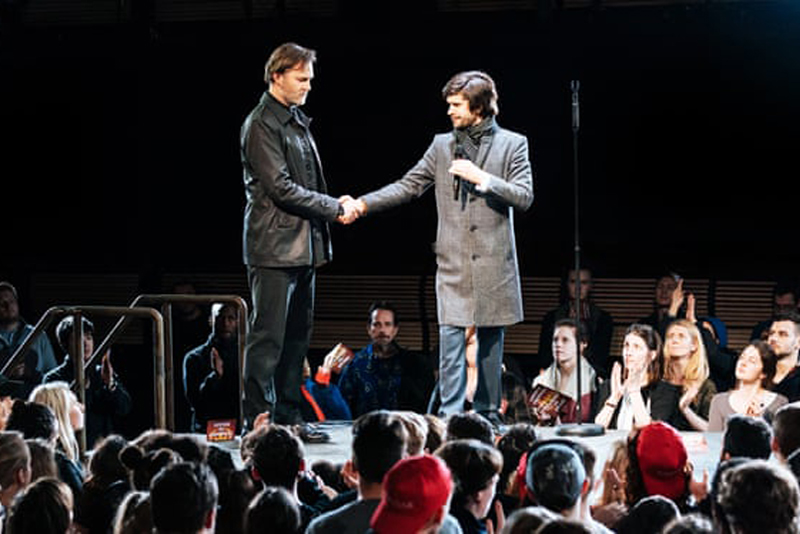 David Morrissey and Ben Whishaw in

Julius Caesar

at the Bridge Theatre.

Photo credit: Manuel Harlan.
The first half of Julius Caesar is of course much the stronger; the action in the final two acts becoming fragmented once it moves out of the city and onto the battlefield. But the violent turmoil of the ensuing civil war is strongly conveyed even if it seems a little rushed and not always clear who is on which side. It is staged in just two hours without an interval, so there's not much time to take breath.
Bunny Christie's highly flexible design is more effective in the set pieces than in the intimate scenes. Bruno Poet's striking lighting effects and Paul Arditti's uber-realistic sound of gunfire really makes you feel in the thick of a battle.
As the "noblest Roman of them all", Ben Whishaw's softly spoken Brutus is a morally earnest liberal intellectual more at home with his books than in the cut and thrust of a political coup, arrogantly insisting on his own way with fatal consequences for the conspirators. In cross-gender casting as the passionate Cassius, Michelle Fairley convinces more in her over-sensitive reaction to being "spurned" by Brutus — it feels almost like a lovers' quarrel — than as someone with a "lean and hungry look" who is ambitious for power. David Morrissey is rather long in the tooth for playboy turned avenger Antony, but he delivers his rabble-rousing speech after Caesar's murder with virile force. David Calder suggests Caesar's overweening narcissism but seems a bit too benign and slightly frail for a ruthless general who is on the course to becoming a dictator before being cut down.
ln one of history's many bitter ironies, Julius Caesar's assassination of course led eventually to the end of the Roman Republic, which is what the high-minded Brutus was apparently trying to save. Shakespeare's complex play seems to suggest that when it comes to politics it is not reason but emotion that ultimately drives people to support one cause or another.
Ben Whishaw and Michelle Fairley in

Julius Caesar

at the Bridge Theatre.

Photo credit: Manuel Harlan.