"Blues for an Alabama Sky" – National Theatre, Lyttelton
Simon Jenner on the South Bank
23 October 2022
Pearl Cleage's 1995 play Blues for an Alabama Sky is set in New York City in 1930. After ten years the Harlem Renaissance has stalled and the Crash kicks in: time to dream of going to Paris, or prepare for the Depression with unsung initiatives like birth control – that, three years on, will show the New Deal the way to go. Three tenement-dwellers share their hopes and ideals with two others in dramatically different ways.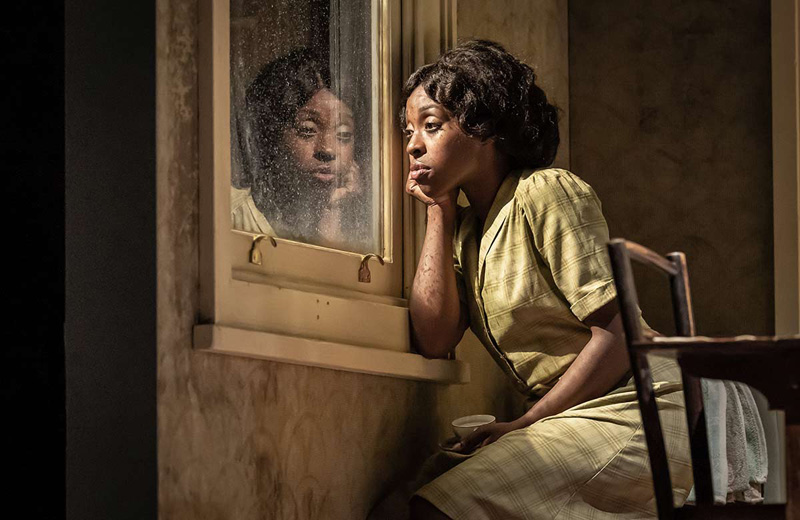 Ronkẹ Adékoluẹjo as Delia. Photo credit: Marc Brenner.
Drunken showgirl Angel Allen (Samira Wiley), sacked for insulting her gangster boyfriend from the stage, is helped home by friend, costumier, and flatmate Guy Jacobs (Giles Terera), aided by a stranger who later manifests as carpenter Leland Cunningham (Osy Ikhile). Guy's very taken by this "southern gentleman" from Alabama. The gentleman it transpires is very taken by Angel.
Across the corridor their friend, earnest family-planning activist Delia Patterson (Ronke Adekoluejo) is as hard-working as the man she wants to help her campaign: doctor Sam Thomas (Sule Rumi), no stereotype but a twinkling 40-year-old who delivers babies to the point of exhaustion ("Harlem's newest citizen"), parties next door on champagne, and falls asleep over lectures Delia shows him. Mortifying, since he's keen on Delia. Delia, inexperienced, still insists on keeping the door open, though she might be ambushed by her own feelings.
Wiley conveys the fragile self-possession of a showgirl consummate in her art but conscious that options personally and professionally are narrowing. Angel's self-destructive dreaming affects everyone, born from a desperation at her age and dimming chances (a twist of Streetcar), perhaps unlike her friends' portable skills. Wiley's blues singing soars with a vocal range to clutch your heart, including a rendition of a poem by Georgia Douglas Johnson.
The ensemble (Helena Pipe, Lincoln Conway, Eddie Elliott, and Kimberley Okoye) sing beautifully too and share a couple of poems by Langston Hughes, as well as enjoying bright spots of dialogue.
Composer Benjamin Kwasi Burrell's melodies here are both in-period and memorable. Sound designer George Dennis ensures these resonate and nothing distracts from vocal or singing clarity. Silences are palpable.
Ronkẹ Adékoluẹjo and Giles Terera. Photo credit:  Marc Brenner.
The show is directed by Lynette Linton with a brisk tread of inevitability over two hours and 45 minutes. Frankie Bradshaw's set is a solid tenement cutaway with two adjoining rooms (one artily cluttered, one spartan), a central staircase and fire escape stage right; a half-revolve is deftly used where a left-side window gets a plot workout. It's moodily lit by Oliver Fenwick and you're immediately transported not just to Streetcar but the sets often used in Kurt Weill's 1947 opera Street Scene. Costume designs alternate Guy's gorgeous shimmerings with workaday clothes – and a distinctly horrible dress bought with intent by Angel's new admirer.
Everything's concentrated here, with ensemble movement both sinewy and suggestive, in movement director Kane Husbands' lightning strikes of Harlem bustle amidst the torpor of tenement life. Harlem is also evoked by characters partying with real offstage personages like Langston Hughes, returning to grace openly gay poet/painter Bruce Nugent's soirées. Or indeed Josephine Baker, whom Guy dreams of dressing, as he sends out hopeful parcels across the Atlantic. As Angel astutely notes: "You're a genius with a dream, and I'm just a coloured girl out of a job." Delia too mentions Mary McLeod Bethune, pioneer of family planning. Cleage's brilliance is refusing to show how every dream can be easily thwarted (unlike, say, The Iceman Cometh), to throw out real chances, see the people who take them, and how this unravels. The complexity of these bids for freedom impact on others, and Angel's decisions create chain reactions.
Having welcomed back "Alabama", Angel swiftly tells Leland, "All I can do for you is drive you crazy." Ikhile conveys both the touching innocence and blank incomprehension of lifestyles he's been brought up almost unaware of, with a tragic past that triggers bizarrely traditional reflexes. Spotting a gun on him doesn't improve Angel's assessment of their chances together; after all, she's just shot of a gangster. Again each of these histories illuminate the reasons others have decided on change and hope, and what they have to fight against. Devastatingly, some battles, like birth control, particularly for people of colour in the USA, are battlegrounds again today. The play's even more timely than it was in 1995.
Delia's move from prude to slow awakening is both comically and affectingly wrought in Adekoluejo's performance, as well as her innate toughness and capacity to surprise more than once.
Sam Thomas, though, as the liberal doctor with a laconic eye to his own hectic lifestyle, is the character who leaps fully formed from the play. Rumi invests him with a silvery irony, a delicate wit dealing with others' importuning needs, and fine surprise when things turn out unexpectedly well. He also agonizes over moral choices where you see even Sam has red lines. He's an outstanding creation and Rumi's performance seems as definitive as can be imagined. But that's true for all five of the core cast.
It seems too obvious to cite August Wilson's magnificent decade-by-decade ten plays for the twentieth century; but whereas his work has had a fair amount of exposure in the UK, Cleage's has had very little. Blues for an Alabama Sky might suggest themes treated elsewhere, but their intricacy and working out is as subtly brilliant as you'd expect in Ibsen or Sowerby. Outstanding.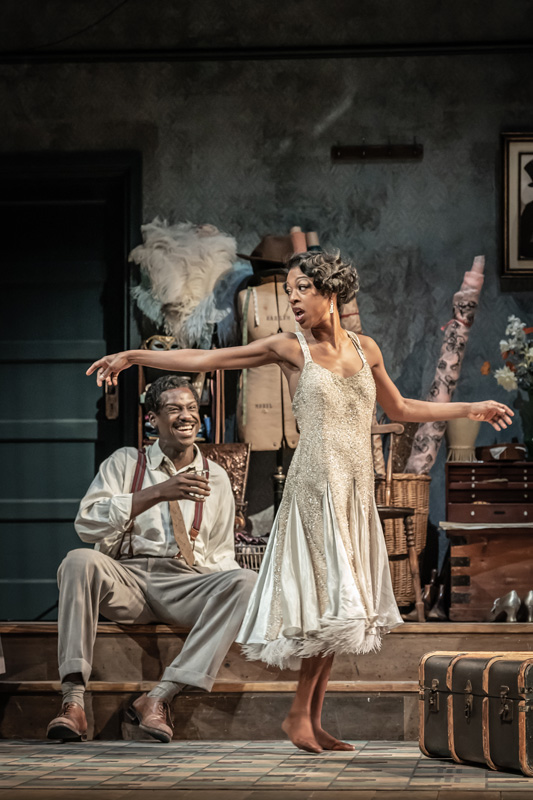 Sule Rimi and Samira Wiley. Photo credit: Marc Brenner.