Outdoor south-west UK theatre: summer 2022
Crysse Morrison in the south-west
Once the summer months have arrived, audiences in the south-west can start looking outdoors for dramatic entertainment. As well as Glastonbury, there are plenty of smaller festivals with performance tents for theatre companies as well as spoken word poetry and – of course – bands.
Peter Pan by Illyria.
Some outdoor sites are dedicated to drama, and famous outdoor theatres like the Minack in Cornwall become a place of pilgrimage. But every venue with a garden space large enough for a stage will be offering dramatic productions.  The Bishop's Palace in Wells this year is offering Jane Eyre as recreated by touring company Heartbreak Productions. Additionally there is an intriguing War of the Worlds from The Pantaloons. Audiences bring their own seating and picnics with rugs, waterproofs and umbrellas of course. This is the English summer!
Prominent among the big-name open-air theatre companies in the south-west is Illyria.  Founded in 1992 by Oliver Gray with a mission to "create a varied programme of outstandingly enjoyable theatre and to make it available for everyone", this regular favourite among outdoor audiences has produced no less than 87 touring shows.
As well as operetta like The Pirates of Penzance and adaptations of children's books, Illyria can be relied on to include at least one Shakespeare play in their summer repertoire. Impressively, although embellishments are always a large part of their productions, the company's founder-director and producer Oliver Gray never makes significant cuts to the script, so purists can enjoy the show as much as the younger audience who relish the physicality and the comedy. Illyria tours with a minimal cast and this aspect of their performances invariably becomes a highlight as audiences enjoy the joke when cast members dash in completing their costume and adjusting their voices.
Currently, Illyria are touring two very different productions: A Midsummer Night's Dream and an adaptation of the children's classic Peter Pan. Programme notes on the latter boast that it's the first production to include real flying and, although strictly speaking an offstage rig isn't actually quite the same thing as 'real', their complex apparatus contrives some brilliant stage effects especially for Peter's flamboyant fight scene as well as creating the underwater life of the mermaid, with bubbles!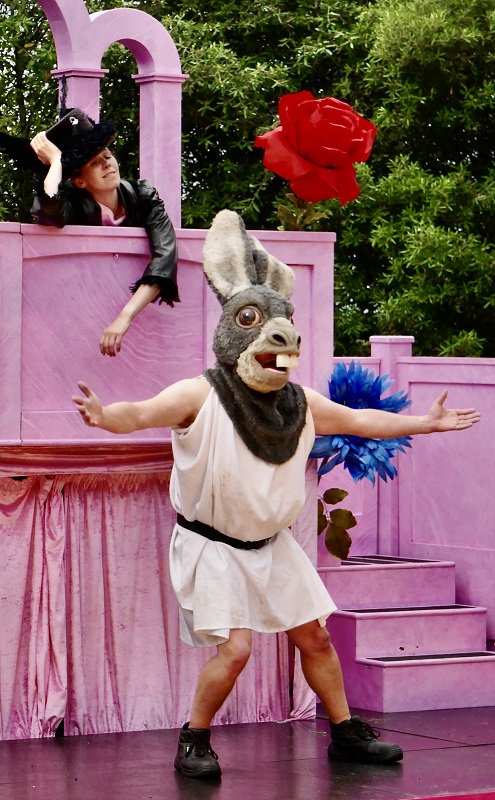 A Midsummer Night's Dream by Illyria.
Oliver Gray, who remains an active godfather in this company and still directs the productions, points out in his programme notes that the entire story of Peter Pan is rooted in the psychology of its author. (J.M. Barrie hinted at this himself later in life.) As much of the book's action is problematic for live representation, the directorial decisions have been to focus on, and explore, the author's idea that "everything in this story is a game played by children…" Hence, their nursery is always present on the set. "After all,' Gray writes in the programme notes, "What is an adventure if not a trip into the imagination?" This show is very much an ensemble production but Nicholas Lee, as Wendy's brother John and lost boy Tootles, and Elizabeth Robin (Mrs Darling, Tinker Bell and Slightly) have particularly strong presence and dramatic energy.
Logistics also constrained Illyria's production of A Midsummer Night's Dream. As Oliver Gray notes in the programme for this one, a lot of hard work is required to create Shakespeare's triple-layered fantasy with a cast of five, all quick-changing from nobles to fairies to workmen with complex timing essential for the high-energy physical interaction and slapstick humour of the staging. The cast are all excellent: Sarah Coyne is a Scots Puck as well as a delightful Hermia, Lily Carter excels as queen of the fairies with Chris Laishley, Nathan Richard Smith and Richard Blackman all also effectively multitasking. Wonderful indeed to see this great drama about love winning through despite folly and confusion, in these destructive days when it can seem Puck's words will be humanity's epitaph: "What fools these mortals be!"
Peter Pan by Illyria.
Other companies have productions touring too. The Lord Chamberlain's Men, with an all-male cast as would have been originally seen in Shakespeare's day, is offering As You Like It at multiple venues. Miracle Theatre is touring King Lear in their home county Cornwall and Gloucester's Rain or Shine Theatre Company continue their celebration of Restoration Comedies with The Recruiting Officer by Irish playwright George Farquhar which is of interest to any student of more recent drama since it is the play-within-the-play in Timberlake Wertenbaker's Our Country's Good.
These enterprising companies all insist that the show will go on whatever the weather. Indeed, indeed the Illyrian lovers, fairies, and mechanicals continued bravely through a massive thunderstorm in Frome recently so audiences are advised to take stock up on their powers of resilience as well as taking waterproofs and possibly rugs as well as their own chairs for many venues. The effort is definitely worth it.