Dublin theatre round-up, Sept-Oct 2019 Part 1
Bill Grantham in Dublin
1 December 2019
This year's Dublin Theatre Festival was as packed with plays as ever, so much so that I'll review them in two phases, with the second article appearing subsequently. The standard was high as usual, with only one or two disappointments in a big programme.
Before the festival began, I saw Lisa Tierney-Keogh's This Beautiful Village directed by David Horan at the Abbey Theatre. It had an interesting premise: members of a suburban residents' association meet to address offensive graffiti that has recently been daubed on a wall in their estate; in the course of their discussion submerged attitudes about gender, race, and society in contemporary Ireland are revealed. It was well enough done but rather schematic and predictable. You felt that Tierney-Keogh has a good play in her, but this wasn't yet it.
The festival itself kicked off with Beckett's Room, a fascinating production from Dead Centre with direction from Ben Kidd and Bush Moukarzel, written with Mark O'Halloran, about the apartment on the Rue des Favorites in Paris occupied by Samuel Beckett and Suzanne Dechevaux-Dumesnil from 1937 to 1960.
It's a producer's dream, as there are no actors. Instead, there's a soundscape of voices and sound effects piped to individual headsets worn by the audience. On stage, there are only objects – books, bottles, and the like manipulated by invisible puppeteers. The play tells the story of Sam and Suzanne's time in Paris in the early years of World War Two, the fate of the room after their escape to the occupied zone, and their return to pick up their lives after the peace. Theirs' are lives of poverty — this is long before Beckett's breakthrough as a writer — and disappointment, initially under the shadow of fascism.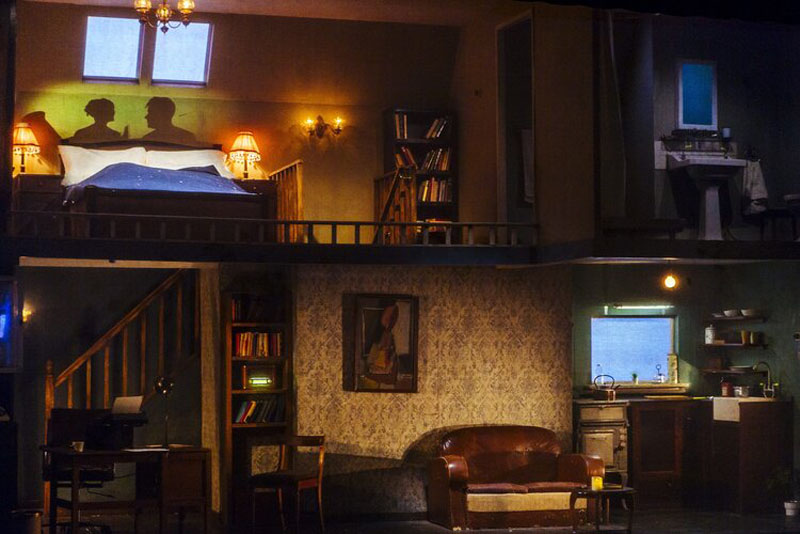 The set of Room. Photo credit: Kyle Tunney.
During the Becketts' absence, the room is taken over by a pair of Nazis who engage in a chilling interrogation of a prisoner apparently connected to Sam and Suzanne. On a technical level, the production is quite outstanding, the empty room filling with action and voices in a way that never flags, but which is also never overly busy. Brian Gleeson and Barbara Probst provided the voices of Sam and Suzanne, Andrew Clancy designed, Stephen Dodd did the lighting, Kevin Gleeson the sound and music, and José Miguel Jimenez the video design. Wonderful puppetry from Ciaran Bonner, Justine Cooper, Eugenia Genunchi, and Jason Lambert.
Michael Patrick's and Oisín Kearney's The Alternative at the Pavilion Theatre in Dun Laoghaire was one of the hits of the festival. The writers, both from Northern Ireland, were the winners of Fishamble Company's "A Play For Ireland" competition which attracted more than three hundred and seventy entries and set out to find, in Fishamble's words, "one big ambitious play, that bursts with humanity, and tackles a subject about which the playwright feels passionate".
The winner amply filled that brief. Ably directed by Fishamble's artistic director Jim Culleton, The Alternative was a clever counterfactual set in an Ireland which did not become independent in 1922, but which, like Scotland, remained part of the United Kingdom. The action is set in the present, on the eve of an independence referendum, in the television studios of the BBC in Dublin, where a debate is held between the Ursula Lysaght (Karen Ardiff) the Irish-born British prime minister and leader of the Labour Party, and Peter Keogh (Arthur Riordan), the leader of the Irish Parliamentary Party, which supports independence.
Presiding over the debate is the producer Richard Devlin (Lorcan Cranitch) and his oleaginous, careerist presenter, John Fitzgibbon (Rory Nolan). Also present is Richard's schizophrenic daughter Grainne (Maeve Fitzgerald), whose deranged visions of "other" modern Irelands mesh uncomfortably with the real thing. The play bristles with wit and intelligence, and its marvellous construction is well-helped by Culleton's excellent direction. Among fine performances across the board, Cranitch, Fitzgerald and Nolan stood out. Maree Kearns designed the clever two-tiered set.
The cast of The Alternative. Photo credit: Patrick Redmond.
The other big production of the early part of the festival was Rough Magic's production of Marina Carr's Hecuba at the Project Arts Centre, an Irish premiere of a play first performed in 2015 at the Royal Shakespeare Company in England. Hecuba (Aislin McGuckin), the Queen of Troy, presides over the destruction of her great city by Greeks she regards as barbarians, the death of her husband Priam, and the loss of many of her children. Agamemnon (Brian Doherty), the Achaean king, takes charge of the bloody aftermath of war, but cannot prevent the sacrifice of one of Hecuba's surviving daughters, Polyxena (Zara Devlin), to placate the gods and obtain a favourable wind for their ships.
Carr's text is revisionist, addressing what she sees as the bad press Hecuba has received from Greek writers – in which she's said to have killed her own son, gone mad and bayed like a dog. But Carr's is a nuanced revisionism, exposing a powerful woman who has lost power and is at the mercy of men, a mother who has lost so many of her children, a proud Trojan overwhelmed by baser Greeks.
Rough Magic's production is splendid, performed on a largely bare stage on which chairs are splayed about the place as if an invading force upended it. The director, Lynne Parker, has experience of the Greek idiom, having previously directed Phaedra and The Trojan Women (another Hecuba play), but she has focused here on the contemporary elements of the story and the Irish ness of Carr's text. Carr herself has described the writing as Hiberno-Irish and has spoken of her appreciation of an Irish cast for delivering her work, and they are splendid.
McGuckin is a magnificent Hecuba, trying to maintain her regal bearing as her world and family collapse around her. Experienced hands like Doherty and Owen Roe (Odysseus) are old soldiers who, even after a great victory, are more concerned with what happens next. And they are supported by a fine young cast, most notably Zara Devlin as the doomed Polyxena, who we saw most recently as Laura in the revival of The Glass Menagerie. Her stage-mate as the Gentleman Caller in that production, Frank Blake, is an excellent Neoptolemus. Martha Breen, who was memorable in Rough Magic's A Midsummer Night's Dream and A Portrait of the Artist as a Young Man, is a sharp, petulant Cassandra. Sarah Bacon designed the set and costumes, and deserves a nod for Hecuba's wonderful outfits, which managed to be subdued and upper-class at the same time.
Billy Roche's stage presence has been comparatively infrequent in recent years, but his new work A Love Like That from Decadent Theatre, seen at the Civic Theatre in suburban Tallaght, shows that he is still a force to be reckoned with. Set in a soon-to-close branch library of a small town, the story focuses on the apparently spinsterish librarian Ellen (Lesley McGuire), who turns out to have deep reserves of passion as well as being a dab hand, like the goddess Artemis, with a bow and arrow.
It's the kind of small play that brings nothing but pleasure, well-wrought characters and a story that counts. In addition to McGuire, there's Geoff Minogue as Lance, an attractive ne'er-do-well from the wrong side of the tracks who insinuates himself into Ellen's bed, Peter Gowen as Aidan, a straight arrow who longs for Ellen, Lalor Roddy as John-Joe, a homeless man who turns out to be the wisest man in the cast and Jane McGrath as Debbie, the young junior librarian who can't curb her ambition. Directed well by Andrew Flynn. Ciaran Bagnall and Ger Sweeney designed the effective library set.
A couple of less good productions, inevitable in a big programme. Bluffer's Guide to Suburbia directed by Tom Creed at the Project Arts Centre is basically a one-man show from Ray Scannell, although he has a couple of musicians on stage with him. The title is taken from a best-selling series of books that provide instant but shallow knowledge on a wide range of subjects. Scannell's take on contemporary Ireland is as dyspeptic as the title suggests, but it's also callow and shallow, taking easy shots at obvious targets. The songs and music scattered through the performance were better.
And finally, the crushing disappointment: the Lyric Theatre of Belfast's production of J.M. Synge's The Playboy of the Western World. I saw this for the first time as a school play more than fifty years ago and have probably seen more productions of it than anything else over the years. This was by far the worst, alas. Some unfavourable criticism — and, sadly, it's all been unfavourable — centred on the decision to move the play from the west coast of Ireland of 120 years ago to Northern Ireland of the 1980s.That didn't bother me at all, and could have been done well — after all, a dozen years ago, Roddy Doyle and Bisi Adigun successfully reworked the playboy, Christy Mahon, as a Nigerian.
The problem with this production, directed by the well-regarded Oonagh Murphy, was that it was staged with a collective tin ear. Sadly, the biggest difficulty came with Eloise Stevenson as Pegeen Mike. The programme notes suggested that this was her first professional engagement and she wasn't yet up to a part that is a major fixture in the professional canon. Her delivery was one-note and unsubtle and her physical presence negligible. I should be clear that I don't blame her for this, but the people who thought it was a good idea to cast a tyro to struggle in so important a role.
Other production decisions were similarly poor. The high-spirited village girls were transmogrified into loud, urban harridans, completely upending the balance of the play. Michael Shea was a decent Christy, and Frankie McCafferty played Old Mahon like an old pro. Aoibhéann McCann, so good in other productions, had sparks of quality as the Widow Quin, but was ultimately buried in this.